Network:

AMC

Series Premiere Date:

Jun 1, 2014

Season #:

1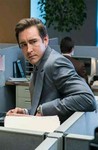 Summary:

Former IBM sales executive Joe MacMillan (Lee Pace) recruits reluctant Cardiff Electric engineer Gordon Clark (Scoot McNairy) and programming prodigy Cameron Howe (Mackenzie Davis) to reverse engineer IBM's BIOS system, setting up the PC revolution.

Genre(s):

Drama

Show Type:

Hasn't Aired

Season 1 premiere date:

Jun 1, 2014

Air Time:

12:00 AM
The thrill comes not from the actual computer building, but the people doing the building. These characters are complex and well-developed, especially Pace's fiery exec, who is a mesmerizing manipulator.

The good news is that Halt and Catch Fire is a triumphant pilot with excellent writing, impressive acting and a noteworthy cinematic visual style. ... But ultimately that means nothing until we see the next episode. And the one after that. And the one after that. So take this early praise with that caveat.

A stellar Toby Huss portrays the hard-driving Bosworth, a commanding presence. There are more than a few of these in Halt and Catch Fire, a drama set in Texas, filmed in Georgia--and from the available evidence an immensely seductive enterprise.

First impression is that Halt is fresh and fraught with calculated promise, but whether that's enough to catch fire remains to be seen.

With the relationships among MacMillan, Clark, and Howe in the foreground, Halt and Catch Fire makes impressive use of its time period without treating it as an elbow-to-the-ribs joke.

With little exception, MacMillan is the sole character given scenes that seek to bring out his antic inner life, the most memorable of which being his meltdown in an electronics store, where he tries to find a hold of his ambition in a torrent of comingled rhythms emanating from various speakers.

At least in the one episode sent to critics--Halt doesn't offer up complicated, three-dimensional characters. Instead, we get versions of familiar types pulled from the character storage room by the writers.
This review contains spoilers, click expand to view. While the comparisons to Mad Men aren't exactly there, this show seems determined to make it's own path by exploring the early days of the personal computer boom in 1980's texas and by showing these three desperate characters making it much more personal.
Joe Macmillan seems to be the lead star with the almost Patrick Bateman-esque bad boy charisma.

The only real fault of the show so far is rushing through some of the technical details like in the montage in Gordon Clark's house when they are taking apart an IMB computer.

…

Expand

I wanted to wait until I have seen a few show to write a review on this series. I have seen 7 episodes. Going into the series not sure how

they were going to approach the topic. I thought this is an interesting time for PCs and the market.

I will say that this show is wonderful. The acting is great and the story is intriguing and engaging. I did not watch Mad Men, but did watch Breaking Bad. Breaking bad is on a level all it's own and a handful of shows are on that level. I would say that this show is on the level right below that.

The writing is great and the attention to detail to the technical side is spot on. They nailed the font style for the PCs for that era. I would recommend this to anyone who deals with computers and for anyone who is not tech savvy.

…

Expand

This feels like the one. As soon as i saw Scoot McNairy's smirk after he inspects the armadillo mashed into the front of his Ferrari's grill,

i new this was the slick arrogant smarm of the 80's businessman t.v. is so tragically missing. Watch this one take off. Its going to be great.

…

Expand

This is a fantastic show. I was a part of the computer revolution in the early 1980's, and this brings back many memories to me. I strongly

recommend this show to anyone who is a techy and remembers when the computer industry was in it's infancy. The show incorporates some personal stuff into the story, but I suppose that has to be done in this day and age. I will be greatly disappointed if AMC does not pick this show up for Season 2. It's a winner.

…

Expand

Show has a great cast, good writing and an interesting story especially if you are interested in the technology industry and how ruthless it

is. I see the self appointed professional critics reviews and wonder why they bother. I watch a lot of TV and I know bad television, this is not it. I actually find this show way more interesting than mad men though mad men does have its moments of brilliance. I hope it succeed and the writing and story stays good over time.

…

Expand

Show was hanging by a thread in the first three episodes. The baffling events of episode 3 made me literally turn it off 3/4 of the way into

it. Boring, uninteresting characters with almost no resemblance to reality. A shame considering how much I really wanted to like this show.

…

Expand