Network:

NBC

Series Premiere Date:

Apr 4, 2013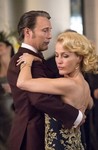 Starring:

Laurence Fishburne

,

Hugh Dancy

,

Caroline Dhavernas

Summary:

Will Graham (Hugh Dancy) must find a way to get himself out of the situation he ends up in due to what happened at the end of the first season.

Genre(s):

Drama

,

Horror

,

Suspense
Season 2 premiere date:

Feb 28, 2014

Episode Length:

60
Please enter your birth date to watch this video:
You are not allowed to view this material at this time.
Hannibal has always been beautiful, and that's still the case. It's also always featured dialogue and plots that stay just on the right side of being too pretentious, and that remains the case. If there are any notable steps up from season one, it's both in the tension that mounts thanks to the great game played between Will and Hannibal and in the better use of the show's supporting cast.

You could say it's as close as a broadcast network has gotten to the personal artistry of the best premium-cable shows, if it weren't bolder and more elegant than anything on pay cable right now, including HBO's own serial-killer drama, True Detective.

The show is infernally good. [17 Mar 2014]

The last thing television needs is more serial killer dramas. But when they're this well made, this smart and creative and unexpectedly funny? Then, yes, more Hannibal, please.

It's the thinking man's serial-killer drama, a twisted tale that never trolls for cheap scares but is plenty terrifying.

Hannibal is much better than it once was, perhaps the guiltiest pleasure on television at this time.

Hannibal was lauded last season for its stylized look, which is on display here. Fishburne, as usual, is solid, and I like Dancy's interpretation of Graham (just the right amount of despair without descending into self-pity).
Hannibal is the most perfect tv show i have ever seen . It has every elements to make a good show a great one. This show is highly

Hannibal is the most perfect tv show i have ever seen . It has every elements to make a good show a great one. This show is highly recommendable for everyone.Especially for those one who loved silence of the lambs because it has the same tense and frightening atmosphere as that of silence of the lambs.
And acting by almost everyone are perfect.

…

Expand

From the art direction to the acting to the pacing to the mood to everything else, this show is fantastic. The premise of season two is even

From the art direction to the acting to the pacing to the mood to everything else, this show is fantastic. The premise of season two is even more interesting than season one.

…

Expand

Hannibal had silenced (no pun intended!) the naysayers with its excellent first season, but Season 2 truly cemented this as one of the very

Hannibal had silenced (no pun intended!) the naysayers with its excellent first season, but Season 2 truly cemented this as one of the very best TV shows on the air. It's not a tv show, it's an art. Profound and yet so subtle. It all culminated in the absolutely fantastic "Yakimono", which was basically the first of two amazing finales Hannibal would deliver within one season. The excitement of Miriam (Anna Chlumsky) turning up alive turned out to simply be the next step in Hannibal's twisted traps, as Miriam was a ticking time bomb of sorts – set to go off at just the right time, aimed at a perfectly-placed target in Chilton.

…

Expand

Just watched the finale. I had no idea where the writers were going with this show but holy crap they did an amazing job with this second

Just watched the finale. I had no idea where the writers were going with this show but holy crap they did an amazing job with this second season. Hannibal is one of the best TV shows I've ever seen and well worth the time to watch.

…

Expand

As beautiful and delicate as the first season, and more. I honestly have a hard time waiting for each episode, but it is worth every second of

As beautiful and delicate as the first season, and more. I honestly have a hard time waiting for each episode, but it is worth every second of it. If you're a fan of "light horror" + crime, and have been waiting for something to blow you away, then Hannibal is your choice.

…

Expand

This is truly a great show. I really hope it starts to get higher ratings (read the reviews!) to escape the TV axe, as deserves to run and

This is truly a great show. I really hope it starts to get higher ratings (read the reviews!) to escape the TV axe, as deserves to run and thrill for a lot longer.
Second season has been stronger then first season (which was already great) and I literally cannot wait every week to enjoy this feast of a show.
It really could go the way of 'Breaking Bad' i.e. one of the greatest at this rate-so don't be that dummy who had to catch up on Netflix-support and watch it NOW!

…

Expand

Wow, I have watched every episode and I think the show is getting worse not better. While I like most of the actors, I am getting bored with

Wow, I have watched every episode and I think the show is getting worse not better. While I like most of the actors, I am getting bored with this ongoing Will Graham psychologically conflicted saga. I mean we have a serial killer who is an interesting character, Will Graham is getting really boring in whatever his confused role is. Let's move in a new direction please.

…

Expand