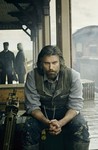 Starring:

Colm Meaney

,

Jennifer Ferrin

,

Anson Mount

Summary:

It's the winter of 1867 as the Union Pacific competes to complete its railroad before the Central Pacific. John Wirth takes over as showrunner for the third season of the western.

Genre(s):

Drama
Season 3 premiere date:

Aug 10, 2013

Episode Length:

60
Please enter your birth date to watch this video:
You are not allowed to view this material at this time.
The history behind the story is tremendous--you feel its pulse. [5 Aug 2013, p.48]

What this well-written series does not need is a character [Louise Ellison (Jennifer Ferrin), a NYC reporter] whose only job seems to be moving the story along with expository dialogue in the guise of interviews.

With his one-note revenge plot behind him, Bohannon teams up with Ferguson to work on a new railroading venture, and thankfully their opponents are much more interesting this time around. [16/23 Aug 2013, p.104]

A prickly alliance founded on mutual respect and constantly threatened by both history and present, unpleasant circumstance, it's more subtle and moving than your average TV bromance and brings out the best in Common and Mr. Mount.
Much like a steam engine, this series continues to slowly gain momentum. Thanks AMC for being patient with Hell on Wheels and showing that

Much like a steam engine, this series continues to slowly gain momentum. Thanks AMC for being patient with Hell on Wheels and showing that sometimes it's as much about the journey as where you are going.

…

Expand

Season 3 starts out pretty impressive with stunning visuals and devious actions. I think Hell on Wheels has finally gotten to a point in its

Season 3 starts out pretty impressive with stunning visuals and devious actions. I think Hell on Wheels has finally gotten to a point in its run in which it wanted to be. Hell on Wheels writing has improved greatly along with the likeness of the characters; although some I find boring and dislike. For example Common's character. Common's character has seemed to get a lot of leeway working for the not fictional railroad, and which often the story revolves around this characters life as he completely involved with himself thinking he has all the privileges of a white man. I feel like Hell On Wheels in season 3 has done a tremendous job with showing the struggles of the union pacific railroad which very greatly could have happened, but Commons character does not make absolutely any sense in the context of a 1867 western drama, it just doesn't. Acting is fantastic and has characters which you develop a relationship with. Episode two was great and the series has gotten really hard-hitting for the viewer. I am disappointed that it has such a low critic score on meta, but as I will say I recommend this show to anyone and that it is one of the best western dramas ever to hit television. A must watch for the television enthusiast. My review: 8/10 for meta and IMDB

…

Expand