Network:

Showtime

Series Premiere Date:

Oct 2, 2011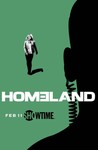 Season 1 premiere date:

Oct 2, 2011

Episode Length:

60
Please enter your birth date to watch this video:
You are not allowed to view this material at this time.
There are a couple of bush-league moments in the show....[But]those are minor quibbles, made even more insignificant by the extraordinary performances of Danes, Lewis, Patinkin and Baccarin.

Once you watch the first episode, it's going to be hard standing the wait for the next.

It's no lie to say you don't get this sort of stylish and challenging stuff very frequently on TV, adult subject matter treated maturely in a series that makes you squirm and think.

Homeland functions terrifically as both a thriller and a commentary on our post-post-9/11 world, where the War on Terror and the concept of being constantly under surveillance are both facts of life.

Homeland is an absolutely riveting immersion in the paranoia and burnout of America after a decade of the war on terrorism.

Unlike their previous show [24], Homeland takes its time: it doesn't make clear right away who's trustworthy and who's a traitor. Based on the first episode's strong script and performances, it looks as though the reveal will be worth the wait.

Homeland has a chance to be a much tighter--and smarter--endeavor with more nuance than "24" ever had. But if a cougar suddenly appears, and/or if someone comes back from the dead, all bets are off.
I'm not usually interested in American gung-ho crime drama, but I somehow got hooked by this one! I do love Damien Lewis, and he's excellent

I'm not usually interested in American gung-ho crime drama, but I somehow got hooked by this one! I do love Damien Lewis, and he's excellent in this. It's probably the quality of the acting that makes this more palatable than other, similar shows. The mid-season twist is perhaps predictable, but you feel all the more satisfied for working it out a few episodes in advance. Planning to finish the season soon!

…

Expand

This is undoubtedly one of the best dramas ever put to television. There are no 'bit-players' in terms of characters, everyone is equally

This is undoubtedly one of the best dramas ever put to television. There are no 'bit-players' in terms of characters, everyone is equally important even if they don't have as much screen time as the leads. This balance means that you will remember each character, no matter how insignificant they might seem. The show will reward you for paying attention. This is not a propaganda piece, there are no 'good guys' as both sides play dirty. A fantastic dramatisation of post 9/11 paranoia and the people at the centre of it.

…

Expand

I watched the pilot for this show online, and I have never seen anything like it before. It is truly brilliant and Claire Danes is one of the

I watched the pilot for this show online, and I have never seen anything like it before. It is truly brilliant and Claire Danes is one of the greatest actresses alive.

…

Expand

The theme was not that promising, i'm really surprised how amazing homeland is. 50 minutes? Looks 15! YES, that attractive. Love Claire Danes

The theme was not that promising, i'm really surprised how amazing homeland is. 50 minutes? Looks 15! YES, that attractive. Love Claire Danes and her character.

…

Expand

If there were and 8.9 I would give it that, I can't give it a 9 because of reasons that I don't want to say because if I do i will ruin the

If there were and 8.9 I would give it that, I can't give it a 9 because of reasons that I don't want to say because if I do i will ruin the first season for people. Regardless, Claire Danes is the best actress on TV and Damian Lewis is extremely good as well. I say it is the second best drama on TV behind only "Breaking Bad," but it was only the first season. "Homeland" may be able to get on "Breaking Bad's" level eventually. An excellent hour of TV.

…

Expand

Objectively speaking, Homeland is a good show - well acted and entertaining. But I cannot stand Claire Danes' character's ethical choices.

Objectively speaking, Homeland is a good show - well acted and entertaining. But I cannot stand Claire Danes' character's ethical choices. Her self destructive behavior is painful to watch, so much so that I can't watch anymore. Granted some will see this as visceral portrayal of an extremely flawed character, a unique aspect of the show, and part of the reason Homeland is compelling...but it's simply too much for me. In a way it's analogous to Steve Carell's character (Michael Scott) on The Office - very funny but also so painful to watch that it turns your stomach at the same time. Hopefully that makes sense...

…

Expand

Carrie Mathison isn't bipolar- Homeland is. The last two episodes of this season should have been one or not at all. If i wanted to watch a

Carrie Mathison isn't bipolar- Homeland is. The last two episodes of this season should have been one or not at all. If i wanted to watch a soapy family drama- this wouldn't be it. Like mother like daughter: one woman's fear of commitment sends another woman back into the arms of her beloved- alas, too late. I see no reason to return next season- unless Carrie is hired by Hollywood to fight against cyber attacks which threaten Showtime to take Homeland off the air. It took half a season to win me back- and a snoozer of a finale to lose me, again.

…

Expand