Network:

Showtime

Series Premiere Date:

Oct 2, 2011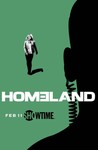 Starring:

Sarita Choudhury

,

Mandy Patinkin

,

Claire Danes

Summary:

The incident from the end of season two causes major changes for Carrie, Saul, Brody, and his family. New cast members this season include playwright Tracy Letts.

Genre(s):

Drama
Season 3 premiere date:

Sep 29, 2013

Episode Length:

60
Please enter your birth date to watch this video:
You are not allowed to view this material at this time.
Imagine 24 devoting a substantial block of time to exploring the repercussions of one of its attacks, without moving on to the next threat, and you get the idea.

Foremost, getting Brody off-screen turns out to be an inspired move. In his absence, there's a new world order, or disorder, with a lot of people left to assemble the pieces, including Saul, Carrie, and most of all, Dana.

The show has lost none of its expert knack for building suspense and tossing surprises.

The first two episodes of season 3 are reassuringly grounded in believable intrigue. [7 Oct 2013, p.49]

The business of powerful men demonizing a strong, if suffering, heroic woman makes for layered drama. As usual, Danes throws mind, heart, and jittery chin into making Carrie feel real.... For now, Homeland sans Brody feels too safe, too conventional.

Homeland has its own rebuilding to do, and while some may miss the faster pace of last season, these are dark times, and the show is better for dealing with that reality in uncompromising terms.

The third season doesn't just stretch credulity, it tries patience.
This show just keeps getting better. Season 3 doesn't disappoint at all. Dramatic, surprising and amazing actors and actresses. It's even

This show just keeps getting better. Season 3 doesn't disappoint at all. Dramatic, surprising and amazing actors and actresses. It's even better than season 1 and season 2.

…

Expand

This review contains spoilers

, click expand to view

.

Homeland is back! Following the events of the season 2 finale, the show feels different, but it is still great. Claire Danes will win another Emmy and Golden Globe award for her performance in this season. I am interested to see how the Brody storyline will play out once he is back.

…

Expand

Season 3 takes it's time to deal with the emotional fallout from the devastating ending of season 2. Despite the slower pace and more

Season 3 takes it's time to deal with the emotional fallout from the devastating ending of season 2. Despite the slower pace and more interpersonal bend, this represents a show attempting to confront the atrocities of aftermath (other shows do it better, such as Top of the Lake, and Rectify) instead of continually denying the pains and repercussions of war. So far, my hats off to an action show who shows a little humanity.

(This review might display extreme bias, I really like this show.)

…

Expand

Third season begins seeking to right itself after the second's maddening narrative turns

Few programs have experienced the explosiveThird season begins seeking to right itself after the second's maddening narrative turns

Few programs have experienced the explosive trajectory of "Homeland," an Emmy winner for its first season before vaulting headlong into its second, wildly veering off course and, almost literally, blowing the whole thing up in the season finale. The third flight thus finds the series back on somewhat more sober terrain in addressing the fallout from those events, while suffering from big absences initially. Smart, watchable and extremely well cast, "Homeland's" creative roller-coaster ride ultimately illustrates the gap between a popcorn show like "24" — not a bad option, but more limited — and the tougher-to-execute hairpin turns of a "Breaking Bad."

For those who haven't caught up (and spoilers will only apply to them), the explosion at the CIA has left the world assuming former POW Nicholas Brody (Damian Lewis, absent from these initial episodes) is dead, while the CIA agent who hunted and bedded him, Carrie (Claire Danes), must deal with the fallout, including congressional scrutiny regarding how this mess could have happened.

Carrie's mentor, Saul (Mandy Patinkin), is also trying to steer an agency decimated and devastated by the blast — eager for both answers and, perhaps less helpfully, revenge.

Showrunners Alex Gansa and Howard Gordon, who adapted the original Israeli series and gave it an electric turbo-boost that made even President Obama a fan, have demonstrated this is a world where very bad things might happen, which is helpful in keeping the audience off balance.

It's also a place where alliances and friendships are fungible and moral clarity remains elusive. Although "Homeland" doesn't traffic in moral equivalency necessarily, it does pointedly drive home the notion that the threat of terrorism has a way of leading those charged with thwarting it into questionable thickets, which generally come with unpalatable tradeoffs and distasteful choices.

At the same time, the show hasn't escaped some of the dead ends that arose and became groan-inducing during last year's uneven ride, most notably the ongoing mini-drama surrounding Brody's teenage daughter Dana (Morgan Saylor), whose plotline continues to command far more screentime than it merits.

Danes, by contrast, has made the most of a character whose paranoia is often justified, and Patinkin's beefed-up presence to start season three (with F. Murray Abraham also hanging around) adds welcome edge and gravitas to the antiterrorism crusade.

"Homeland" has forged a strong enough bond with most of its audience — and built up enough prestige as Showtime's first best-series Emmy recipient — that it can probably punch its own ticket, but what initially appeared like one of TV's finest hours slipped several rungs as it aggressively (and to its credit, fearlessly) chewed through life-and-death scenarios.

These latest episodes represent a tentative first step toward seeing whether the show can re-ascend to those heights or, conversely, plummet into an abyss of implausibility. Like so much else pertaining to "Homeland," at this point, it could go either way.

…

Expand

Just started out waaaay to slow. They used the whole season to set up one event. I mean i like the long con and all, but come on. It seems

Just started out waaaay to slow. They used the whole season to set up one event. I mean i like the long con and all, but come on. It seems like they had one good idea for the season and threw a bunch of crap in ther to fill time. I give it a 5 because in the end it really picked up, but i mean really in the END.

…

Expand

Season three is like watching a balloon slowly deflate. Where's the eminent danger? This season has turned an exciting story line into a

Season three is like watching a balloon slowly deflate. Where's the eminent danger? This season has turned an exciting story line into a melodrama train wreck. How many more Carrie meltdowns are we suppose to endure? Hey writers it's time to catch some bad guys. Get on with it!

…

Expand

simply appalling. an incredible decay compared to the previous seasons. little to no thrill. inconsistency in the portrayal of the characters

simply appalling. an incredible decay compared to the previous seasons. little to no thrill. inconsistency in the portrayal of the characters (at the end of the second season dana realized that her father wasn't the author of the attack, and now she has forgotten about her intuition?). inexplicable disappearance of mike (one would expect he'd move in with brodies' family and instead… nothing, just one, useless appearance; also useless the character of brodie's son: can't even remember his name!). the scene where dana tells her mother she wants to move out is ridiculous: first dana's mother is desperate, and one second later she's just like "ok, go, my sweet daughter, just don't forget to take some food". overall, the first part of the season gives the impression that they used dana's boring issues just to fill some space. the second part of is a bit better, but still much below the excellent level of the two seasons. also, the portrayal of iranians is outrageous, it is informed by the worst, ignorant propaganda (tehran's people are not bearded, hysterical terrorist fans!)

…

Expand