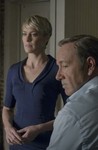 Summary:

Francis and Claire Underwood (Kevin Spacey and Robin Wright) use their positions to continue their rise in power even as people seek to bring them down in the second season of the online-only drama series.

Genre(s):

Drama
Show Type:

Between Seasons

Season 2 premiere date:

Feb 14, 2014

Episode Length:

60

Air Time:

12:00 AM
The first four episodes Netflix made available are more intense and unpredictable than the first season.

My complaints about the new season revolve around that 1 percent [that is unrealistic]. The show is better as a human drama than a political procedural, thank God.

In its second season, House of Cards is just like its main character: clever, ruthless, a bit too self-satisfied and surprisingly powerful.

House of Cards is "Scandal" for naysayers and misanthropes, and that's actually quite cheering.

Sure, the show's "politics" feel ripped from a Politico comment section, and yes, the show's plot doesn't really go anywhere until the final handful of episodes. But the season also tosses an incredible number of balls in the air and manages to keep juggling them, which is impressive in and of itself.

House of Cards is almost willfully and sadistically atonal. Its schemes and subplots and internecine politics undulate and intertwine with a suffocating kind of flatness. I find these new episodes watchable yet sterile.
I thought that the original British series could not be surpassed: Season 2 has proven me wrong. This 2nd season of HoC has completely

captivated me and brought the original concept to a new level of mastery. Foreshadowing, intrigues and character development offers the viewer a real treat in plot pacing, with surprises lurking behind every turn. Even the settings are rich with symbolism and irony. Hats off of to the entire production team and cast.

…

Expand

I rated season one a nine, so I'll give season two a ten. I loved it. My heart stopped three quarters through the first episode of season two,

I had to pause it, and I laughed. I felt shocked and actually surprised by what I was watching for the first time in a long time. So surprised, after my jaw came off the floor, I laughed! Well done House of Cards. I watched the entire second season in about 48 hours, and I was left wanting more. What else can I say? The acting is great, It's amazing how some shows make you capable of rooting for the typical bad guy, or I should say, bad person. We all knew from the first episode what Francis was planning, and to see such ruthless and exciting execution really made the show became something you could get behind.

…

Expand

Francis and Claire Underwood really show their teeth in season two of the Netflix drama. The quality writing defines bold and interesting

characters entangled in blindsided plot twists. Kevin Spacey and Robin Wright are excellent as cutthroat politicos and morally depraved human beings. If one has experienced the first season, episode one of the second season has instant shock value which steam rolls throughout the season. It's one of my favorite indulgences on Netflix.

…

Expand

This review contains spoilers, click expand to view.

Really? Frank's so evil and debaucherous that he's gay? Wasn't a fan of that or the ending really (the last few episodes dragged). But that might be 'cause I don't like gay things being thrown in my face... HEY-OOOHH! I wish they would've drug out him becoming president too... WHIP to president in two years (technically more like one)? But oh well. It get's compared against its competition, so, the season get's 8.5 from me, though I have to round that up or down for here... sooo...

…

Expand

And Frank just got away with it again! House of Cards is great. Love Kevin Spacey and Robin Wright. Frank and Claire are one of my favorite TV

couples; really strong characters. And that threesome... I still can't recover from that scene.

…

Expand

This review contains spoilers, click expand to view. Riveting TV drama, the chess game of DC politics is palpable, Characters are strong well drawn but sometimes
too strong. Frank Underwood is a cunning and ruthless negotiator but the character jumps the shark when he becomes a murderer. That's where the sense of realism is compromised and drama becomes melodrama - and caricature.

…

Expand

This season of house of cards has given me pause. What is the point of this creation?

I cannot fathom how this season has gotten the reviews it has? I understand people hate politics and politicians, okay! Fine, understood! But come on now! Barely has there been even a single coherent scene, within degrees of perception to probable reality. What has been shown is a clown act, dressed up to educate or much rather not at all. The plot lines can often be seen a mile away, obviously that almost any child could say what would happen next. Dialogue for the most part has been, tit for tat. Sounding effectively, the F'word you, NO! The F'word you, but shall we have sex now, or kill, destroy, you. Characterizations mostly of whom are cardboard cutouts, lacking in degrees to a sense of realism, importantly, how characters within given positions react to scenarios shown. Much of it has been happenstance within this absurdity, leading to solutions which are obvious. Quite painfully making through a single episode without questioning these pictures displayed, shown so largely unrealistic. However when making more sense watching that Punch and Judy show, because at least they don't have to pretend.

Where is the line drawn, on what is great, and what is awful? If any portrayal within a probable reality created is fictionally assumed mostly as an opposite?

I conclude so many of whom are angry at government when making entertainment in such high regards, rating without any exception.

…

Expand
Published:

December 12, 2013

Find a full list of the 71st Annual Golden Globe nominations in film and television, and a look at the year's surprises and snubs.

Published:

December 10, 2013

What were critics' favorite television shows of the year? Find their individual top 10 lists inside, as well as composite standings. (And check back for daily updates throughout the month).