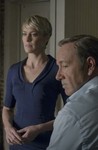 Summary:

Francis and Claire Underwood (Kevin Spacey and Robin Wright) use their positions to continue their rise in power even as people seek to bring them down in the second season of the online-only drama series.

Genre(s):

Drama
Show Type:

In Season

Season 2 premiere date:

Feb 14, 2014

Episode Length:

60

Air Time:

11:55 PM
The first four episodes Netflix made available are more intense and unpredictable than the first season.

My complaints about the new season revolve around that 1 percent [that is unrealistic]. The show is better as a human drama than a political procedural, thank God.

In its second season, House of Cards is just like its main character: clever, ruthless, a bit too self-satisfied and surprisingly powerful.

House of Cards is "Scandal" for naysayers and misanthropes, and that's actually quite cheering.

Sure, the show's "politics" feel ripped from a Politico comment section, and yes, the show's plot doesn't really go anywhere until the final handful of episodes. But the season also tosses an incredible number of balls in the air and manages to keep juggling them, which is impressive in and of itself.

House of Cards is almost willfully and sadistically atonal. Its schemes and subplots and internecine politics undulate and intertwine with a suffocating kind of flatness. I find these new episodes watchable yet sterile.
Realistic, not realistic, it plays on the perception many have on politicians. The back door deals, the deception, lies and favors many owe

is how many see Washington. Kevin Spacey's old-school, sleaze-bag, cold-hearted politician is a sad representation of what perception is like.

Whether those in Washington feel this isn't accurate or true, they know as well as anyone, perception is always stronger than reality.

Best drama and acting all around, haven't felt this compelled to watch a show about politics, since hanging chads.

…

Expand

Simply... sublime.

Kevin Spacey once again knocks it out of the park with his charming portrayal of pure evil in the form of Francis Underwood.

This season truly ramps up the stakes to incredible heights and has every character fighting for their very survival, some politically, some literally.

Simply one of the finest seasons of any TV show ever.

…

Expand

If you thought season 1 was fast moving, wait for the thrill ride of season 2. Revenge is the byword. Francis Underwood may be the

anti-villain to rival Breaking Bad's Mr White. Each of the 13 episodes will carry you on a joyride that you pray will not end. You will be shocked, as you sit on the edge of your seat. Do not miss it.

…

Expand

An improvement of last seasons masterpiece, Spacey gives Underwood an even stronger edge but strikes fear and power into whatever opponent

comes to his way. Robin Wright gives a powerful performance possibly better than season 1. The Netflix Masterpiece is threatening cable TV's shows for best show.

…

Expand

I'll start off by saying I know nothing about politics so I can't make any claims specifically to the story. I enjoyed it. The acting is

beautiful, the cinematography is awe inspiring, and most of all the suspense holds you through the whole series. Everything is part of an elaborate scheme that Frank and Claire have masterfully executed and putting the pieces together is more exciting than the first season. This series paints a very scary picture of how politics work in the modern world, and one that is reinforced by the believability that this series has established. House of Cards in my mind might not yet live up TV legends like Breaking Bad, Game of Thrones, or The Sopranos, but anyone can see why this is the best show not on television.

…

Expand

This season had high points that were very grand, and even some that were shocking twists; better than season 1's high points. However, the

majority of the connections between those grand moments was less interesting than season 1's connecting material. So I guess that means that it rates the same 8/10 that I gave season 1.

…

Expand

This season of house of cards has given me pause. What is the point of this creation?

I cannot fathom how this season has gotten the reviews it has? I understand people hate politics and politicians, okay! Fine, understood! But come on now! Barely has there been even a single coherent scene, within degrees of perception to probable reality. What has been shown is a clown act, dressed up to educate or much rather not at all. The plot lines can often be seen a mile away, obviously that almost any child could say what would happen next. Dialogue for the most part has been, tit for tat. Sounding effectively, the F'word you, NO! The F'word you, but shall we have sex now, or kill, destroy, you. Characterizations mostly of whom are cardboard cutouts, lacking in degrees to a sense of realism, importantly, how characters within given positions react to scenarios shown. Much of it has been happenstance within this absurdity, leading to solutions which are obvious. Quite painfully making through a single episode without questioning these pictures displayed, shown so largely unrealistic. However when making more sense watching that Punch and Judy show, because at least they don't have to pretend.

Where is the line drawn, on what is great, and what is awful? If any portrayal within a probable reality created is fictionally assumed mostly as an opposite?

I conclude so many of whom are angry at government when making entertainment in such high regards, rating without any exception.

…

Expand
Published:

December 12, 2013

Find a full list of the 71st Annual Golden Globe nominations in film and television, and a look at the year's surprises and snubs.

Published:

December 10, 2013

What were critics' favorite television shows of the year? Find their individual top 10 lists inside, as well as composite standings. (And check back for daily updates throughout the month).