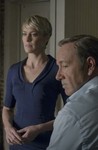 Summary:

The US remake of the 1990s British political miniseries moves the shenanigans to Washington DC. After learning he won't be appointed to a coveted Cabinet position, House Majority Whip Francis Underwood (Kevin Spacey) and his wife Claire plan revenge on the administration he helped elect.

Genre(s):

Drama
Show Type:

Between Seasons

Season 1 premiere date:

Feb 1, 2013

Episode Length:

60

Air Time:

12:00 AM
Watch at whatever pace you'd like--immediately. Given its quality, I think you'll be drinking it all in sooner rather than later.

It's a heavyweight new contender in the drama category, just as Netflix now is as a content provider.

Deeply cynical about human beings as well as politics and almost gleeful in its portrayal of limitless ambition, House of Cards is a wonderfully sour take on power and corruption.

It's beautifully filmed in and around Washington, D.C., it's well-acted, and it's cleverly written by Beau Willimon.

I found the first two episodes handsome but sleazy, like a C.E.O. in a hotel bar. Yet by Episode 5 I was hypnotized by the show's ensemble of two-faced sociopaths. Episode 8 was a thoughtful side trip into sympathy for Spacey's devilish main character, but by then I was exhausted, and only my compulsive streak kept me going until the finale--at which point I was critically destabilized and looking forward to Season 2.

Fincher's unemotional style comes through in the first two episodes, and the show could use more heat. But Spacey makes it worth watching.

This series is about as inside-the-Beltway as Fiji, and Fincher's main plan to compensate for the stupidity level is to have the gentlemen whip off their glasses and the ladies whip off their clothes.
Absolutely amazing! Loved it, from the beginning to the end of the first 2 episodes I've watched. It has the David Fincher mood in it, Kevin

Spacey's constant neutrality in every bit of the show in a really cold blooded character, and the fluidity in which the story unfolds. Seriously, great show, watch it if you can, or get 1 month free on Netflix just to watch this. Best premiere I've seen in a series for a LONG time, maybe the best since Breaking Bad.

…

Expand

This is not a show for idealists. There are no heroes, and at best the characters you meet are ambiguous or are victim to their lesser angels.

But as a study in the pursuit of power the show excels. And though the plot starts slow and methodical, by the end the different story lines weave together powerfully. A few of the characters are underdeveloped (the President and Chief of Staff, both seem underwhelmingly small compared to the protagonists), but the cast overall is solid. Kevin Spacey as Frank Underwood and Corey Stoll as Peter Russo are fantastic. The cinematography is dark and sophisticated and perfectly suited to the subject matter. There could be some stronger female characters: West Wing this show is not but where's C.J. Cregg? That aside, this show got so strong by the end and was a joy to watch. Can't wait till Season 2.

…

Expand

House of Cards deserves the attention it is getting simply for taking an unsentimental and somewhat realistic approach to politics in Sodom on

the Potomac. If anything it is even worse in reality, with politicians generally being told what to do and say by unelected special interests and permanent, private bureaucracies like CIA, NSA and others, to such an extent they ought to have stickers on them like walking nascars announcing who bought them.
Despite this it can be a difficult show to watch because virtually none of the characters have any redeeming features at all, or if they do these are completely drowned out by other immoral behavior. Every character is either a power mad psychopath, a careerist or a spineless suckup, so that all you can possibly feel for any of them is contempt. Most of them are also either promiscuous, perverts or both. Since this is the case psychopaths, careerists and suckups will immediately understand and sympathize with the character motivations, while everybody else will likely feel profoundly alienated and disgusted by the entire thing and perhaps not even understand what is happening. Personally I felt particularly repulsed not by Spacey`s character, the obvious villain in the show, but by his reptile wife. Every scene with her is the audio-visual equivalent of nails scraping across a board to me, and Robin Wright plays it perfectly.
If you can survive this barrage of disgusting people though the show has many positive features, and above all its wild cynicism, which crescendos at the start of season 2 when basically everybody with a non criminal motivation is killed off, scandalized or sent to prison. It is a delightful slap in the face of any lingering optimism the audience may have managed to hang on to in season 1 and firmly determines evil psycopathy as omnipotent and unopposed in DC.
The acting is excellent across the board, and as good as Spacey is the rest of the cast makes his job easy. The scenography, scripting and writing in general is good too. Having said that the writing can seem a little one dimensional at times, mainly because Spacey`s character is portrayed as being the architect of all the malicious backstabbing all by himself, where in reality he would be much more likely to be a representative of a clique of oligarchs and not as independent. Still evil and power mad but a puppet. This is particularly problematic when he conspires against the president, who in reality would have been appointed by the same oligarchs who appointed Spacey`s character, and therefore not be likely to be ousted by a vice president, no matter how malevolent he may be.
It goes without saying that this series will not appeal to psychopaths, control freaks and other passengers on the DC gravy train, who have their unsavory conditions exposed in public like this, or for that matter their handlers on Wall Street, in CIA, NSA, AIPAC or any other illegitimate private power centers in America. It will also probably provoke anyone who has a naive view on politics due to the type of state propaganda traditionally prevalent in Hollywood, where the president is always heroic and flies fighter planes to save humanity. But anybody who has even a passing interest in US and imperial politics will know that House of Cards is one of the more accurate portrayals of real power politics available on TV. It should be worth watching for this reason alone.

…

Expand

the show is a reimagining of a british show, that was the product of its era and location. its an uneasy fit imho. both culturally and the

context of its place on a timeline of changing circumstance, it is an awkward transplant. the british one was coming at the end of thatcherism and explored the potential chaos as the 80s turned into the 90s from the mindset of someone who was old in the 80s. this one has no such cultural momentum, and has a different tone. the first one was black comedy in a british sense. it was basically about following a rogue and a pantomime villain. this one plays it a lot more straight. whats lacking is the import of a "boss" or the comedy of (trying to think of an american version of this kind of dark comedy)"profit". culturally this show falls squarely between profit and boss.

despite every thing i said, its very good. its just far too pedestrian and lacking in any cultural verve to be great. it is technically sound, and the production values are crisp. you wont be watching something that doesnt "work". And..it is well worth watching. i dont know what it adds to the genre, but it seems to get all the right elements down to a tee.

boss is far better.

the original is of a different era and culture for even myself, and im a limey. things have changed quite a bit in the last 2 decades.

this one was well worth watching, and any lacking was a product of its transplant status and a lack of a real character of its own. it moves the story and setting well enough, but the fault lines are from a different product. it needs its own rugged identity, and i think its only half way there, with too many echos of boss.

boss was brilliant though. this is... available.

…

Expand

A stillborn series that began with the embarassing, moronic scene, that can't be anything but self-parody. Spacey's sardonic asides make him

look almost pathetic and self-deluded, and I don't think that was the creators' intention. Everything is so tired, boring and numbingly predictable.

…

Expand
Published:

December 12, 2013

Find a full list of the 71st Annual Golden Globe nominations in film and television, and a look at the year's surprises and snubs.

Published:

December 10, 2013

What were critics' favorite television shows of the year? Find their individual top 10 lists inside, as well as composite standings. (And check back for daily updates throughout the month).