Network:

Lifetime

Series Premiere Date:

Oct 5, 2013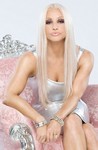 Summary:

After the death of Gianni Versace (Enrico Colantoni) in 1997, his sister Donatella Versace (Gina Gershon) must overcome drug addiction and lost confidence in the brand to save the family company from bankruptcy in this Lifetime TV movie.

Genre(s):

Drama

,

Movie/Mini-Series
Show Type:

TV Movie

Season 1 premiere date:

Oct 5, 2013
Gina Gershon's performance as designer Donatella Versace is fabulously strange. [7 Oct 2013, p.49]

It's hard not to wish for more awesome gold-lamé bitchery than House's by-the-numbers biopic supplies. If you're looking for a sincere tale of family strife and substance abuse, you could do way worse.

Director Sara Sugarman presents less a tale of love and redemption than a colorful how- to on losing $97 million in a few short years. Donatella skates through rehab as an afterthought, resulting in a comeback story lacking any emotional investment.

It's a mass-market knockoff of a luxury brand, not even as chillingly melodramatic as the typical Lifetime movie, dragged down by comically huge jumps in narrative and downright dismal dialogue.
The production is not bad, but not House of Versace as much as House of Donatella herself..... Focused on her story rather than the whole

The production is not bad, but not House of Versace as much as House of Donatella herself..... Focused on her story rather than the whole family and beginning of the tale...... Versace before it's prime.... The leading actress did a good job portraying Donatella but again this is more her Biography and her battles in life than the Brand Versace.

…

Collapse