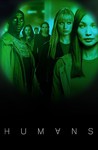 Starring:

Tom Goodman-Hill

,

Carrie-Anne Moss

,

Danny Webb

Summary:

Season two picks up six months later with the synths scattered in different places, Niska (Emily Berrington) is still on the run and Anita is working at a cafe. Laura (Katherine Parkinson) and Joe (Tom Goodman-Hill) are attend marriage counseling. Meanwhile, in Silicon Valley, a billionaire

Season two picks up six months later with the synths scattered in different places, Niska (Emily Berrington) is still on the run and Anita is working at a cafe. Laura (Katherine Parkinson) and Joe (Tom Goodman-Hill) are attend marriage counseling. Meanwhile, in Silicon Valley, a billionaire named Milo Khoury (Marshall Allman) teams up with A.I. expert Dr. Athena Morrow (Carrie-Anne Moss) to work on his secret project.

…

Expand

Genre(s):

Drama

,

Science Fiction
Season 2 premiere date:

Feb 13, 2017

Episode Length:

60
Please enter your birth date to watch this video:
You are not allowed to view this material at this time.
The lines between human and artificial intelligence and empathy (or lack thereof) blur in fascinating and often devastating ways. [13-26 Feb 2017, p.19]

Humans, which is plate-spinning a number of compelling character-development stories in addition to the big-picture themes, is a series that is primed for a larger audience as it improves on its already impressively complex and nuanced story. A welcome return.

Humans may lack the visual pizazz or expressive symbolism to bring its bigger ideas into greater relief, but it's becalmed yet thoughtful aesthetic actually works perfectly in tune with its subtext.

It avoids the present contemporary clichés of dystopias or apocalyptic landscapes, opting instead for something quieter. It might be too slow or too dry for some viewers--and the story may take some unnatural turns-- but like some of the best science-fiction out there, the patience of the attentive audience is rewarded.

Humans has delivered a second season that demonstrates a full, imaginative expansion of its narrative.

The synth family of Mia (Gemma Chan) & Co. continues to drive the show's most interesting aspects, while the nonrobot Hawkins clan drags the action to a halt. Perhaps it's time for a new title. [17 Feb 2017, p.54]

A story demands that it be led by its most compelling characters, and in most cases, that means the oppressed, not the oppressors. Humans can be intriguing, even enthralling. But it's always held back by its title.
'Humans' is not as complex as 'Westworld' but it surely can be just as exciting. The story flows gently and the characters are absolutely

'Humans' is not as complex as 'Westworld' but it surely can be just as exciting. The story flows gently and the characters are absolutely magnificent. And, most importantly, it is extremely addicting.

…

Expand

An excellent exploration into what ramifications the existence of realistic androids would have on personal and social lives. Every bit as

An excellent exploration into what ramifications the existence of realistic androids would have on personal and social lives. Every bit as insightful and thought-provoking as the best moments in the "Ghost in the Shell: Stand Alone Complex" series (where it's cyborg enhancements and replacements that are the major technology being focused on). The acting leaves something to be desired, but the story is just too good for me to lower my rating. In fact the story seems to have gotten even better in S2 than I remembered it being in S1.

And of course this may all be coming from the Swedish original "Real Humans" (Äkta människor) from 2012, but I have to leave the positive comments here since this is the only version I've seen so far.

…

Expand

First Season was OK, but the premiere of the second season sets this up to be a really bad drama, giving up any pretense of being science

First Season was OK, but the premiere of the second season sets this up to be a really bad drama, giving up any pretense of being science fiction. Suddenly "synths" can become *exactly* like humans, with just a tweak to their code. So much so that one of the lead "synth" characters has a new girlfriend for 6 weeks, and the girlfriend didn't even notice! Not sticking around for this train wreck.

…

Expand