Network:

BBC America

Series Premiere Date:

Aug 23, 2014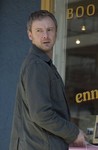 Starring:

James Frain

,

John Simm

,

Mira Sorvino

Summary:

Produced and written by Glen Morgan, the adaptation of Michael Marshall Smith's 2007 novel, The Intruders, the quiet life in rural Washington of former LAPD cop Jack Whelan (John Simm) is changed when his wife Amy (Mira Sorvino), disappears and is subsequently drawn into a murder case by his

Produced and written by Glen Morgan, the adaptation of Michael Marshall Smith's 2007 novel, The Intruders, the quiet life in rural Washington of former LAPD cop Jack Whelan (John Simm) is changed when his wife Amy (Mira Sorvino), disappears and is subsequently drawn into a murder case by his high school friend, Gary Fischer (Tory Kittles), that may be related to a secret society seeking immortality.

…

Expand

Genre(s):

Drama

,

Suspense

,

Science Fiction
Season 1 premiere date:

Aug 23, 2014

Episode Length:

60
Credit Morgan, the original source material of the book (there is some deviation, according to Morgan) and BBC America for crafting an instantaneously addictive piece of television.

"Don't Let Them In" reads the show's tagline, but we're happy to have this show intrude upon our Saturday nights for the time being. [22/29 Aug 2014, p.101]

The atmosphere is suitably creepy--the show features that famously cinematic Pacific Northwest drizzle and Bear McCreary's ominous score--and there are some tantalizing bits that make you wonder how the intruders work their mojo. But with so much heavy lifting required by viewers, it could prove difficult to let Intruders in.

There's just not enough life in the concept thus far to prevent The Intruders, like its namesake, from hiding in plain sight.

We know very little about any of the characters, and it's hard to care about them as they go about their doings under an ominous cloud of supernatural dread.

There may not be a quiz, but without notes you'll almost certainly miss some of the twists and clues. The eight-episode Intruders, based on the Michael Marshall Smith book, doesn't fear the dense.

It takes two episodes to begin to understand it, and once you do, you may not care much, except for the presence of some very respectable actors.
This review contains spoilers, click expand to view.

"Intruders" might be my most favorite new show of 2014 (and I watch a LOT of TV). In the 8 episode series we meet a number of mysterious characters-- Jack, Amy, Rose, Richard, Madison, Marcus, etc. I had zero idea of what was really going on in the beginning. As a result I have watched each episode twice and analyzed them in minute detail (I know, I need to get a life). The acting is excellent (specifically Madison and the relationship between Jack and Amy). The atmosphere is perfect (the show is set around Seattle). I will not go into specifics because I dont want to ruin anything for anyone. But if you like a good mystery with a supernatural spin, I would highly recommend this show. Just keep an eye out for the number "9" and remember this phrase "what goes around, comes around".

…

Expand

Brilliant, brutal, brave television. Intruders is for people who can watch a complex story develop, gradually reeling the threads together

Brilliant, brutal, brave television. Intruders is for people who can watch a complex story develop, gradually reeling the threads together for a gripping finale. Yes you won't get answers in the first or second episode, but in this age of instant access, isn't it nice to be in the dark for once? The answers will come, although you may not like them...

…

Expand

Such a great show! I deeply loved the dark atmosphere all through out the season, it keeps you intrigued. The concept is so interesting and

Such a great show! I deeply loved the dark atmosphere all through out the season, it keeps you intrigued. The concept is so interesting and unique that I didn't mind not fully understanding what was going on. Patience is key in this situation. Can't wait for the next season!

…

Expand

Probably way too early a review for this show. I have seen only one episode. I will stick with it because one of my favorites, James Frain,

Probably way too early a review for this show. I have seen only one episode. I will stick with it because one of my favorites, James Frain, is in it. I checked IMDB and it says he is in only one episode. That may do it for me. The first episode seemed to be nothing more than a series of teasers about what is/will/maybe to come. I will hang in there, but the first episode writer needs to learn one of the tenets of writing, an early hook to keep your readers/viewers following your chain of ideas. We'll see!

…

Expand

Intruders has a good concept, but in the end, it didn't deliver. Overall, the series was incoherent and the British actors struggled greatly

Intruders has a good concept, but in the end, it didn't deliver. Overall, the series was incoherent and the British actors struggled greatly with the American accent. Maybe it needed a few more episodes to help gel the plot together. The best thing about this series was the opening. Intruders needed to be creepier. It should have made people think (semi-spoiler), "Maybe there is another person inside me...". Whenever I was getting into this show, a dodgy accent would pull me right out of it.

…

Expand

I'm losing patience with this slow moving show. My initial review of the premier was very positive but I said it better pick up the pace. It

I'm losing patience with this slow moving show. My initial review of the premier was very positive but I said it better pick up the pace. It hasn't. I will give it another 2 episodes then make the decision to drop it or continue. Not sure why the writer / director are making this so methodical and boring at times.

…

Expand

I tried watching patiently for 4.5 episodes. I had to stop in the middle of the fifth episode. Very badly made. John Simms American accent is

I tried watching patiently for 4.5 episodes. I had to stop in the middle of the fifth episode. Very badly made. John Simms American accent is in and out. I feel like I wasted my time watching. 4.5 episodes. The only good thing this series has is Millie Brown.

…

Expand