Network:

NBC

Series Premiere Date:

Feb 24, 2014

Season #:

1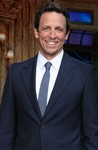 Summary:

Saturday Night Live's Seth Meyers takes over Late Night with Jimmy Fallon's move over to the Tonight Show.

Genre(s):

Talk & Interview
Show Type:

Hasn't Aired

Season 1 premiere date:

Feb 24, 2014

Air Time:

12:30 AM
Meyers seems capable of creating chemistry and having quality chats with anyone, from riding the wild waves of Kanye West to spinning a funny anecdote with pal Brad Paisley about accidentally stealing a Porsche. A talk-show host good at talking? Fancy that.

Fred Armisen is a surprising choice as bandleader, but he brings unequaled improv chops to the table, and his little banter with Seth every night has already proven one of the more reliably funny bits. Integrating him as much as possible is certainly a smart idea. Meyers, like Fallon, is also a more-than-capable interviewer.

Newly minted Late Night host Seth Meyers hit a few early potholes during his inaugural show Monday night--but eventually found his sea legs and drove his new 12:35 p.m. show to a solid, if unspectacular, debut.

Meyers's first monologue was all down-the-middle one-liners, delivered in the exact "Weekend Update" cadence.... Meyers settled in more once he sat down at his desk.

It was... safe, reasonable, unembarrassing, uninspirational.

With all of the hype leading up to Meyers's debut on Late Night, it was disappointing that his opening monologue was scrappy.... On his own, Meyers was merely OK, especially considering that Fred Armisen, who leads Late Night's house band, was such a nonentity. Then Amy Poehler came on and everything was just splendid.

Virtually nothing about this latest Late Night exhibited a whiff of freshness or originality.... On the plus side, Meyers came across as relaxed and loose, riffing on his show's micro-budget and acknowledging the jokes that fell flat. The writing, however, simply wasn't that strong.
I am definitily enjoying it, but I do believe that his role was too small on SNL to just come over and host a huge show on NBC. Give him a few

more years and he will be bigger than Jay Lenno and Jimmy Fallon in my opinion.. Right now on the other hand it is mediocre at best.

…

Expand