Network:

AMC

Series Premiere Date:

Jul 19, 2007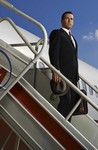 Creator:

Matthew Weiner

Season 5 premiere date:

Mar 25, 2012

Episode Length:

60
Please enter your birth date to watch this video:
You are not allowed to view this material at this time.
The Making Of Mad Men: Women's Hair Styles
The premiere suggests that the only other show that belongs with it in the discussion for the best drama on television is the same one we were talking about last season. At the top level, there is "Breaking Bad," and there is also--finally, thankfully, exceptionally--Mad Men, and then there is everything else.

This is such a gorgeous show to watch (at least for anyone fond of mid-'60s clothes and design) that it's easy to forget how beautifully these actors play their roles and how true-to-life they and the writers make these characters seem.

The show still tends to go suddenly flat--it's hard to tell whether the party is supposed to be dead or it's just incompetently staged--but Hamm is always superb as Don. [2 Apr 2012, p.37]

It works because it's less about who we were then--it's a fantasy of who we were then, really--than about who we are now.

The episode, written by series creator Matthew Weiner, is a model of efficiency and nuance.

Each time-lapse introduces more wrinkles in the show's world, but the premiere offers a sketchy road map of what's to come, and won't expand Men's footprint beyond its solid arthouse niche.
Mad Men is pure genius! This show is beautiful, realistic, interesting, incredibly intelligent, and most of all ITS ADDICTING! I've been in

Mad Men is pure genius! This show is beautiful, realistic, interesting, incredibly intelligent, and most of all ITS ADDICTING! I've been in love with this show from day one, and from the first episode of season 5 (which was amazing of course) this brilliant work by Matthew Weiner and the all-star cast is surely bound to win its 5th straight emmy. The wait is finally over and what a way to bring us back to our favorite drama and back to the 1960's. Any positive adjective you can think of describes Mad Men. This show is absolutely brilliant and i cannot wait till next sunday! Cheers to another award-winning season!

…

Expand

I am so happy that Mad Men is back! This was a fantastic episode and though I agree with some other reviewers that it was not the best

I am so happy that Mad Men is back! This was a fantastic episode and though I agree with some other reviewers that it was not the best episode, I still feel it stands strong in the running with some of the best. I cant wait to see what this season brings!

…

Expand

Far Away Places aka The LSD episode is one of the finest hours of TV I've seen all season. Ranks with The Suitcase as among this series' best.

Far Away Places aka The LSD episode is one of the finest hours of TV I've seen all season. Ranks with The Suitcase as among this series' best. Emmys all around.

…

Expand

This is the best show on TV right now, and in my top three shows ever. So any criticism I have comes with the asterisk that I'm putting it up

This is the best show on TV right now, and in my top three shows ever. So any criticism I have comes with the asterisk that I'm putting it up against the best hours of TV ever. With greatness in entertainment I always like to watch it a couple of times and let it simmer for a while before I call it the best ever. With that being said I am having a hard time remembering a better season of this show. "At the Codfish ball", Far Away Places", and "The Other Women" will definitely be in my top 10 episodes ever of this show. "Commission and Fees" and "Christmas Waltz" were superb as well. The only episode that fell a little flat for me, surprisingly enough, was the finale. I felt that it covered no new ground with Don. Who didn't know that Don would have trouble being faithful the minute Megan quite the firm. On the same level the guilt he would feel after Lane's suicide would parallel the guilt he felt after his brothers. Maybe because he's my least favorite character, but I also felt that Pete's arc came up way short. This has always been the character I love to hate, but this year I just hate him. Even Roger, who is probably my favorite character, and who's storyline this year has been brilliant came up short. I could care less what happens between him and Megan's mother. Overall this season was more than worth the wait and as usual I will be counting down the days till Mad Men is back.

…

Expand

I almost declined to watch this season because the previous one was lackluster but Mad Men somehow managed to un-jump the shark. The

I almost declined to watch this season because the previous one was lackluster but Mad Men somehow managed to un-jump the shark. The characters were static in season IV and some of the plot lines felt forced and trite, but apparently Matthew Weiner used the long hiatus to return the show to proper form. This season is dark, too.

…

Expand

This is an amazing show. It's nice to finally see a show with real actors on tv that play such great characters.

AndyThis is an amazing show. It's nice to finally see a show with real actors on tv that play such great characters.

Andy www.funnyordie.com/andy_knuth

…

Expand

This is one of the most painful collapse of a series I have ever seen. Everything I loved in Mad Men has simply disappeared. It had taken four

This is one of the most painful collapse of a series I have ever seen. Everything I loved in Mad Men has simply disappeared. It had taken four seasons to build meticulously the psychology of characters such as Betty and Pete, and in a flash all this work was swept away with grotesque and implausible solutions. Betty that becomes obese in a few months is simply meaningless. Pete, who had learned to love his wife, who had built a complicity with her and had become an adult, is now again an **** without interest. Undecided about whether to turn to soap opera or sitcom, Mad Men has lost his artistic identity, as pointed out, moreover, by a direction more and more flat and uninteresting. There remain only the jokes of Roger and the hotness of Megan, and nothing else. I am astounded by the fact that everyone seems to be excited about this series.

…

Expand