Network:

AMC

Series Premiere Date:

Jul 19, 2007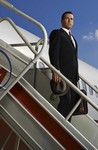 Season 7 premiere date:

Apr 13, 2014

Episode Length:

60
Please enter your birth date to watch this video:
You are not allowed to view this material at this time.
The Making Of Mad Men: Women's Hair Styles
The writing, by Weiner, direction by Scott Hornbacher and performances are, of course, top notch.

Weiner's ability to capture "human" set Mad Men apart at the first beginning and shows no sign of faltering at the second.

The pace hasn't quickened. Nor does the storyline congeal. Instead, Sunday's re-opener builds to a terrifically poignant finish accompanied by music that likewise cries out in pain.

Mad Men has both the greatness of execution and inscrutability of artistic intent, and it won't be until the show actually ends that I'll know which one won out. [21 Apr 2014, p.41]

With its signature mixture of tiny details providing texture and easy storytelling flow, Mad Men lures us back into its final season with all the confidence in the world.

In each one [hour] that we do see, there's a sense of urgency in the face of change, of characters figuring they have maybe one more chance to get themselves where they want to be.

In the past, the slower season premieres crackled with energy. You could feel the tension. Traveling through Time Zones, you experience something of a power failure.
Don't listen to the naysayers who think the only valid criticism is to carp and complain.

Mad Men continues to be one of the mostDon't listen to the naysayers who think the only valid criticism is to carp and complain.

Mad Men continues to be one of the most brilliantly written, acted, and directed programs on TV. Anyone who claims that the first episode was predictable and the performances phoned in just does not have the inherent capacity to appreciate what they're watching. Matt Weiner still has the ability to both fullfill and upend viewers' expectations at the same time. It's what makes Mad Men so compelling.

…

Expand

The first half of Mad Men season 7 lived up to my high expectations that I set when I heard the final season would be split into two parts.

The first half of Mad Men season 7 lived up to my high expectations that I set when I heard the final season would be split into two parts. The first two episodes were very good: easily living up to Mad Men standards. Field Trip was the first episode I loved. It was followed by The Monolith, one of my favorite Mad Men episodes to date, an episode packed with symbolism and passionate outbursts. The next episode, The Runaways, is almost certainly the weirdest, most surprising Mad Men episode I've ever seen, but it was still incredible. The last two episodes were consistently excellent, with moments that stand alongside my favorite moments in the whole show. The mid-season finale made me want more, but not in the cheap way of most shows: I am intrigued without feeling like my emotions were manipulated. I am eagerly awaiting the series finale, and I can't wait to see what all the writers will create next!

…

Expand

the ending was the best part of the whole episode. otherwise it doesn't really look too interesting. same old, same old so far. Hopefully the

the ending was the best part of the whole episode. otherwise it doesn't really look too interesting. same old, same old so far. Hopefully the rest of the season improves.

…

Expand

Two seasons ago Mad Men descended into cliche with fights, deaths, each episode seemed to have a cliffhanger but now thankfully we're back to

Two seasons ago Mad Men descended into cliche with fights, deaths, each episode seemed to have a cliffhanger but now thankfully we're back to the slow burn weirdness where so little happens it is actually more compelling. Also thankfully its not on the media radar so much, there was a point when it was getting so trendy it got overblown. It seems to be descending into a sort of murky world suited for fans as opposed to being picked over every day the way breaking bad was. So that's all good. The one thing for me is that I still don't uderstand why don draper is seen as some tragic figure hurtling into an abyss. To me he seems to have had a pretty awesome time! Women, money, cars, family who stick with him, what's the problem?

…

Expand

Mad Men is finally back, and the beginning of the end is off to a great start. The pilot may have been trying to pack a little too much story

Mad Men is finally back, and the beginning of the end is off to a great start. The pilot may have been trying to pack a little too much story into it's allotted time, but even with a slightly overstuffed hour, this seems like one of the series better season openers. If the final scene is any indication, we are in for a sullen end.

…

Expand

This series has been one of the best I've ever seen, up through the end of season 5. But in season 6 it went off the rails, or became afraid

This series has been one of the best I've ever seen, up through the end of season 5. But in season 6 it went off the rails, or became afraid of its own trajectory and retreated. Don Draper was set up to vault into totally unknown territory at the end of season 5, but season 6 did not follow through, and suddenly the whole theme of the show the whole thing about Don's identity has become irrelevant. It is so strange. I'm not sure why the writers retreated, but instead of launching into where the story has brought them, the writers have backtracked and backpedalled and most of the show in season 6 and season 7 is nothing more than repeating things that have happened before in the series. This has been a real let down and is kind of shocking. Just pretend the series ends at the end of season 5, and it will seem like a really excellent series, and you can imagine what happened following season 5 rather than watch the sad truth.

…

Expand

Being a great fan of Mad Men, I was disappointed by the first part of Season 7. The title of each episode could be "Everybody against Don

Being a great fan of Mad Men, I was disappointed by the first part of Season 7. The title of each episode could be "Everybody against Don Draper". For reasons I cannot understand, Don suddenly turned into the most despised character and spends each episode being humiliated by his former friends and colleagues.

Besides, some of his decisions hardly make any sense, such as going back to his agency, despite the demeaning rules set by his associates. He could have sold his share in the agency and got a better job elsewhere. Then there is Peggy's behavior and her turning into a bigger **** each season. Even if Don did not do anything to harm her and her new boss Lou is a total dick, she welcomes back Don saying "Nobody mussed you". Where was that coming from?

Joan is also turning into an aloof **** Richard is lost in LSD and everybody else just hates Don for no fathomable reason. Finally, the reasons why Don and Megan marriage is still going on are impossible to understand. Also, the actress playing Sally Draper is now almost fully grown up and when she speaks, she gives me the creeps with her deep, masculine voice. Big disappointment.

…

Expand