Network:

Showtime

Series Premiere Date:

Sep 29, 2013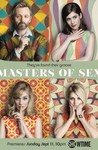 Summary:

Bill and Virginia continue their studies in the second season of the drama.

Genre(s):

Drama
Season 2 premiere date:

Jul 13, 2014

Episode Length:

60
Please enter your birth date to watch this video:
You are not allowed to view this material at this time.
With Masters and Johnson occupying a space in between love, work, and friendship, the heart of the Masters feels like it is finally beating; the joy of the show is watching the two of them interact with each other, and Lizzy Caplan and Michael Sheen have thrown themselves wholeheartedly into their roles. Ashford and her team have also become more confident with pacing and plotting.

Masters and Johnson's work was all about bringing sex in its infinite varieties out into the open. The psychological richness of Masters of Sex positions it to be a worthy successor to the fast-fading (except in Emmy voters' eyes) Mad Men.

The series returns for season 2 on July 13 on Showtime, still excelling thanks to a confluence of terrific casting, great performances and smart storytelling about America in the repressed 1950s.

With lead characters this complex, showrunner Michelle Ashford has plenty of material to plumb for episodes to come. Judging by the second season's start, Masters of Sex is just getting down to business.

Masters may be set in the 1950s, but its politics don't need to live there as well. Luckily, the conversations between the women are just as juicy as last season.

Showing people having sex while wired up to machines may have gotten viewers in the door, but it's the characters and the performances that should keep them there.

Masters of Sex remains passingly enjoyable, thanks largely to the cast, including Caitlin FitzGerald, Keke Palmer, and Allison Janney, all of whom help to refocus the series on the crucial role of women in sexual and scientific exploration.
Masters of Sex is one of best and most complete shows on television right now. Lizzy Caplan is a joy to watch and has finally found her

Masters of Sex is one of best and most complete shows on television right now. Lizzy Caplan is a joy to watch and has finally found her career defining role as Virginia Johnson. Highly recommend this show to everyone.

…

Expand

One of the finest shows on television today. It's broader focus this season has somehow managed to improve upon an already outstanding first

One of the finest shows on television today. It's broader focus this season has somehow managed to improve upon an already outstanding first season. All around wonderful performances and truly great writing are just two of this shows many attributes.

…

Expand

Acting-wise, this season is a major upgrade from already great first season. Not only the main casts, but also the supporting and guest cast.

Acting-wise, this season is a major upgrade from already great first season. Not only the main casts, but also the supporting and guest cast. I'm not surprised if this show will get many nods for guest acting category for Emmy next year (Julianne Nicholson, Betsy Brandt). With Cranston's out for next year Emmy, I really hope Sheen will get the Emmy next year for his wonderful performance throughout the season. For storyline, it is a continuation from previous season with a little additional storyline and improvement for Bill and Virginia relationship. It's still relevant and intriguing to me.

…

Expand

Great idea for a show that could be great, but poor acting and weak plot lines make this difficult to watch. Lizzy Caplan's range is about as

Great idea for a show that could be great, but poor acting and weak plot lines make this difficult to watch. Lizzy Caplan's range is about as strong as Kristen Stewarts. Costumes and sets are great, but not as strong as other period pieces such as Mad Men. The first season was far superior, although that isn't really saying much.

…

Expand

Very much liked season one. Season 2, however is utterly tiresome. The main characters are leaden and tedious, grubby even. Continually

Very much liked season one. Season 2, however is utterly tiresome. The main characters are leaden and tedious, grubby even. Continually entertained by the x Mrs. Pretzel King. She provides joy.

…

Expand

A show with the word sex in the title!? OOOOOOH! How progressive and comprehensive!! Not. Boring, dumbed down "entertainment" for boring

A show with the word sex in the title!? OOOOOOH! How progressive and comprehensive!! Not. Boring, dumbed down "entertainment" for boring dumbed down people...

…

Expand

i really enjoyed the first season but the second season is starting to bore me season 1 was a whole bunch enertaining but now that season 2

i really enjoyed the first season but the second season is starting to bore me season 1 was a whole bunch enertaining but now that season 2 has started i have lost interest in the show

…

Expand