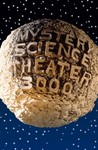 Summary:

The cult television show returns thanks to a Kickstarter campaign with new host Jonah Ray.

Genre(s):

Comedy

,

Science Fiction
Season 11 premiere date:

Apr 14, 2017

Episode Length:

120
Please enter your birth date to watch this video:
You are not allowed to view this material at this time.
Mystery Science Theatre 3000
It's enriched by some knowledge of the original series, especially in the host and introductory segments, but once we get into the actual riffing most of that becomes incidental. For new viewers, this will be a great introduction to a beloved property. For the experienced among us, it's like MST3K never left.

By the time Oswalt presses "the button" and the new orchestral version of the end-credits music plays, it's impossible not to give into the energy and love that went into recreating this strange, vital, and adorable piece of pop-culture history.

Ray, Yount and Vaughn may take a little time to perfect the chemistry that the various original stars (most of whom worked together for many years) had, but they're still consistently funny, and that's all that really matters. The show still has the same joke-a-minute pace, so that any gags that fall flat (or references that fly over viewers' heads) are quickly forgotten by the next laugh.

With 14 new episodes--the third of which is MST3K's 200th overall--there are bound to be both hits and misses. And sure enough, once the initial excitement of recognizing the familiar format and bad movies we love has worn off, the differences begin to peek through.
Just wanted to write a review for the new season that debuted on Netflix yesterday. I have watched 5 episodes so far and can say that the show

Just wanted to write a review for the new season that debuted on Netflix yesterday. I have watched 5 episodes so far and can say that the show is just great. If you loved the old show you will not be disappointed at all.

There are some things to get used to though. The first is that Tom Servo and Crow have different voices obviously but also they have different personalities than before, because of the new comedians playing them. This took an episode or two to get used to, but they are just as funny, just different. After the fifth episode I went back and rewatched Reptilicus, the first episode and liked it better than the first time because I was used to the voices.

Next is the pacing of the jokes, they are much faster than in the past. The jokes come out rapid fire, but they are still just as funny. You may miss so jokes but these episodes are made to be watched multiple times, so you can pick up on the things you missed the first time.

My favorite thing is also something I was worried about the most, and that is the fact that the joke references are not all from the last 5 to 10 years. I was worried all the jokes would be about recent happenings, but not so. Although new things like Rick and Morty are referenced, 70 to 80 percent of the jokes would have made sense to viewers of the original audience from the 90's. The newer references are utterly hilarious though such as some Trip Advisor jokes at the end of Episode 4.

Joel and the gang have really come through and I can see the show having many more seasons in the future. If you loved the old show watch a few episodes and you'll be convinced of the same I'm sure.

…

Expand

Best season yet! I hope to see many more seasons with this excellent cast and crew! The writing is just fantastic and they find the best

Best season yet! I hope to see many more seasons with this excellent cast and crew! The writing is just fantastic and they find the best "worst" films from obscurity. Keep up the great work Joel, Jonah, Elliot and everyone else involved in providing non-stop laughs and episodes with an unlimited amount of rewatchability!

…

Expand

MST3K Season 11 is a great tribute to the original show while, at the same time, changing things up and doing something new with the premise.

MST3K Season 11 is a great tribute to the original show while, at the same time, changing things up and doing something new with the premise. It is a great show, and you would be doing yourself a disservice by not giving it a chance.

…

Expand

Mysytery Science Theatre constantly made me cry with laughter! One of the funniest, if not THE funniest series I've ever seen! And as I have

Mysytery Science Theatre constantly made me cry with laughter! One of the funniest, if not THE funniest series I've ever seen! And as I have to make 150 characters for Metacritic to show this message...

…

Expand

The eleventh national broadcast season of Mystery Science Theater 3000 (sometimes referred to by its new medium, Netflix, as "The Return") is

The eleventh national broadcast season of Mystery Science Theater 3000 (sometimes referred to by its new medium, Netflix, as "The Return") is pretty much everything I had hoped for. After an eighteen-year hiatus, new characters and improved video technology (most notably, the introduction of HDTV but also much better CGI) make a positive impression without sacrificing pre-existing characters or the occasional legacy "riff" from earlier episodes.
.
I've seen most of the new shows, which are a good mix of big-screen failures like AVALANCHE, imported creature-features like YONGGARY and REPTILICUS, awkwardly dodgy sci-fi or fantasy like STARCRASH, or the kind of films that make viewers wonder "What were they thinking?" like CRY WILDERNESS. As for the last category, it's important to recall that in the series' prior iteration the most bafflingly inept "home movies" like MANOS: THE HANDS OF FATE often inspired the most furious lampooning and became viewer favorites. .
.
Jonah Ray (here Jonah "Heston," a typical in-joke), Baron Vaughn and Hampton Yount are wonderful in the roles of botmeister at the Satellite of Love, Tom Servo, and Crow T. Robot. (I'm so glad that Vaughn, like Kevin Murphy who preceded him in the role, loves to sing!) "TV's Son of TV's Frank," Patton Oswalt, has me believing he IS the progeny of TV's Frank, Frank Conniff. Felicia Day as Dr. Clayton Forrester's daughter (and Pearl Forrester's granddaughter), Kinga, makes a strong enough appearance but she will have to get beyond her thus-far established persona as HR Department head on a power trip for her character to have legs.
.
The quality of the riffs is very, very good. Not all land as satisfyingly as others, but that happened in the first ten years as well. My "wish list" for future years (notice that I assume there WILL be future years!):

1. As a prior reviewer said, more movies from 1990 - present;
.
2. Even so, I'd like to see the occasional black-and-white film, even if it means they are more than fifty years old;
.
3. The SOL crew can commit fewer riffs per episode, and in so doing speak a little more slowly -- they're good enough not to fear a bit of "dead air" now and again; .

4. Please, don't abandon the short subjects! Even if they have to anchor a whole episode of their own.
.
So, while not utterly perfect, the new season is a great match for earlier years' episodes. Hopefully not just old 'Misties" like me will steam the Netflix fourteen-episode binge, but newcomers as well. I hope they like it -- I certainly do!

…

Expand

If this show existed independently, it would likely be moderately successful. Carrying the MST3K brand, it seems to have picked up undeserved

If this show existed independently, it would likely be moderately successful. Carrying the MST3K brand, it seems to have picked up undeserved kudos - we're all so thrilled to see MST3K back, and with such dross surrounding it on TV these days, I think we're being quite forgiving.

There are a few niggles for the classic MST3K fan. The presentation is far too slick, for one thing. Even the 'numbered-doors' transition to watching the movies contains a remarkable amount of detail: detailed mini-sets, lights, moving parts...it looks like when a professional is trying to make something appear charming and amateur - it is very forced. It almost looks like it was done with half an eye on a "making of" YouTube meta-series, because modern and internet and community and things. There is also the fact that there is a "skeleton crew" of dancing people and musicians in the new base, for no reason, whereas MST3K has always been a small group of odd characters. Har Mar Superstar is as irritating as ever, and I really have no idea why a band dressed as skeletons belong in the mad scientist base. The main character has always been a lovable, loafing loser, whereas this time around, he is set up as some kind of uber-hero, which again, doesn't really make sense. More importantly, it absolutely does not match the delivery of Jonah Ray.

The sketches between acts of the movie are hugely overworked. There is a massive amount of detail, preparation, and materials which were clearly produced over time, with skill, and by a large team. The rap about monsters in the first episode is really, really clever, and has loads of props to go along with it. You would never have seen anything like it in classic MST3K, and it robs the current rendition of that feeling of the show being really made by this small team of eccentrics. It is far too clear that the show is a large production with money and people behind it, there is no feeling of cult-ness, or intimacy, something which made the classic so special to those who loved it.

All of the above are, as mentioned, just niggles. If the show was good enough, it could all be chalked up to a perceived need to avoid simply recreating what was done before, though I don't really see a problem with that when the "riffing" is the single most important thing. And there is the real problem - the riffing is not great. The comments in classic MST3K were spaced out, captialising on genuine moments of comedy, strange features in the film, bad delivery, bad lines, resemblances to famed people, obscure references, etc., but only as they arose naturally. In this version, it feels like every single scene, movement, spoken word, and object MUST be commented on, every time, regardless of how natural the humour, or whether there is actually anything funny going on. The comments are just non-stop, and it feels like a huge team of writers dissected every moment and had to deliver a mandatory quota of jokes. Sometimes, the guys on screen begin delivering the joke BEFORE the thing they're referencing is even on screen - because the scene in the movie isn't long enough to accommodate this next incredible zinger, but we HAVE to get it in!

Overall, the effect is a much less laid back, very hit and miss sort of experience, far too energetic and desperate to actually capture the feeling of the original. Joel, Mike and co were sufficiently happy with a regular chuckle and occasional peaks of greatness. The scattergun joke approach is a bad fit, and makes for uncomfortable watching. We are not watching the movie with the cast, laughing along with them. We are being told what is funny, what we should be laughing at, even if sometimes it has nothing to do with the movie.

The problems with riffing, the jarring changes from classic MST3K, the over-production, and the lack of that cult feeling all work together to make this mediocre at best.

…

Expand

Not as good as it was. they talk non stop. It's not bad, but they missed the genius of the original. I was pretty optimistic going in, and

Not as good as it was. they talk non stop. It's not bad, but they missed the genius of the original. I was pretty optimistic going in, and this was a bit of a let down.

…

Expand