Network:

FOX

Series Premiere Date:

Sep 20, 2011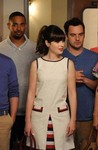 Starring:

Max Greenfield

,

Zooey Deschanel

,

Hannah Simone

Summary:

After a breakup, Jess Day (Zooey Deschanel) moves into an apartment shared by three single guys named Nick (Jake Johnson), Schmidt (Max Greenfield), and Coach (Damon Wayans Jr.).

Genre(s):

Comedy
Everything about New Girl, from her goofy costars to the distinctively quirky writing, is irresistible.

It's the best new comedy of the fall season, and the only new show I genuinely enjoyed from start to finish, rather than having to squint real hard and try to picture what it might look like once the producers figure out what to do with their stars.

Viewers will come to see Deschanel but they'll stay for the whole package because smart writing, confident timing and characters that are both familiar yet surprisingly fresh make New Girl the most promising comedy, and one of the most promising shows, of the season.

New Girl possesses ample energy, even if it almost instantly violates "Seinfeld's" old "No hugging, no learning" rule. Then again, heart is part of its DNA.

Despite growing out of a plot conceit that involves Craigslist, New Girl--from its characters to the Felix the Cat-like predicaments in which they land--doesn't seem rooted in reality of any kind.

Boy, has she pulled the bangs over everyone's eyes with this atrociously cutesy sitcom.
ya i agree with both the low raters.I am a Zooey maniac,but only Zooey cant really pull off such bad writing.But the most important point is

ya i agree with both the low raters.I am a Zooey maniac,but only Zooey cant really pull off such bad writing.But the most important point is zooeys increased quirkiness and cuteness,she is great in the show!coach is pretty decent,but the other two arent much close to funny.Also,it just follows in line with other sitcoms too much.The story is weak and i dont get why men will hate Zooey(maybe 500 days of summer got me too prejudiced).But lets however give the show some time its just the first episode people.

…

Expand

This show is hilarious! The superb acting and writing make up for any of this show's faults. I have seen seasons 1-2 and it seems to be

This show is hilarious! The superb acting and writing make up for any of this show's faults. I have seen seasons 1-2 and it seems to be getting better and better. I find myself enjoying New Girl more than other highly rated sit-coms like the Big Bang Theory and even Friends. I highly recommend this show to anyone looking for a funny sit-com that reaches and goes beyond the standards of its competition.

…

Expand

you've got to be kidding me. This show is hilarious and strongly character-driven by Zooey. I can't get enough of her quirkiness. After one

you've got to be kidding me. This show is hilarious and strongly character-driven by Zooey. I can't get enough of her quirkiness. After one episode I can tell something special is happening here....I can see Zooey ranked up there with strong female leads such as Lucille Ball and Carol Burnett, and their hasn't been any strong female leads since. Zooey is unstoppable and the 1st episode shows a huge range of comedy that i'm dying to see where she can take this.

…

Expand

Who doesn't love Zooey Deschanel? This show took a little time to find its footing, but once it did, it turned into a charming comedy with a

Who doesn't love Zooey Deschanel? This show took a little time to find its footing, but once it did, it turned into a charming comedy with a few laughs here and there. Hopefully people will watch it.

…

Expand

it's an ok show. sadly they replaced the black guy from the pilot, who pretty much owned the scene. but its one of the few 30min shows without

it's an ok show. sadly they replaced the black guy from the pilot, who pretty much owned the scene. but its one of the few 30min shows without stupid background laughter like in every other sitcom. also they picked really beautiful girls, not just zooey

…

Expand

Now this is the kind of comedy that was destined to win my heart from the very first watch and it did. The only reason i was excited about

Now this is the kind of comedy that was destined to win my heart from the very first watch and it did. The only reason i was excited about watching this show was Zooey Deschannel and didn't quite cared for anything else but i found out how sweet and well written show it turned out. Very funny with sweet, cute moments and Zooey performs amazing, Jess is such a great character. A lovely quirky, goofy and innocent comedy is one the best new TV comedy of 2011 and i am lovin' it.

…

Expand

VERY disappointing. The characters have absolutely no depth, there is almost zero plot, and the comedy are unoriginal. Attempts of joke after

VERY disappointing. The characters have absolutely no depth, there is almost zero plot, and the comedy are unoriginal. Attempts of joke after joke falls flat while there is little, if any, character development between episodes.

…

Expand