Network:

Netflix

Series Premiere Date:

Jul 11, 2013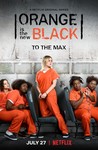 Season 4 premiere date:

Jun 17, 2016

Episode Length:

60
Please enter your birth date to watch this video:
You are not allowed to view this material at this time.
Orange Is The New Black: Behind Bars Featurette
Once the show establishes its new rhythm, one in which it's impossible to guess who or what the next scene will consist of, Orange is thrillingly off-kilter.

Orange loses little steam in its fourth tour of duty, with extremes of dark comedy and bitter tragedy, often heartbreaking in its depiction of metal illness and addiction, devastating in its escalation of racial conflict after the prison's cold-blooded new corporate owners flood the cell block with new bodies, triggering a demographic power shift. [27 Jun - 10 Jul 2016, p.15]

The remarkable thing is that, even with a bigger cast, Kohan never sacrifices a whit of clarity or energy. Orange Is the New Black is as fresh and as vital as ever, and you don't always see that in a fourth season.

The new status quo and even more skewed power balances within the prison doesn't just test every single character. It pushes all of them to their limits, and eventually throws them right the hell off the cliff they've been teetering on the edge of.

Season 4 feels more like a drama than ever, and that's not a bad thing. "Orange Is the New Black" has introduced a multitude of characters we don't usually see on television and given them complicated and intimate relationships that speak volumes about issues not contained to prison's impenetrable walls.

Orange Is the New Black itself, which has grown richer, more surprising, and ambitious in its fourth season. That doesn't always mean it's better than ever--often it isn't--but is just as admirable as ever.

If you love Orange Is The New Black, you're going to be pleased with the way the new season unfolds. If you're more skeptical of its ongoing strength, you may feel, as I did, that some of the show's irritating habits have increased.
What a terrific piece of television, fully committed to the scope and sprawl of the prison, constructed with labyrinthine preciseness, and

What a terrific piece of television, fully committed to the scope and sprawl of the prison, constructed with labyrinthine preciseness, and capable of brutality and pathos at which previous seasons have only hinted. It's not any more subtle than before, but what's the point of subtlety when dealing with issues of such immediate prescience? A wounded animal isn't exactly going to whimper quietly.
For a needlessly precise numerical score- 92/100, or an A

…

Expand

This is Netflix's best show. The acting is phenomenal, with Taylor and the whole supporting ladies in need of Emmy nominations for next years

This is Netflix's best show. The acting is phenomenal, with Taylor and the whole supporting ladies in need of Emmy nominations for next years Emmy's. This season get's better and better with every episode and it's hard not to binge watch in two days. GREAT JOB!

…

Expand

Una increíble cuarta temporada,todo el potencial me ha sorprendido,normalmente una serie en su cuarta temporada después de haber tenido éxito

Una increíble cuarta temporada,todo el potencial me ha sorprendido,normalmente una serie en su cuarta temporada después de haber tenido éxito parece difícil superarse,pero OITNB lo ha logrado.Diálogos con mucho ingenio,actuaciones brillantes y ese toque de comedia que hace a esta serie única en su especie,a pesar del drama contenido en esta temporada.

…

Expand

Despite the slow build up to the new changes at Litchfield, Season four of OITNB is an incredibly powerful fourth chapter in the lives of the

Despite the slow build up to the new changes at Litchfield, Season four of OITNB is an incredibly powerful fourth chapter in the lives of the women we have learned to love for who they are behind their criminal veil. It's funny, serious, heartbreaking and breath taking. So many things have corrupted the inside of the prison that it's hard to guess what's coming next. Season four never has a dull moment, even if those moments are hard to watch.

…

Expand

Muito foda, difícil a 4a temporada se manter tão boa quanto a primeira e até superando a 2a e a 3a. O único problema é estou cansando e/ou

Muito foda, difícil a 4a temporada se manter tão boa quanto a primeira e até superando a 2a e a 3a. O único problema é estou cansando e/ou enjoando dos romances lésbicos, melhor dosarem na próxima temporada ou vai ficar difícil de engolir... mas a série no geral ta muito foda, consegue te sensibilizar e te revolta com as injustiças!!! Parabéns aos criadores, redatores e Netflix!!!

…

Expand

Arguably the best season in the series, marred only by it's incredibly negative and ugly stereotyping of veterans. Overall much more

Arguably the best season in the series, marred only by it's incredibly negative and ugly stereotyping of veterans. Overall much more emotional, much darker, and a solid return to form after a bumbling season 3.

…

Expand

What a terrible season, such lazy writing & directing, I liked the first two seasons, the third season was alright, and this season was so bad

What a terrible season, such lazy writing & directing, I liked the first two seasons, the third season was alright, and this season was so bad I fast forwarded though so much cloying unnecessary filler plots. Blech, they ruined it.

…

Expand