Network:

Netflix

Series Premiere Date:

Jul 21, 2017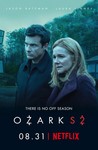 Summary:

Marty Byrde (Jason Bateman), his wife Wendy (Laura Linney) and their two kids move from Chicago to The Lake of the Ozarks in Missouri to escape a drug lord (Esai Morales) after a money-laundering scheme goes wrong in this drama created by Bill Dubuque.

Genre(s):

Drama
Season 1 premiere date:

Jul 21, 2017

Episode Length:

60
Please enter your birth date to watch this video:
You are not allowed to view this material at this time.
The violence is stunning, shocking, messy and unexpected. Bateman, who also serves as executive producer, directed four episodes and is a master behind the camera. His work squeezes the suspense in any scene. The locations are both beautiful and sinister, and the show is superbly scored. Ozark will resonate with fans of "Breaking Bad," although Walter White has little in common with Marty.

Ozark makes its bones via Bateman's solid work, another reliably strong performance from Linney and an intriguing if sometimes over-populated immorality play that tantalizingly firms its grip.

The good news is that Ozark isn't all that predictable and develops its own quirky rhythm. ... Even when the series seems to be drifting, it keeps luring you in.

It's not as good as all-time classics like The Sopranos, The Wire and Breaking Bad, but it shares the same enquiring nature: intelligently examining the psychology, sociology and economics that fuel crime.

The show has an occasionally suspenseful twist. (Electrocution in the water: Watch out!) But as it proceeds, Ozark takes way too long to make a few good points and to showcase a few good performances, most prominently Jason Bateman's.

The producers have come up with a somber, plodding, almost entirely humorless mix of Breaking Bad and Justified, when they should have made a show about this spitfire of a character, the only one in the ensemble who isn't bringing everything down.

What might have felt like a novel idea 10 or 15 years ago--middle-aged white anti-hero does something terrible to help his family, and only gets pulled in deeper and deeper--is now so tired that it would require sheer brilliance to come out feeling as fresh and untainted as all the money that Marty cleans. And Ozark isn't up to that challenge.
I was shocked that Ozark, easily the best show set or dealing with rural Americana since Rectify, wasn't rated in the low 90s. This show is

I was shocked that Ozark, easily the best show set or dealing with rural Americana since Rectify, wasn't rated in the low 90s. This show is highly underrated and that's a real shame. I read many of the negative reviews and some from legendary critics I respect (such as Yahoo!'s Ken Tucker) who IMO really miffed this one.
The best way to go into Ozark is with zero background and no expectations.
I think the worst way to go into Ozark is by comparing it to heavy hitters like breaking bad or weeds. The latter, Weeds no disrespect to Qween Jenji) hit less emotional beats in their last 3 seasons than Ozark does in just 3 episodes. It's laughable how many tv critics repeat the "this show is the new breaking bad" meme, so much so I normally wouldn't dignify them with a response.

However, the comparisons between BB and Ozark highlight a flaw with this show's reviews and contemporary tv criticism at large. "Prestige garishness" is when a show so overtly panders to critics and NATAS that the effort is cringeworthy and often lacks the taste it so craves. And, it's true that miffed Prestige tropes run rampant throughout the so called 'embarrassment of riches' that is the 2017 TV landscape. However A 'Prestige Trope' isn't inherently a bad thing. Bateman (Ozark's star and director) flirts with some basic 'prestige tropes' but instead of falling face first into them, Bateman deftly subverts them. Compare Ozark first season against Breaking bad's slow burn of a first season, and we see two shows with similar premises and thematic elements however these show are vastly different. Obviously BB season 1 wins against Ozark season 1 in most conceivable categories (particularly in style, balance and protagonist character development) however Ozark's first season IMO comes ahead of BB s01 when it comes to pacing, cast wide character development and episode-to-episode entwining of thematic and symbolic elements with their plot.

Inversely I foresee the potential for underestimation to mislead many a-viewers to overlook this wonderful series--thinking this is anything like bloodlines (yuck, I get bored and a bad taste in my mouth just saying it). While Ben Mendelsohn is acting gift from the TV gods, bloodlines is a steaming pile of boredom. I almost skipped Ozark because I assumed from a trailer that Ozark would just be a snarkyer Bloodlines with high caliber actors. I was thankfully very very wrong. Ozark May make you want to grab a triple beam scale or a graphic calculator but I guarantee after watching you'll never climb out of water and onto a dock the same way again.

…

Expand

Best American series we have seen in a long time. Hope there will be more seasons to follow.

Best American series we have seen in a long time. Hope there will be more seasons to follow. Yesssssssssssssssssssssssssssssssssssssssssssssssssssssssssssssssssssssssssssssssss

…

Expand

This show was absolutely brilliant! From the acting, story, music and cinematography this show is hands down one of the most important shows

This show was absolutely brilliant! From the acting, story, music and cinematography this show is hands down one of the most important shows on Netflix. I get why people want to compare this show to breaking bad but this is so much different and almost every way. I'm absolutely mind boggled as to why critics have been giving negative reviews for this show I was sucked in to every single episode. I hope Netflix realizes the kind of show they have their hands on. The possibilities with this kind of talent are endless. Bravo.

…

Expand

I watched Ozark simply because Netflix sent me an email telling me to expect it and had Jason Bateman in it. I enjoy a lot of his work, so I

I watched Ozark simply because Netflix sent me an email telling me to expect it and had Jason Bateman in it. I enjoy a lot of his work, so I was willing to give it a try. I'm glad I did.

I enjoyed Ozark. I can understand why it gets compared to Breaking Bad, but even still, it feels like a lazy comparison. I didn't watch Breaking Bad when it was on initially. I binge watched it after the fact. I already knew all the hype--without any of the spoilers--for Breaking Bad, but couldn't understand what the hoopla was all about…until Saul Goodman came on the scene. Then, Breaking Bad really took off. That was in season 2. For those who think Ozark falls short of Breaking Bad, perhaps they have forgotten how tepid season one of Breaking Bad was--not bad, not great. It grew to be great.

I didn't feel that Ozark season one was tepid, even though I was not on the edge of my seat for every episode. I liked the flow of the story line. I enjoyed the development of the characters. I appreciated that there were some unexpected events thrown in, so that the show didn't feel predictable.

Ozark is a valiant effort do something other than the cover of another storyline, like so many things that come out of Hollywood these days.

…

Expand

So when critics give this a 6.7, and quantico a 7.0 you know how horrible the review system is. This Show Is unreal. Very well done one of

So when critics give this a 6.7, and quantico a 7.0 you know how horrible the review system is. This Show Is unreal. Very well done one of the best shows to come out in the last few years.

…

Expand

첫화 보고 리뷰 쓰는건 처음 입니다. 몇편의 인상적인 넷플릭스를 보고 이제 어떤걸 봐볼까? 오자크가 눈에 띄더군요. 평점도 나쁘지 않고. 어디한번 하고 보니. 특유의 어둡고 우울한 분위기가 짓누르는듯한. 무엇보다 리뷰를 쓰도록 만든 가장 큰 원인은.

첫화 보고 리뷰 쓰는건 처음 입니다. 몇편의 인상적인 넷플릭스를 보고 이제 어떤걸 봐볼까? 오자크가 눈에 띄더군요. 평점도 나쁘지 않고. 어디한번 하고 보니. 특유의 어둡고 우울한 분위기가 짓누르는듯한. 무엇보다 리뷰를 쓰도록 만든 가장 큰 원인은. 마지막 장면. 그리고 라디오헤드라니! 이것으로 충분하네요. 앞으로 기대해봅니다 :)

…

Expand

Very unlikable. As others have mentioned, very dark (unrealistically so) leads to all out depression emanating from the screen. Everyone is

Very unlikable. As others have mentioned, very dark (unrealistically so) leads to all out depression emanating from the screen. Everyone is bland and the leftist agenda has come out swinging. This is not the only show like this and it troubles me that so many people enjoy watching such base, grief filled, anti-human darkness. This 'media' is going to start forcing a social self fulfilling prophecy.

…

Expand