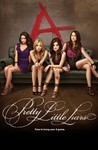 Starring:

Ashley Benson

,

Holly Marie Combs

,

Laura Leighton

Summary:

The series based on Sara Shepard's popular teen novels focuses on four teenaged girls who made a pact not to talk about what happened the night their friend disappeared a year ago.

Genre(s):

Drama
Creator:

Sara Shepard

Season 2 premiere date:

Jun 14, 2011

Episode Length:

45
Please enter your birth date to watch this video:
You are not allowed to view this material at this time.
Competent soap, and the new season is frothier than ever.

Pretty Little Liars only has a couple more episodes to become a guilty pleasure for me. You might not believe it based on the amount of programming I watch, but I've only got room for so much bad TV.
is one of the best series on TV right now, i must say that the writers make the viewers stay tuned, intriguing and wondering during all of the

is one of the best series on TV right now, i must say that the writers make the viewers stay tuned, intriguing and wondering during all of the episode, making the viewer want to watch the show week after week, making the series is successful as it is, is brilliant than the writers decide to put at the end of each episode a clip about what "A" plan to do, leaving you more intrigued that you were at the beginning of the episode. just one of the best series i saw.

…

Expand

I absolutely love this show. If you have followed it since the beginning, you would know there are a lot of twists and turns. It keeps you

I absolutely love this show. If you have followed it since the beginning, you would know there are a lot of twists and turns. It keeps you guessing and wondering. Even if a mystery seems to be solved, it's not what it seems.

…

Expand

I am just loving this show soo much it's so incredible. It is much better than English soaps! Season 2 is the best episode I have ever seen.

I am just loving this show soo much it's so incredible. It is much better than English soaps! Season 2 is the best episode I have ever seen. So glad that Spencer and Toby are going out and they make really cute couples together. It is getting interesting and more scary about 'A'. I just want to know who's the actually the 'A' people. I knew there was something wrong with Mona and Lucas, they are really creepy and scary!. Caleb is the sweetest guy I've ever watched but in the beginning when e meets Hannah it is really creepy, he always looks at Hannah and i knew he was working for Jenna..

…

Expand

Ok, I like the show and some characters. But they have dragged the A storyline way too long. Time to move on ASAP. I believe this show has

Ok, I like the show and some characters. But they have dragged the A storyline way too long. Time to move on ASAP. I believe this show has pushed boundaries since it's an abc family show, a division of disney.

…

Expand

This show isn't the best thing out there, primarily because the writers made sure to make the plot line simple with the whole "Who killed the

This show isn't the best thing out there, primarily because the writers made sure to make the plot line simple with the whole "Who killed the popular girl?" back story. Not only is the acting a little above mediocre, but the love interests are borderline incestuous and pedophilia. I just don't know how teens can stand to watch this schmuck on television... Boring and repetitive. The season finale was definitely NOT worth the wait. SO PREDICTABLE. SKIP IT!

…

Expand

Dear Lord. Can it get more complicated. You would not believe, but the answer is yes. I taught that the second season will give me some

Dear Lord. Can it get more complicated. You would not believe, but the answer is yes. I taught that the second season will give me some answers about A and other things, like why Ian disappeared that night, when he was dead. The only answer you will get is about A, who it is. But is the answer 100% correct. I think you already know the answer, there is the third season already going on. In the conclusion I must say that it is better than the first season, it gets more detective and even more interesting. You should not miss it!

…

Expand