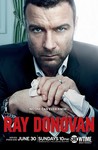 Starring:

Paula Malcomson

,

Dash Mihok

,

Katherine Moennig

Summary:

Ray must deal with the FBI seeking his father, a reporter writing a book about Sully Sullivan, and his relationship with his wife in the second season.

Genre(s):

Drama

,

Action & Adventure
Creator:

Ann Biderman

Season 2 premiere date:

Jul 13, 2014

Episode Length:

60
Please enter your birth date to watch this video:
You are not allowed to view this material at this time.
The trick to Ray Donovan, its gift to TV art, is to make almost every character emerge fully formed, and each scene a stunning vignette: of tragedy.

Occupying familiar anti-hero territory with grim and often outrageous resolve, Ray Donovan is a sun-bleached noir and a character actor's paradise.

This is hardly a one-character show. Ray is at the center of the movie-land maelstrom, to be sure, but everything around him is intriguing. And everything speaks to danger.

While the series possesses enough pleasures, guilty or otherwise, to warrant a secure place in the DVR queue, it still feels like a program that is finding its way--seeking a balance between the seedy underbelly of L.A. glamor and the most dysfunctional of family dramas, connected by a fixer who's mostly a downer.

In trying to balance Elmore Leonard-styled grime, cultural satire, and family-focused subplots, Ray Donovan remains a well-crafted series that, like its title character, suffers from an identity crisis. [11 Jul 2014, p.65]

Ray Donovan, meanwhile, continues to find its way. The show about a Hollywood fixer has added a number of guest stars, including Hank Azaria, Sherilyn Fenn and Wendell Pierce, none of whom has yet made me care as much about the dysfunctional relationship between Ray (Liev Schreiber) and his father (Jon Voight) as about whatever's going on between Ray and his wife, Abby (Paula Malcomson).

Ray Donovan is in the remarkable position of being a show that appears to be built entirely of moments that are gratuitous, provocative, and emptily thrilling.
Great show, upped the pace from season 1, and getting to know the characters a whole lot better. Great acting, twists and turns, manipulation,

Great show, upped the pace from season 1, and getting to know the characters a whole lot better. Great acting, twists and turns, manipulation, scandal. money. love it

…

Expand

The first season was great though there were some things I did not enjoyed (such as Bridget's plot). However, this season is insanely insane!

The first season was great though there were some things I did not enjoyed (such as Bridget's plot). However, this season is insanely insane! It's much better than the first one, all plots are working just fine for me and Walk This Way (2x06) is one os the best episodes I have seen in a series. Really worthy to give a shot.

…

Expand

Lots of compelling complications, drawing Ray addicts in easily for 'round two.' Love all of the charac ters. Abby's strength, accent, and

Lots of compelling complications, drawing Ray addicts in easily for 'round two.' Love all of the charac ters. Abby's strength, accent, and 'flexible' sense of ethics, the rooting for the brothers in and outside of the rink, Ray's devoted employees, the understated Lena and philosphical Avi. Bridget and 'Cah-nah' play their roles as Ray's kids naturally and for the most part, believably. (But I AM 'waried' about 'Cah-nah's' violent streak.) Jon Voight as Mickey is at his most brilliant, though his cringe-worthy dance moves are almost impossible to un-see. Can't wait for next week.

…

Expand

I've been binge watching and becoming a huge fan, but one pet peeve: notice how there isn't a single person that ends a conversation on ANY

I've been binge watching and becoming a huge fan, but one pet peeve: notice how there isn't a single person that ends a conversation on ANY phone call, who ends a call realistically - it's actually become a distraction and makes me question the writing. I know I'm crazy, but it drives me crazy!! Say 'bye' or 'thanks' or 'bugger off' before you hang up. How do you know the other person is finished???!!!! Lol.

…

Expand