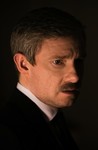 Summary:

Part of PBS's Masterpiece Mystery, the three Sherlock Holmes stories set in modern-day London were created and written by Stephen Moffatt and Mark Gatiss. Benedict Cumberbatch and Martin Freeman play the detective and Dr. John Watson.

Genre(s):

Drama

,

Suspense
Show Type:

In Season

Season 1 premiere date:

Jul 25, 2010

Episode Length:

90

Air Time:

08:00 PM
Tremendously clever fun, Masterpiece Mystery! presents the first of three modernizations of the Sherlock Holmes tales.

The result is a sharp, funny, clever series that remains faithful to the spirit of Doyle's stories while infusing them with a vibrant spirit of modernity.

The stories are complex and contemporary, with references to a remembered past. But it's easy to forget the past--the present Sherlock, droll yet naive, is so wonderfully weird.

The appeal is elementary: good, unpretentious fun, something that's in short supply around here.

It is cinematic in the sense that nothing in it looks quite real. But it works: This is not the London known as jolly and old, but the new chilly city of glass, a place of missed connections, of aliens and alienation. And the smart dialogue and warm performances--even Holmes has a discernible beating heart, or perhaps two--keep ice from forming on the production.

Sherlock is an enjoyably clever mixture of character drama and adventure tale.

The major flaw of "The Great Game" is not allowing Sherlock and Watson to work enough as a team. This flaw makes clearer what the other episodes do well, which is to emphasize the most interesting and important aspect of the original stories, Holmes and Watson's complicated and entertaining relationship.
....To think that T.V. programs like NCIS, CSI or SVU would have eliminated any chance for writers to come up with something genuine and

original, then something like this comes along and completely demolishes your perspective of the murder/mystery - fantastic! Saying that this mini-series paves the way for the next age in crime fighting is nothing short of an understatement.

Now, where to start? The most subtle and yet wholesomely effective technique that I want to praise is the typography and graphics that pop up throughout the episodes - it definitely reflects today's fast pace nature of this world. The only thing I've come across that comes close to this sort of graphical wonder (and I am by no means a television sleuth) is from the game Heavy Rain. Both of them have a very different take on the genre, but their use of flashy text and drawings makes you want to erase the idea that a pen and paper was all you needed to solve a crime.

Worst part of each episode is when it ends, because you're like, "wtf, but I didn't want it to end!" Seriously, when you watch them you'll try to accuse the episode for having gaps in the story, even though from start to finish you're compelled by how well rounded each episode is. The only 'actual' problem is that it kinda does have gaps in the story in such a way that the pace of the series seems a little to fast. But again, the amount of stuff it covers makes the length of the episode seem short overall.

The actors are frikkin' amoayzing! The main actor portrays his role so well, I think it has actually affected the popularity of the script writers and....dare I say it, the producer as well. The guy that plays the brother is ambiguously powerful, and the arch enemy dude is like nothing I have seen! The least impactive actor would probably be that sidekick guy, but the compliment to the main actor is definitely there.

So, 10/10 overall. Hopefully when the second series comes out later this year, I'll die 'after' the final episode, you know, just in case that the level of awesomeness comes so greatly that I have a heart attack, aneurysm or find $2000 in my pocket.

…

Expand

UTTERLY intriguing, excellent dialogue. plots: They are elaborate, yet, totally spectacular. Sherlock will compel you to the edge of your seat

and captivate you with this twenty-first century adaptation. Benedict does a good job as Sherlock Holmes .

…

Expand

Here's to the excellent quality shows that entertain us, especially straight from the Beeb. This show is a piece of genius, intellectually

sound and never fails to both entertain and fascinate at this modern update of the famous detective. Benedict Cumberbatch and Martin Freeman are enjoyable as the lead roles, the humour is intelligent, the plot complicated yet understandable when you actually think about it. Steven Moffat, writer of Doctor Who, you haven't let me down yet. These two shows will remain forever in my heart.

…

Expand

He is everything you want in a modern day sleuth; he is funny, intriguing, mysterious and doesn't have any time for media! Remember the days

when you watched that first really, really good captivating and enrapturing mystery--well it has been repeated in a rare way. I don't think there will be ever a chance to replicate and remix Sherlock in such a wonderful and elaborate way every again.

Well done! I have a new found faith in TV--thanks BBC--that it's story must not pivot in sexuality and cursing. That a show can have deep characters and dialogue that are fully able to resuscitate the brain once again with a electrifying shock to the system. A show that makes me think! I even wrote notes with hope that the producers gave me some hints to the seconds series GRAND finale!

…

Expand

Sherlock is evidence that the BBC is the last remaining beacon of hope in a sea of mass-produced money driven TV shows which are nothing but

the same old crap reskinned again and again. With each episode roughly the length of a film, Sherlock is an excellent take on some old stories, and with stellar acting to boot. Easily the best show currently on TV.

…

Expand

The first season of Sherlock is very witty and smart. Brilliant acting and stellar scripts are part of what makes this one of the brightest

shows on TV.

…

Expand

The wife and I saw the brilliant un-aired pilot to Moffat's Sherlock reboot. It was tightly directed and scripted I like Moffat's work on

Doctor Who and was excited about the show. . . . Until I saw the official pilot plodding, dull and stupid -They show the damn murder in the first scene- It was like they sent it to be re-written by a committee of 11 year old american boys and told them to dumb it up. I say to the wife "we are prolly are just underwhelmed because of how good the un-aired pilot was." or maybe she said it to me because she is clever like that.
We watched the second episode "The Blind Banker" another murder in the first scene another give-me pseudo-mystery. Don't get me wrong there is some delightful racism throughout, fortune cookie accents, and inscrutable Asians. So it was not a total loss. the show is fun it is just not smart and worse it assumes we are not smart.
Then came the "The Great Game" and the worst Moriarty ever. He plays a hyper-controlled super-genius criminal like Jim Carey playing "gay". Speaking of which the already have in the cast the perfect Moriarty Mark Gatiss. When he appeared in the Pilot I thought what a great choice of Moriarty. Not only is Mark number 3 on the list of people I would go gay for. He is wasted on Mycroft. He is the right age a -generation older than Benedict Cumberbatch-, the right temperament, he is a member of the league of gentlemen and can actually act. More importantly he is believable as a math-professor that controls the criminal world like a chess game. The fool they have playing the part, screams and chews the scenery any time he gets a cellphone call. The "I am sOoOo changeable" line had me on the floor laughing and not in the good way.
I guess I should be grateful Moffat has presented me with a real mystery - why does this show only have good reviews?

…

Expand
We've reached the end of another TV season, so it's time once again for our annual look at the best and worst shows. Find out which first-year series impressed critics and users the most, and see how the major networks compared.

Summer will bring some of TV's best shows (including "Breaking Bad" and "Louie," and--possibly--new shows like "The Newsroom"). Inside, we look at the 20 most noteworthy series, specials, and miniseries coming this summer. You'll also find a full calendar of premiere dates from now through August.