Network:

FOX

Series Premiere Date:

Sep 16, 2013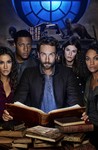 Starring:

Orlando Jones

,

Nikki Reed

,

Shannyn Sossamon

Summary:

Ichabod Crane (Tom Mison) wakes up 200+ years in the future and meets Sleepy Hollow police Lieutenant Abbie Mills (Nicole Beharie). Together they aim to stop the headless horseman, who is the fourth horsemen of the Apocalypse.

Genre(s):

Drama

,

Action & Adventure

,

Horror

,

Suspense

,

Science Fiction
Please enter your birth date to watch this video:
You are not allowed to view this material at this time.
Sleepy Hollow works because it approaches everything with a relatively straight face, yet never seems to be taking itself too seriously.

It's fun, it's entertaining, it's got some scares and some action and plenty of secrets to unveil.

Suspend disbelief, not to mention your knowledge of Washington Irving's classic tale, because the illogical hodgepodge of myth premiering Monday night is great fun.

Cultural commentary mixed with the mystery, along with lavish production values, gives Irving's tale a clever twist. The hour is trying to cover a lot of bases, but it may find its focus.

Sleepy Hollow has an interesting premise and some terrific CGI effects (re: the Headless Horseman), but I didn't buy into the show's mystical/mythological/sci-fi overtones, a mishmash of history, witchcraft and muddled Biblical prophesy that left me confused instead of intrigued.

Success is the exception for shows that try to weave mythologies this complex, and Sleepy Hollow falls back early on predictable conventions like having Abbie's deceased ex-boss leave copious files on mysteries he could never solve.

This could be a watershed moment in TV's long and inglorious history of idiocy, a drama that unintentionally almost matches Arrested Development for laughs.
I love, love, love, the show it keeps me wating more. I love how it reference the bible. The actors are great and I think they have great

I love, love, love, the show it keeps me wating more. I love how it reference the bible. The actors are great and I think they have great chemistry it makes you believe the story. I look forward to more seasons

…

Expand

An interesting show that adds an interesting twist to The Legend of Sleepy Hollow. It adds many interesting twists and fun "inaccuracies" like

An interesting show that adds an interesting twist to The Legend of Sleepy Hollow. It adds many interesting twists and fun "inaccuracies" like referencing the Bible, adding twists to history, and even adding crazy twists to George Washington and Benjamin Franklin. This show has action, suspense, a few laughs, interesting plots, and simply the feel of Sleepy Hollow. If you like mystery, comedy, and monsters in present time, this is the right show for you! I mean what other show would depict the headless horseman with shotguns, or Ichabod Crane working for the police, or seeing Frankenstein face off against the headless horseman?!?

…

Expand

Great show. The season is very good with a lot of suspense, action, drama, character development, and surprises. The end of season left me

Great show. The season is very good with a lot of suspense, action, drama, character development, and surprises. The end of season left me wanting more. However, I was confused during some parts of it, but everything is explained as the series progresses.

…

Expand

Watched the first episode concerned it was going to be like Grimm, an interesting premise that never came close to working for me. I was

Watched the first episode concerned it was going to be like Grimm, an interesting premise that never came close to working for me. I was pleasantly surprised. While not great, a few holes in the characters and plot that weakened this episode, I found myself drawn to the show, and I am looking forward watching it again next week.

…

Expand

Sleepy Hollow is a wildly-entertaining adventure series that has plenty of likeable characters who have a nice chemistry between them,

Sleepy Hollow is a wildly-entertaining adventure series that has plenty of likeable characters who have a nice chemistry between them, especially the leads. This series gets better with each episode, but there are certainly flaws. Since it is a free-to-air network television series, the budget restraints are certainly noticeable through to cheesy special effects and what not, there are also some really cheesy lines of dialogue as well and is rather silly at times. Overall, Sleepy Hollow is a great and fun cult show and I am certainly looking forward to the next season.

…

Expand

Do you like Teen Wolf (TV), True Lies, Vampire Diaries kinda shows? If so, then you won't mind this. Nothing original...just another way to

Do you like Teen Wolf (TV), True Lies, Vampire Diaries kinda shows? If so, then you won't mind this. Nothing original...just another way to pass a hour or so without feeling like watching a Duck Dynasty re-run. I wonder if it would last more than 2 Seasons though....

…

Expand

Buffy the Vampire slayer reboot. The overacting and typical...two people talk, action scene, three people talk, multiple two people talk,

Buffy the Vampire slayer reboot. The overacting and typical...two people talk, action scene, three people talk, multiple two people talk, action scene formula is so friggin tired....only people of lesser intelligence watch this show.

…

Expand