Network:

Netflix

Series Premiere Date:

Jul 15, 2016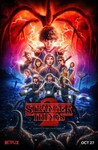 Starring:

Sean Astin

,

Cara Buono

,

Paul Reiser

Summary:

A year later and the town of Hawkins, Indiana is still shaken from the events of last year, but a larger danger looms.

Genre(s):

Drama

,

Horror

,

Suspense

,

Science Fiction
Season 2 premiere date:

Oct 27, 2017

Episode Length:

50
Please enter your birth date to watch this video:
You are not allowed to view this material at this time.
There really is a kind of sophisticated genius behind Stranger Things, and while others may try to imitate what the Duffers are doing, it's harder than it may seem. If anything, the pair have moved the game forward in the second season by making the show scarier without losing the wise innocence of '80s films as embodied by a bunch of kids, riding around Indiana on bikes in the middle of a real adventure.

Until Stranger Things 2 really gets going--and that takes a while--it trails an air of self-consciousness that veers into strained fan service at times. The good news is, the show's core cast remains an extremely versatile and effective ensemble, and once the story kicks into a higher gear about halfway through the nine-episode season, a lot of the old magic returns.

Though it takes two or three episodes for the various story lines to fully kick into gear, Stranger Things 2 is a suspenseful, thoroughly satisfying follow-up that goes to emotionally deeper places than its predecessor did.

Stranger Things 2 is a blast. [30 Oct 2017 - 12 Nov 2017, p.12]

All in all, Stranger Things season 2 is ultimately more of the same, but still a very worthy sequel, which is good news for those of us (like me) who only hoped for the Duffer Brothers to manage to carry through the success of the original run with an affecting, and believable, continuation of the story.

And, man does Stranger Things 2 stick the landing. The season finale is just excellent, finding surprising grace notes for some of its most beloved characters.

The cast remains full of delightful performers, but they sprawl in different directions, many of them boring.
A segunda temporada é incrivel, não perdeu a magia eu amei. Os personagens continuam os mesmo, cativantes e muito bem desenvolvidos. Os novos

A segunda temporada é incrivel, não perdeu a magia eu amei. Os personagens continuam os mesmo, cativantes e muito bem desenvolvidos. Os novos personagens também são incriveis.

…

Expand

Love this show!!!
Season 2 was great, the new characters were interesting, the new monster was cool and the kids were amazing. Only thing ILove this show!!!
Season 2 was great, the new characters were interesting, the new monster was cool and the kids were amazing. Only thing I didn't like was episode 7, it just didn't work for me at all, it was terrible. But besides that the new season was fantastic. 11/10

…

Expand

I had been waiting all year for season 2 and it did not disappoint at all. Season 2 might feel different, yet it retains the character-driven

I had been waiting all year for season 2 and it did not disappoint at all. Season 2 might feel different, yet it retains the character-driven spark that gave Stranger Things its pedigree in the first place. Simply put, Stranger Things season 2 lives up to the hype.

…

Expand

2 season takes a lot of what we loved in 1st season and makes it better, but it have some cliches which didn'n make it more interesting than

2 season takes a lot of what we loved in 1st season and makes it better, but it have some cliches which didn'n make it more interesting than 1st season.

…

Expand

Not as good as season one. This one losses all the bit of terror of the first one, see the main child in most parts divided wasn't the best

Not as good as season one. This one losses all the bit of terror of the first one, see the main child in most parts divided wasn't the best decision. I liked that in first episode Will's mom takes him to the laboratory because i had thought that the plot would be about Will hiding the secret. Haves the same excellent art and cinematography. I wouldn't like a 3rd season

…

Expand

Season 1 was surprisingly good, season 2 was a huge mess. Will is in danger AGAIN, his mom whines about him just like in season 1. More

Season 1 was surprisingly good, season 2 was a huge mess. Will is in danger AGAIN, his mom whines about him just like in season 1. More teenage love drama, and eleven is an annoying cry baby.

…

Expand