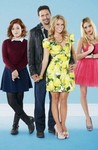 Summary:

Single dad George Altman (Jeremy Sisto) moves from New York to the suburbs with his 16-year-old daughter Tessa (Jane Levy).

Genre(s):

Comedy
Show Type:

Between Seasons

Season 1 premiere date:

Sep 28, 2011

Episode Length:

30

Air Time:

08:30 PM
Not quite an Easy A, but certainly an easy B+.

The dialogue has a nice snap, the jokes come from just to the left of where you expect them to, and the players are all first-rate.

Suburgatory displays a polished sense of humor and a better cast than it deserves, which makes it worth a look.

With a snarky running dialogue from Tessa (Jane Levy), the laughs are as easy and as sophisticated as she is. Or as she thinks she is--and that's the key.

There's no question that some of the jokes are funny, or that it's nice to see Sisto in a role that lets him lighten up.

Basically, Suburgatory is a random collection of clichés drawn from such suburb-bashing works as Valley Girls, Stepford Wives, Clueless and Cougar Town, assembled without a scintilla of wit or human empathy.
LOVED this show. Turned in based on the commercials and the great reviews and it totally delivered. Loved the humor and tone, but that it

also had heart. What an amazing cast. Setting the dvr.

…

Expand

I really enjoy watching this show and I love the cast. It is funny and follows a good storyline without too much drama. I immediately fell in

love with it from the first time I watched it. Also it is easy to follow even if you have not watched from the beginning. I hope it stays around.

…

Expand

Pretty hilarious so far. What I consider a fresh story, father (George) and daughter (Tessa) pack up and move to suburbia after dad finds

condoms in daughters night stand. It's Mean Girls-esque in the way that Tessa is a fairly normal city girl surrounded by plastic people. Only instead of a couple girls it's pretty much the entire town. Good lines, good characters and hopefully a good future.

…

Expand

While the concept of the show is may not be very unique, it certainly does deliver in acting (casting), jokes, and is one of the few sitcoms

with a clear development, instead of a random funny episode each week which does not link with last week's episode.

…

Expand

My friend introduced me to this after she stumbled upon it, and while initially skeptical, I was hooked after a couple episodes. I think we

ended up watching most of the first season in one night! While not mind-blowing, I found this show to be surprisingly fresh. The characters are hilarious in their own ways, and once you get to know them, they become rather sympathetic as well. Best of all, it keeps you laughing. All in all, probably the best sitcom I've seen since Big Bang Theory.

…

Expand

This is a really good show. It satirizes every aspect of the suburbia. However one question remains: for how long can it go on? I mean, there

has to be eventually some point in the show where there is no aspect to be satirized. Right? Anyway. Until now, we have been given new, original stories and clever lines. Playing time of the show is half of the usual (40 min). That makes everything fly around. Together with the colours, point of views and context it makes this show very good. However: the stereotypes used are not funny for everyone. For me they were, :). Enjoy.

…

Expand

I recorded the first episode last night based on critics review of 72. After watching it, I have to assume that this score with crash down

once other critics chime in. This show was terrible. The jokes were pretty crass of the time slot and the position between the middle and modern family. Also, they just were not funny. The editing it choppy and the setup is lame. The best thing I can compare it to is Cougar Town. If you like that, watch this.

If you like this type of humor, try Louise. Louise is vulgar, dark and crass, but is very funny. This show will not be around long if it does not get better.

…

Expand
Published:

December 1, 2011

The fall season is over, so it's time for our annual rankings of the best and worst new shows of the season. Plus, compare the records of the five broadcast networks, and see how 2011 stacks up to the year before.