Network:

FOX

Series Premiere Date:

Mar 27, 2014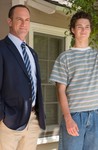 Summary:

Based on Justin Halpern's book I Suck at Girls and set in the 1990s, Jack (Christopher Meloni) is left in charge of his teenage kids Frankie (Connor Buckley) and Rachel (Claudia Lee), after his wife (Claudia Lee) enrolled in law school.

Genre(s):

Comedy
Please enter your birth date to watch this video:
You are not allowed to view this material at this time.
Surviving Jack is terrific. Funny and smart, poignant and believable, it is undoubtedly the best new comedy of the season.

The pilot is funny, Meloni holds the whole thing together and even the voice over works--despite there needing to be, at the very least, a five season moratorium on that little conceit.

Among the innumerable improvements here that lift Jack over Dad, start with turning the paternal lead over to Christopher Meloni--an actor who can convey warmth, brains and masculine menace with a glance--and giving him an actual person to play, rather than an insult-spouting cartoon. Then throw in making his wife a regular character, casting Rachael Harris and moving the story back in time, so that the son is now a more empathetic teenager, rather than an adult moving back home.

Jack's "surrounded by idiots" misanthropy and drill-sergeant parenting threatens to wear thin, but Meloni sells it with an underlying intelligence and empathetic warmth.

A series that's not as impressive as its lead actor's performance.

Mostly, it's another throwback to the twin notions that writers like tackling what they know, and adolescence--with all its potential for humiliation and exultation--offers fertile if not particularly original ground for comedy.

Surviving Jack serves up the latest exasperating parent whose outrageous behavior doesn't add up to a decent sitcom.
I love this show! My husband and I laugh out loud. My 21year old daughter is now hooked. I told my friend who watched 5 shows back to back.

I love this show! My husband and I laugh out loud. My 21year old daughter is now hooked. I told my friend who watched 5 shows back to back. Great writers. Love all the characters. Keep this on tv. No more realty shows. Please

…

Expand

Super funny series, love the characters and the fact it happens in the 90's. Once again, good humor lined with good life lessons. Love

Super funny series, love the characters and the fact it happens in the 90's. Once again, good humor lined with good life lessons. Love it,absolutely love it!!!

…

Expand

I cant believe this show was cancelled!!!! Huge mistake!! my husband and i laughed so hard. love the characters and real life relationships.

I cant believe this show was cancelled!!!! Huge mistake!! my husband and i laughed so hard. love the characters and real life relationships. please bring it back :(

…

Expand

love the fact it happens in the 90's. I grow up in the 80 's and 90's and this series is a modern creation about that time and its awesome!! I

love the fact it happens in the 90's. I grow up in the 80 's and 90's and this series is a modern creation about that time and its awesome!! I also think Its a super funny series with good humor lined with good life lessons.

…

Expand

One of the best comedies i see ally ear . its fun what jack kick ass also be a hard father but is that the point of this show , bring more of

One of the best comedies i see ally ear . its fun what jack kick ass also be a hard father but is that the point of this show , bring more of the JACK !!!!!!!!!!!!!!!!!!!!!!!!!!!!!!!!!!!!! .

…

Expand

Yes its not very original but I got a few laughs out of it and as the vast majority of comedies are horrible with a laugh track superimposed

Yes its not very original but I got a few laughs out of it and as the vast majority of comedies are horrible with a laugh track superimposed to let me know where the jokes are il give this another chance

…

Expand

Someone needs to inform EFYevan, below, that you are not entitled to write a critique about a show you turned off after 1 minute. But having

Someone needs to inform EFYevan, below, that you are not entitled to write a critique about a show you turned off after 1 minute. But having read his useless review that just adds another problem I have with this show. I missed that episode but I have to say, for a show that takes place in 1991 clicking on porn would be sort of impossible. First porn site wasn't until 1994 or 95. Sure you could see digital porn but you weren't clicking on porn sites in 1991.

OK so 30 minutes of awesome parents who know just the right thing to say as life unfolds in upscale neighborhoods might be must see TV for some. But it's the 21st century and I guess I just expect a bit more than rehashed Wonder Years.

Compared to the Goldbergs, Jack and the Millers, the one TV family I might actually want to spend time with is the Millers.

I'm not sure how many "coming of age" tv shows the world can handle. I hated the Goldbergs at first. This show is nothing but the WASP version of the Goldbergs.

I suppose there's a certain charm to pretending your childhood was so fascinating, as undoubtedly you also believe about yourself, that we all want to sacrifice 30 minutes of our precious time to watch you grow up. But I'd be lying.

…

Expand