Network:

CBS

Series Premiere Date:

May 31, 2000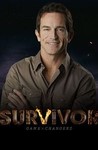 Starring:

Jeff Probst

,

Rob Mariano

,

Russell Hantz

Summary:

The rules of Survivor are simple: average Americans are abandoned in the middle of some of the most unforgiving places on earth. Divided into teams, they participate in challenges given by host Jeff Probst, and every three days, the losing tribe must trek to Tribal Council to vote out one

The rules of Survivor are simple: average Americans are abandoned in the middle of some of the most unforgiving places on earth. Divided into teams, they participate in challenges given by host Jeff Probst, and every three days, the losing tribe must trek to Tribal Council to vote out one of their own. Halfway through the game, the challenges shift to individual competitions when the tribes merge and become one. Now the game is every contestant for themselves.The game is simple: Outwit, Outplay, Outlast, by winning immunity, thus not being eligible to have votes cast against yourself. However, the players must be careful about who they send packing - because after the merge, a jury of previously voted out contestants begins to form, and each week they return to watch the Tribal Council ceremony. At the end of the game, they vote for one of the members in the finals to win one million dollars and become the next Survivor!Generally, each season begins with a twist - something different to surprise the new castaways. Survivor is a game of adaptation, and the final two or three of each season are the players most able to adapt to their surroundings and to the people they are playing with. Survivor focuses on the people, and the social commentary that surrounds them. The game revolves around how these players can Outwit, Outplay, and Outlast.

…

Expand

Genre(s):

Game Show
Season 22 premiere date:

Feb 16, 2011

Episode Length:

60
Please enter your birth date to watch this video:
You are not allowed to view this material at this time.
The show is solidly American. [9 May 2011, p.39]

This season is shaping up to be a good one, with strong personalities and savvy players. The Redemption Island twist is making for compelling duels, and no one knows yet how the winner of the Island challenges will integrate back into the tribe.
Just when I was thinking Survivor cannot bring anything new or interesting to the table, it blew us all away with Season 22, Redemption

Just when I was thinking Survivor cannot bring anything new or interesting to the table, it blew us all away with Season 22, Redemption Island's premiere. The cast is spot on and even the inclusion of annoying Russell and 4 time castaway Rob was a welcome addition. Both tribes have some great personalities right off the bat. Spread the word everyone, Survivor is BACK and is here to stay for many more seasons to come!!

…

Expand

As a huge Survivor fan, I've been very disappointed with the later seasons of this show, especially this one. I found the "Redemption" part of

As a huge Survivor fan, I've been very disappointed with the later seasons of this show, especially this one. I found the "Redemption" part of the show lacking depth, where they could have gone back to Exile Island and kept it more interesting. Frankly, bringing back characters over and over again keeps it more predictable than ever. Yes, Russell is annoying. That never changes. And the fact that people continue to be 'duped' by Rob, etc - annoy me enough to loose interest. It truly didn't redeem itself.

…

Expand

This review contains spoilers, click expand to view.

There was zero competition for Rob to win after Russell's elimination; nobody on Ometepe questioned his iron-fisted leadership, even when he implemented obviously power-hungry measures such as forbidding anyone to go off without a buddy and forcing his super-hungry underlings to stay away from fresh-caught fish being eaten by the Zapatera members. Zapatera fell into a tailspin because nobody on Ometepe was thinking for themselves (though throwing a challenge reduces my sympathy for them), and Rob waltzed right to the win. Super-predictable and not a good season in any sense. And Redemption Island neutered the vote-off, the most dramatic moment in each episode.

…

Expand