Network:

PBS

Series Premiere Date:

Apr 15, 2014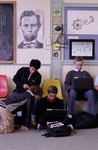 Summary:

Ken Burns' follows a group of boys between 11-17-years-old who attend The Greenwood School, a boarding school where many of the children have learning issues such as ADHD or dyslexia, learn the Gettysburg Address.

Genre(s):

Movie/Mini-Series

,

News/Documentary

,

Documentary
Show Type:

Special

Season 1 premiere date:

Apr 15, 2014
The Address ultimately can't nail its ending.... ut so much of The Address accomplishes what it sets out to do and is so different from Burns' typical work that it becomes a fascinating sidebar in his filmography.

A documentary on PBS that has little to do with the war but is quietly revelatory, just as that earlier work was.

The Address is ragged and homely; it feels homemade, even amateurish at times.... But it is full of life and feeling; its rawness suits the subject, and helps rather than hinders Burns' cause.

As documentary subjects, the boys are in many ways impenetrable. Getting them to ignore the camera and just be themselves is next to impossible, but there are revealing, achingly honest moments that make the film worth watching.

While The Address is laudable, based on how loudly Burns' voice echoes across the network, this one-off amounts to little more than an understated bit of throat-clearing before the next event.

The movie feels too long, padded even, but its relaxed vibe and non-cloying tone are a tonic.