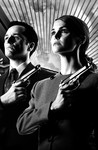 Summary:

The Americans follows two KGB agents posing as Americans in the suburbs of Washington D.C. The series stars Keri Russell, Matthew Rhys, and Noah Emmerich.

Genre(s):

Drama

Show Type:

Between Seasons

Season 2 premiere date:

Feb 26, 2014

Episode Length:

60

Air Time:

10:00 PM
Sometimes watching greatness expand and realizing that a foundation is in place for the future (excellent writing, superb acting, a clear conceptual vision) is just the kind of assurance you need to cement your allegiance.

Season 2 finds ways to introduce even greater tension, even as [Philip and Elizabeth are] a more fundamentally sound unit, while also adding a whodunnit element that spices things up nicely.... Absolutely dynamite.

FX's The Americans does the near-impossible of making viewers cheer for Russian spies in America and at the same time for the American FBI agents who are trying to unmask those Russians living in suburbia. It's an incredibly deft balancing act that's accomplished through strong character development all around.

Watching, it is almost impossible not to root for these two Communists as they do any and everything they can to undermine America. In this regard, The Americans works its American audience as effectively as its heroes work their marks: It makes double agents of us all.

what these two characters, so fabulously played by Keri Russell and Matthew Rhys, are about to realize as this excellent series returns is that their jobs put their children at risk.

Credibility starts to fray when our heroes, or anti-heroes, keep needing miraculous last-second evasions and escapes.
What a great program!

The acting, dialog and plotting are fantastic. How else can you explain the fact that one can feel real empathy for the leads as dedicated and loving parents who also happen to be stone cold killers who are sworn enemies of our country?

It is one of the most intelligently written programs on TV, one that never ceases to surprise and entertain.

…

Expand

Yes, it's better than Homeland. Good performances from the main cast and an interesting story. Makes me wonder if my relatives are Russian

spies.

If you're tired of continuous American propaganda (I hope it never goes down that path), I highly recommend it.

…

Expand

It's really hard to fault "The Americans" and its an interesting feeling to be rooting for the supposed bad guys. Keri Russell and Matthew

Rhys are a great pairing of solid actors, especially Rhys. My only qualm is that Annet Mahendru's character Nina is probably getting too much screen time this season. The subplot is dull and the time could be better spent elsewhere.

…

Expand

Overall I like the show, but some episodes drag. When it is good, it is excellent, but when there isn't much going on, the filler is tedious.

It is easy to care about Matthew Rhys character Phillip, but Keri Russell's character is always irritated and angry. This past season the storyline with their daughter Paige was also boring and I tended to fast forward through those parts. I must say though, the last episode of the season was great!

…

Expand
Our look back at the 2013-14 television season includes all of the year's award winners as well as the season's highest-scoring programs.

Published:

December 11, 2013

We reveal the 10 best-reviewed first-year TV series that debuted this year. Plus, get a list of the top TV movies, miniseries, and specials, and rankings of all new shows by network.