Network:

Netflix

Series Premiere Date:

Jan 5, 2018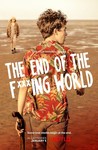 Summary:

Based on the graphic novel by Charles S. Forman, the British dramedy follows Alyssa (Jessica Barden) and self-described psychopath James (Alex Lawther) as they go on a road trip to find Alyssa's father after she has a fight with her mother.

Genre(s):

Comedy

,

Drama
Season 1 premiere date:

Jan 5, 2018

Episode Length:

30
It's funny, and it's sweet; it's violent, and it's romantic. Its leads are both reprehensible and totally sympathetic; both scared kids and responsible adults. It seems the mark of an honest production that the characters are arrestingly recognizable--and revealed so thoroughly to the audience that judging them feels impossible. By the end I was unsure if I wanted them rounded up by the authorities or free to go out in a blaze of glory; the only thing I was sure of was I wished there were more episodes.

The eight-part series, which arrives in a semi-surprise drop on Netflix Friday after debuting on the U.K.'s Channel 4, is a surprising tour de force, mashing up the pitch-black humor of British alternative comedies with the visual punch of an auteur-driven indie film. It's also mercifully short. Individual episodes top out at around 20 minutes, making the series eminently bingeable, and giving it a taut, concise structure that more new shows could stand to mimic.

Ultimately, and in the most absurd (and therefore enticingly watchable) of manners, The End of the F***ing World is a heartwarming romance.

The twisted, efficient story that The End tells is a nicely contained thing that requires no additional embellishment, and it should be binged and cherished in its tart glory.

Written by Charlie Covell and directed by Jonathan Entwistle, The End of the F***ing World takes more unexpected narrative turns as it goes on, and that makes it worth watching, assuming you can muscle your way through the accompanying gloom and occasional gore. Both Lawther and Barden have a capacity to go from deadpan to deeply agitated in an instant, and those shifts become more compelling the more you watch.

End has the edge in writing, acting--especially by Ms. Barden--and ambition [over Everything Sucks!].

World's stylistic editing and internal narration gives it a cool, zippy vibe, and the fast pace propels it forward. Its smart structure, with genuine surprises and cliffhangers, makes it an addictive binge-watch, and the episodes' 18- to 22-minute running time makes it a particularly easy one.
It is impossible to not fall in love with the characters and how greatly the story evolves. It truly is a joyful and funny ride. I do hope

It is impossible to not fall in love with the characters and how greatly the story evolves. It truly is a joyful and funny ride. I do hope they come back for a second season, even though the story finished so perfectly I wouldn't know what they could possibly do next. At first, I was surprised at how short in length each episode is, but it's beyond brilliant how they fit together. Absolutely loved it.

…

Expand

AMAZING. The two main characters may seem like unlikable people on paper, but their antihero portrayal works in this fresh dark comedy. Every

AMAZING. The two main characters may seem like unlikable people on paper, but their antihero portrayal works in this fresh dark comedy. Every character is given a room for development, which is something rare for supporting characters in a coming of age short series. Jessica Barden and Alex Lawther SHINES in the respective roles of Alyssa and James, giving incredible depth and a clear personality to their character.

…

Expand

I watched this all in one night. It is one of the most emotionally gripping things I've ever seen. The writing is outstanding as it will make

I watched this all in one night. It is one of the most emotionally gripping things I've ever seen. The writing is outstanding as it will make you laugh, cry, smile and feel so angry. The cinematography is a joy to watch and it is very well edited together. It is the perfect length: it doesn't drag yet feels like something is happening in each episode. Would recommend to anyone.

…

Expand

This is a coming of age story that pushes whimsical to it's absolute limits. The f***ing world that this show creates in the first few

This is a coming of age story that pushes whimsical to it's absolute limits. The f***ing world that this show creates in the first few episodes is so beautifully grounded from reality that you yourself almost feel the numbed naivety of the lead characters.

There are some truly gorgeous cinematic shots in this show that look as though they've been lifted directly out of the center-fold of a comic book. There are similarities in tone to that of an Edgar Wright film.

The total run time of the combined eight episodes fall just short of the latest Star Wars film, which makes it an easily addictive show to binge watch when you consider that it the same length as a feature film.

A true dark comedy that is a must for fans of Edgar Wright films.

…

Expand

[MINOR SPOILERS]
While James' transformation from self-proclaimed psychopath to a young boy in love comes across as a little idealistic, the[MINOR SPOILERS]
While James' transformation from self-proclaimed psychopath to a young boy in love comes across as a little idealistic, the show does feel very grounded in reality. I loved Alyssa's blunt honesty in all things. The show was sad at times, happy and bittersweet at others. My favorite were the side characters, especially the security guy. Something about that scene really touched me. A series worth watching.

…

Expand

Dreadful TV series with very predictable story. Characters are bad and very cliche. only characters that are relatively interesting are the

Dreadful TV series with very predictable story. Characters are bad and very cliche. only characters that are relatively interesting are the two police officers whose story is very shallow at best. Acting is very stale.

Very typical of Channel 4s tv shoes aimed to immature and naive teenagers (coming from a teenager)

…

Expand