Network:

NBC

Series Premiere Date:

Sep 19, 2016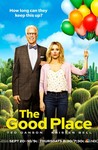 Starring:

Ted Danson

,

Kristen Bell

,

William Jackson Harper

Summary:

Eleanor and her friends wake up in the new Good Place with no memories of their previous experiences in the second season of the comedy.

Genre(s):

Comedy

,

Fantasy
Creator:

Michael Schur

Season 2 premiere date:

Sep 20, 2017

Episode Length:

30
Please enter your birth date to watch this video:
You are not allowed to view this material at this time.
The Good Place is pure, unfiltered joy that also happens to contain all the ingredients that make it great television. ... The second season maintains The Good Place's mantle as one of the very best shows on television right now.

It continues to be a thoughtful consideration of what we owe each other. And it's also one of the funniest shows on this plane of existence.

The best show on network television. Michael Schur's hysterical deconstruction of karma is reaching for new levels of brilliant absurdity in its second season after blowing people's minds with the twist at the end of the first.

Yes, The Good Place is strange--also ridiculously inventive, silly, smart and strangely, unexpectedly deep.

The delicious evil of The Good Place, [is] the hidden detail that makes it such a gem worth picking up in season two. ... The first season finale paved the way for a reboot that takes several episodes to settle in this new season but basically remakes the series into a tongue-in-cheek indictment of the office politics and the ruthlessness of middle management.

The Good Place is very well written, full of good jokes about bees and clowns and clam chowder. But it's got another layer: it's also about power dynamics and morality systems--how they shift and mutate depending on how people interact.

There's a distinct plan in place, one that opens up all kinds of new narrative ground for the show to explore. Along the way, it gets to pursue the most fascinating questions it set up last season. What does moral growth really mean?
The Good Place is everything a show in the peak TV era should be: bold, inventive, creative and, most importantly for a comedy, fun. It throws

The Good Place is everything a show in the peak TV era should be: bold, inventive, creative and, most importantly for a comedy, fun. It throws tropes out of the window and uses them for joy. It uses twists more effectively than most drama series, enhanced by the amazing performances of the cast and the excellent writing of the team behind the camera. Everything about the show is a bliss, and it's worth checking out and staying around to see what they come up with next.

…

Expand

Beyond just being amazingly original, The Good Place seeks to explain the philosophical origins of western moral values in a digestible and

Beyond just being amazingly original, The Good Place seeks to explain the philosophical origins of western moral values in a digestible and entertaining way. Easily as good as any prestige television drama that I've seen.

…

Expand

This show remains one of the most funniest and most creative unpredictable comedies on TV. Great cast all around, but Kristen Bell and Ted

This show remains one of the most funniest and most creative unpredictable comedies on TV. Great cast all around, but Kristen Bell and Ted Danson really knock it out of the park.

Two quibbles: There were a few too many bottle episodes in the middle of the series. Kind of took you away from the world of the Good Place. Jahani and Jason and the others plotlines kept them at a distance for a good part of the middle of season. So it was sort of hard to believe that they were a team and helping each other when they weren't interacting that much.

…

Expand

It is not histerically funny nor amazingly deep but it is a pleasant, clever and original comedy. Something different and refreshing with

It is not histerically funny nor amazingly deep but it is a pleasant, clever and original comedy. Something different and refreshing with some touches of philosophy.

…

Expand

season one is great. I want to live in the good place forever. I believe I deserve the good place. I intend to be a good person like that

season one is great. I want to live in the good place forever. I believe I deserve the good place. I intend to be a good person like that black guy. I am more like the blond woman.

…

Expand

This review contains spoilers

, click expand to view

. After the big twist at the end of season one there were concerns as to what direction the show would take, fortunately those concerns were unfounded. Despite the characters being removed from their usual home, something that can often be a disaster for sit-coms, The Good Place managed to keep up the level of humour whilst piling even more twists and turns.

I wouldn't quite put it on a par with creator Michael Schur's Parks and Recreation yet but if it keeps up the standards its set in these first two seasons it could do just that.

…

Expand

This review contains spoilers

, click expand to view

. Getting worse by the episode.

Remember when Ted Danson was actually funny? Remember when he dressed better? The scripts create no sympathy for the lead characters except for Janet. I keep hoping they send all four of these shallow and increasingly unlikable characters to an old style "bad place" and save us the trouble of the weak stories. This year's plot lines make me think Michael is the one who is actually being tortured and the rest of the characters are in on the story within the story.

Thought this was going to be a better show based on the cast and a somewhat interesting premise but so far severely disappointed.

…

Expand