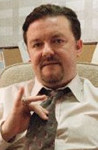 Summary:

This third "season" of the groundbreaking British workplace comedy consists of a two-part Christmas special which serves as a finale to the series.

Genre(s):

Comedy
Show Type:

Ended

Season 3 premiere date:

Dec 26, 2003

Episode Length:

30

Air Time:

09:00 PM
Like the series that preceded it, The Office Special is brilliant. [21 Oct 2004]

It's hard to imagine any other comedy series putting such a fitting cap on its run. [21 Oct 2004]

Thanks to a finale that is, by turns, hysterical, excruciating and even poignant, this series--about a blowhard branch manager (Ricky Gervais) who gets sacked from his job at a struggling paper company--gets to quit while it's way, way ahead. [18 Oct 2004]

A masterful series finale. [21 Oct 2004]

Whether it's Brent's starry-eyed foppishness, Dawn's artistic daydreams or Gareth's organizational stiffness, these are characters we don't see on American TV. They're not accomplished, clever or distinctive. But they're so well-observed, and so subtly personified, that it's as if we're finding amusement in people we know. [21 Oct 2004]

The special stays true to the tone and searing wit of the original series and makes for a spectacularly funny coda to "The Office." [18 Oct 2004]

A satisfying, touching and excruciatingly funny severance package.
This two-part Christmas special has the same gut-wrenching effect of the previous two seasons with Gervais' Brent's unbearable presence still

This two-part Christmas special has the same gut-wrenching effect of the previous two seasons with Gervais' Brent's unbearable presence still palpable. Dawn and Tim's love fiasco finally gets resolved in an effective, heartfelt manner and the supporting cast are still the fumbling idiots you've grown to know and love. Although we would all have liked a fully fledged final season, this two-hour finale does an exceptional job at closing the doors on The Office.

…

Expand

Honestly i like the us version better, especially because of Steve Carell. Gervais is a genius but his series always are to **** short, can´t

Honestly i like the us version better, especially because of Steve Carell. Gervais is a genius but his series always are to **** short, can´t get completely into it

…

Expand