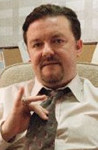 Summary:

This third "season" of the groundbreaking British workplace comedy consists of a two-part Christmas special which serves as a finale to the series.

Genre(s):

Comedy
Season 3 premiere date:

Dec 26, 2003

Episode Length:

30
Please enter your birth date to watch this video:
You are not allowed to view this material at this time.
Like the series that preceded it, The Office Special is brilliant. [21 Oct 2004]

As he did in the series, Gervais imbues Brent with a kind of idiotic cleverness that is both silly and devastating. [21 Oct 2004]

A masterful two-hour finale to an already exceptional program. [21 Oct 2004]

It integrates the boredom, self-delusion, dashed hopes and struggle for power into something bigger, and potentially better, and functions not only as a continuation of the story but a convincing conclusion.

Quite possibly the finest closing chapter ever for a TV series.

Thanks to a finale that is, by turns, hysterical, excruciating and even poignant, this series--about a blowhard branch manager (Ricky Gervais) who gets sacked from his job at a struggling paper company--gets to quit while it's way, way ahead. [18 Oct 2004]

A satisfying, touching and excruciatingly funny severance package.
This two-part Christmas special has the same gut-wrenching effect of the previous two seasons with Gervais' Brent's unbearable presence still

This two-part Christmas special has the same gut-wrenching effect of the previous two seasons with Gervais' Brent's unbearable presence still palpable. Dawn and Tim's love fiasco finally gets resolved in an effective, heartfelt manner and the supporting cast are still the fumbling idiots you've grown to know and love. Although we would all have liked a fully fledged final season, this two-hour finale does an exceptional job at closing the doors on The Office.

…

Expand

This review contains spoilers

, click expand to view

.

A two part finale that provided the perfect send off for arguably the greatest sit-com of all time. This brief return was of course as funny as ever but the emotional pay off took things too another level entirely, you'd have to be made of stone to not shed a tear at the return of Dawn in the final scene!

…

Expand

A fitting conclusion to a series that could have gone a little longer. Great ending for Tim and Dawn, particularly. Gervais is off the Richter

A fitting conclusion to a series that could have gone a little longer. Great ending for Tim and Dawn, particularly. Gervais is off the Richter scale funny.

…

Expand

Honestly i like the us version better, especially because of Steve Carell. Gervais is a genius but his series always are to **** short, can´t

Honestly i like the us version better, especially because of Steve Carell. Gervais is a genius but his series always are to **** short, can´t get completely into it

…

Expand