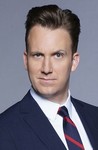 Summary:

The Daily Show correspondent hosts the latest satirical late night talk show for Comedy Central.

Genre(s):

Comedy

,

Talk & Interview
Season 1 premiere date:

Sep 25, 2017

Episode Length:

30
The Opposition opens with its point of view and a solid performance from Klepper, whose mile-a-minute speech is a perfect match for the alt-talking heads he pretends to worship. However, he's less angry and more wryly smug than his real-life counterparts.

The show is not without growing pains. The Opposition leans on a silly conspiracy corkboard without totally knowing what to do with it, and it's hard to tell who the titular "opposition" is supposed to refer to--the audience? But there's already evidence of strong material.

During his first episode Monday night, his commitment to the new "Jordan Klepper" was confident and agile. It helped that the half-hour was full of terrifically stinging one-liners. ... Klepper spent the first two segments of his initial installment overly explaining the concept of the pro-Trump series, leaving little time to preview how the show will tackle topical themes going forward. ... Klepper also fails to wring much out of the interview segment.

The Opposition could use a little more of that sense of extreme paranoia. For now, it's an adequate, if watered-down, Fox News parody--not irrelevant, but a little less vital than the times call for.
Extremely smart satire - many times showcasing the hypocrisy across the political and media landscapes - especially the conspiratory

Extremely smart satire - many times showcasing the hypocrisy across the political and media landscapes - especially the conspiratory right-wing media. At times, you have to pay attention to the dialogue, know the subject to really understand how extreme some of the news media is towards their political opposite. Some of the "street journalists" need more time to find their niche - but Jordan Klepper as the right stuff (delivery, timing, physical comedy).

…

Expand

Jordan Klepper is as smarmy and egotistical as Maher and as silly as Colbert but without the intelligence or humor of either. Good satire

Jordan Klepper is as smarmy and egotistical as Maher and as silly as Colbert but without the intelligence or humor of either. Good satire such as we find from Colbert and "The Onion" takes more talent and timing to pull off than Klepper is capable of. He tries, god bless him, he tries but it is that effort that makes his attempts truly cringe-worthy. KIepper's style is more comparable to strip mall comedy club acts than it is to Comedy Centrals more prestigious alumni such as John Stewart, Colbert or even Eric Cartman. In a virtual buffet of comedy news and satire "The Opposition" With Jordan Klepper is the sushi that's been out for a bit too long. It still looks good but will have you bent over with regret afterward.

…

Expand