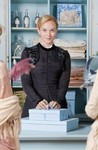 Starring:

David Hayman

,

Sarah Lancashire

,

Elaine Cassidy

Summary:

In 1875, new salesgirl, Denise Lovett (Joanna Vanderham) attracts the attention of John Moray (Emun Elliott), the owner of the department store, The Paradise, in this adaptation of Émile Zola's novel, Au Bonheur des Dames.

Genre(s):

Drama
Creator:

Bill Gallagher

Season 1 premiere date:

Oct 6, 2013

Episode Length:

60
Impeccably cast, extremely handsome, predictably soapy and a trifle slow moving, it's another first-rate costume drama.

The dramas, rivalries, kindnesses and treacheries begin almost at once, and as in all the best PBS series, they are well-drawn.

It will engage--though not obsess--those of us who enjoy parsing out the morals and manners of another time and place.

Paradise is based on a Zola novel but is redolent of Dickens, envisioning the store as an insular world full of colorful characters, with its sentimental and romantic upstairs-downstairs intrigues opulently packaged.

A pleasingly soapy story of beating hearts and changing times.

It's the last of the big-four British costume dramas of recent years to make its American public-television debut, after "Downton Abbey," "Call the Midwife" and "Mr. Selfridge," and it's the most frivolous of the bunch, which is saying quite a bit.
A light romantic drama about an entrepreneur who opens the first department store in the UK. The storyline is much like Mr. Selfridge, but I

A light romantic drama about an entrepreneur who opens the first department store in the UK. The storyline is much like Mr. Selfridge, but I prefer the set design and acting of the Paradise. It is visually delicious. I watch the show purely to be entertained and I am never disappointed.

…

Expand

It's Mr. Selfridge "light" which is odd because both are properties of Masterpiece Theatre and they premiered back-to-back.

That beingIt's Mr. Selfridge "light" which is odd because both are properties of Masterpiece Theatre and they premiered back-to-back.

That being said, it's enjoyable to watch.

…

Expand