Network:

ABC

Series Premiere Date:

Jul 31, 2014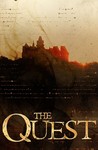 Starring:

Douglas Tait

,

Jan Hutter

,

Florence Kasumba

Summary:

The fantasy-themed reality show has 12 contestants (also known as Paladins on the wshow) competing in a fictional world called Everealm created with state-of-the-art-projections, animatronics, prosthetics, and real-time motion capture.

Genre(s):

Reality

,

Fantasy
Season 1 premiere date:

Jul 31, 2014

Episode Length:

60
The production values are extremely high, but your tolerance for swordy nonsense will need to be similarly vertiginous for this to develop into a must-see. [25 Jul/1 Aug 2014, p.108]

The Quest doesn't entirely dodge the obvious potential for cheese, but the surprisingly impressive production values help keep things on the right side of ridiculous.

Despite a shaky start, The Quest actually becomes something interesting--or at least different--within the reality landscape.

The editing is kind to most of the contestants, who come off as earnest, intelligent folks looking to engage their inner heroes.... Alas, The Quest's elimination challenge is unimaginative and the vote deliberations almost as petty as anything on "Big Brother."

Filmed in Austria, The Quest boasts high production values but its stated goal to populate a fictional, serialized fantasy world with reality show contestants doesn't find quite the right mix in early episodes.
This show is amazing and proof that there can be honor and loyalty in reality television. Although it may at first seem rough, this show is

This show is amazing and proof that there can be honor and loyalty in reality television. Although it may at first seem rough, this show is absolutely worth watching. The paladins are bright and strong, the actors are always on point and the ending is....well, lets just say its EPIC.
Another season would make it even better. Join #thequestarmy!

…

Expand

This show is only for those who like the idea of living out a fantasy adventure. As one of those people I think it is amazing. They throw

This show is only for those who like the idea of living out a fantasy adventure. As one of those people I think it is amazing. They throw the contestants into a fantasy world with such good sets and amazing actors that it almost seems real to them. Being on the show as an actor or contestant would be a dream come true and it is very entertaining to watch.

…

Expand

It is unique in all of TV programming. It teaches loyalty and rewards honor. It is fun and utilizes skills across all disciplines. There is no

It is unique in all of TV programming. It teaches loyalty and rewards honor. It is fun and utilizes skills across all disciplines. There is no other outlet for this sort of entertainment. Even the cast is superb. This is the first realty TV show where I actually care about the fate of the cast and want to learn more about them and their stories. With a bit of advertising, perhaps cross-channel, this show could be a sensation that gets 5 or more seasons without ever growing old. I know the viewership is low but all of the ratings I have ever read praise the show and its creativity.

…

Expand

I'm on the second episode and I don't know if the actors are adlib-ing but they are funny. Especially the Vizier.
After watching WhodunitI'm on the second episode and I don't know if the actors are adlib-ing but they are funny. Especially the Vizier.
After watching Whodunit last year, I guess this kind of show is easier to get into.

…

Expand

This is a very well-made TV show. The challengers are amazingly immersed into the story and that really add the flavors to the show. The

This is a very well-made TV show. The challengers are amazingly immersed into the story and that really add the flavors to the show. The scenes are beautiful and spectacular. The crew had made this fantasy world into details. The music is nice. I really enjoy the show.

The storyline is dry, unfortunately. It's a very straightforward story that a middle school student can predict how the ending will be.

Nonetheless it's really a great show to watch.

…

Expand

I'm sure the show tries to capture the imagination of a younger generation and the overall production and casting is great BUT the challenges

I'm sure the show tries to capture the imagination of a younger generation and the overall production and casting is great BUT the challenges are not interesting and some of the contestants are just a bit strange. Show doesn't deserve such a low rating but it is geared to a very specific audience for sure. I just want to see how it ends.

…

Expand

Sweet Jesus this is awful. It really would make you question if they have the right hiring practices at ABC currently. How about you stop

Sweet Jesus this is awful. It really would make you question if they have the right hiring practices at ABC currently. How about you stop making this kind of trash, put the money you saved in an envelope and send it to HBO and we get an extra episode of game of thrones.

…

Expand