Network:

Nickelodeon

Series Premiere Date:

Oct 14, 2013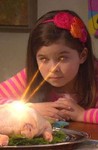 Starring:

Rosa Blasi

,

Christian Tallman

,

Kira Kosarin

Summary:

Retired superhero Hank and his wife Barb move to Hiddenville with their four children: Billy (Diego Velazquez), Nora (Addison Riecke), Max (Jack Griffo) and Phoebe (Kira Kosarin) to try to live a normal life.

Genre(s):

Comedy

,

Kids
The Thundermans doesn't do much heavy lifting, but it waves its cape proudly.

Parents of kiddoes, tweens and young teens can be assured that all of this is quite harmless.

This lifeless effort makes virtually no pretense of original thought, other than perhaps the audacity to harbor absolutely no fear of copyright attorneys.
Now, now, I think we're all being a bit melodramatic. This show really deserves a 7 or 8 the ten is to combat the unfairly low scores. The

Now, now, I think we're all being a bit melodramatic. This show really deserves a 7 or 8 the ten is to combat the unfairly low scores. The laughs are usually good and despite having a clichéd premise, it executes it pretty well. I like the character of Max, I think it's funny to imagine the child of superheroes wanting to be a super villain. This is definitely one of the better nick shows out there, I'd recommend it.

…

Expand

The thundermans is not the best sitcom ever, but it's funny enough for give a good entertainment for children, with unforgettable characters

The thundermans is not the best sitcom ever, but it's funny enough for give a good entertainment for children, with unforgettable characters and inventive story-telling. Here comes another Nickelodeon's masterpiece.

…

Expand

Now, this actually deserves a 6/10, but I gave it a seven because of all the hate it's getting. I admit, the acting isn't always that good,

Now, this actually deserves a 6/10, but I gave it a seven because of all the hate it's getting. I admit, the acting isn't always that good, and the CGI effects are awful, but it does have its funny moments and it has some good characters. But yes, the plot is cliched. But so is the basic premise of the Incredibles, in a way.

…

Expand

It's just typical Nickelodeon stuff. Filled with every single cliché after the other one and as that one critic said, it's not funny... it's

It's just typical Nickelodeon stuff. Filled with every single cliché after the other one and as that one critic said, it's not funny... it's typically unoriginal.

…

Expand

Ugh... it's just another overused kind of plot. A family of superheroes. Yeah. The jokes aren't funny, the characters are annoying, the acting

Ugh... it's just another overused kind of plot. A family of superheroes. Yeah. The jokes aren't funny, the characters are annoying, the acting sucks, and overall the TV show is terrible. Sorry Nickelodeon, but this show is crap.

…

Expand

From this stage of the game, I don't expect much from Nickelodeon anymore. Just take the Incredibles and modernize them, and this is what you

From this stage of the game, I don't expect much from Nickelodeon anymore. Just take the Incredibles and modernize them, and this is what you get. Dull plot, dull characters, and god awful jokes.

…

Collapse

I can only say one thing. This is absolute garbage. It's basically a Disney Channel teen sitcom done a thousand times worse. Complete with the

I can only say one thing. This is absolute garbage. It's basically a Disney Channel teen sitcom done a thousand times worse. Complete with the annoying laugh track.

…

Expand