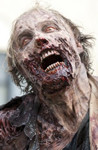 Summary:

Scott M. Gimple takes over as showrunner for the fourth season of the zombie drama.

Genre(s):

Drama

,

Action & Adventure

,

Fantasy

,

Horror

,

Suspense

,

Science Fiction
Show Type:

In Season

Season 4 premiere date:

Oct 13, 2013

Episode Length:

60

Air Time:

09:00 PM
The premiere feels a bit slow coming on the heels of last season's wild ride, but the second episode will leave you hungry for more

More than usual, you feel the emotional weight our survivors lug around. But at the same time, he [writer-producer Scott Gimple] apparently wants to assure us that the show isn't about to back away from turbocharged action sequences and gruesome gore.

The Walking Dead clearly appears bigger than any of its expendable parts, and unlike those zombies, has a whole lot of life left in it.

It's lethal and funny. Sometimes the new normal looks much like the old.

The Walking Dead may be starting to walk in circles, but the scenery is still spectacular and spooky.

The Walking Dead rewards patience and loyalty with the occasional arresting visual and edge-of-your seat intensity.
The best show on TV. Scary, dramatic, disgusting, romantic...........perfect!!!!! Don't miss it!!!!! Season 4 is gonna be amazing!!!!! Can't w

ait for the next episode!!!

…

Expand

Amazing first few episodes. Rick and the gang are faced with all new threats. Now all we need is the Governor. So far many conflicts and char

acter building. So far amazing and its getting better and better!!!!! TEAM DARYL!!!!!!!

…

Expand

This season starts SLOW. Probably the slowest start of any season. However, after the introductory subplot that takes place over the first hal

f dozen or so episodes, the story really picks up a lot. I admit the first episodes don't engage like previous seasons, the story is so much better now. If you're struggling through the beginning of the season, stick with it, it is worth it.

Great show though, the writing and acting is spot on. In order for a survival show to work, you have to care about the survivors. Walking Dead Season 4 continues what the previous seasons expertly accomplished by making you care about and love the characters. When people die (and they do), you feel something.

…

Expand

Two episodes in, I must say that I am genuinely impressed. The 3rd season was in my eyes a complete disappointment. The writing was awful, the

re was too much filler, and the show was quite simply put:Dull. Though I can't speak for the quality for the rest of the season, I must say that season 4 is off to a great start. The show feels darker,creepier and there's a lingering sense of dread and despair in the air. The zombies are a bigger threat now, as well as another factor that really switches everything up.There's a bigger emphasis placed on the characters, and the dialogue feels much more natural than it did before. Do I consider The Walking Dead to be a top tier drama like say Breaking Bad,Boardwalk Empire, or Mad Men? Absolutely not, and it will never be. But it's a good show with incredible production values, solid cast and moody,dreary visuals.I am not sure about it's future, but so far so good.

…

Expand

I think having read the comics ruined any hope for me of liking this series. TWD just isn't making a good adaption to film. I can see its appe

al, and can also see why people like it if they haven't read the comics. When you compare the two though the TV series is left in the dust over how good the comics are.

…

Expand

They did it. I didn't think it was possible, but they did it. They managed to make the show even than it already was. Horrible acting, boring

plot, and a slap in the face to original source material gives this an instant 0/10. High production values are the only reason this crap is still on TV. Read the comics

…

Expand