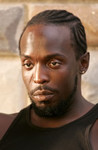 Starring:

Lance Reddick, John Doman, Wendell Pierce

Summary:

In chronicling a multi-generational family business dealing illegal drugs and the efforts of the Baltimore police to curb their trade, this series draws parallels between these organizations and the men and women on either side of the battle.The words of Gary W. Potter, Professor of Criminal

Justice and Police Studies at Eastern Kentucky University, in writing about the savings and loan scandals of the 1980s, can also be used to illuminate some of the central premises of the show:"There is precious little difference between those people who society designates as respectable and law abiding and those people society castigates as hoodlums and thugs. The world of corporate finance and corporate capital is as criminogenic and probably more criminogenic than any poverty-wracked slum neighborhood. The distinctions drawn between business, politics, and organized crime are at best artificial and in reality irrelevant. Rather than being dysfunctions, corporate crime, white-collar crime, organized crime, and political corruption are mainstays of American political-economic life."Tim Goodman, the television critic for The San Francisco Chronicle, summed the show up perfectly when he wrote: "This show is precisely the reason you pay for HBO."In New York's Newsday, Diane Werts says: "Most TV crime series aspire to John Grisham's level. 'The Wire' aspires to Dostoevsky's."Season ThemesSeason One centers around a family of drug dealers and the innerworkings of their empire. It also follows the detectives who are trying to catch the high members of the empire. Season Two steps away from the drug trade (while still mentioning characters from the previous season) to a case of dead prostitutes which turns into a look at the corruption surrounding the Port. Season Three investigates politics and finishes the main stories that were left open in season one. Season Four focuses on four middle school students and their journeys through the public school system and continues to address the politics of an inner-city and the issues of an election. Season Five is rumored to be about the media's role in Baltimore. Season Five will be the show's final season.Theme MusicIn the Season One opening credits, the Blind Boys of Alabama did Tom Waits's "Way Down in the Hole". The Season Two opening credits feature Waits's version of the song. According to creator David Simon, "It was our way of saying: This is the same show (song) but this year, the tale itself (singer, tonality) will be different." The Neville Brothers's version of the song opens Season Three. The theme which plays over the end credits was composed by the show's music supervisor, Blake Leyh.

International AiringsAustralia -- Monday at 12:00 p.m. on Ch.9. Currently airing Season 3.
New Zealand -- Wednesday at 11:40 p.m. on TV2, beginning December 15, 2004.

…

Expand

Genre(s):

Drama

Show Type:

Ended

Season 1 premiere date:

Jun 2, 2002

Episode Length:

60

Air Time:

09:00 PM
It's loose and rambling; its dramatic climaxes don't coincide neatly with the conclusion of any given episode. Its dialogue, overseen by creator David Simon ... is so good it often sounds improvised. One criticism of the show I've read is that it's repetitive (in showing the slow process of how the police bring down bad guys). But what those critics don't get is that those qualities are exactly what make 'The Wire' the funkiest cop show on TV.

Spellbinding...The Wire is compelling in its complexity, heart-rending in its humanity, and surprising in the ways it finds to spin the conventions of cop drama. [31 May 2002, p.4]

It's to the network's credit that it undertakes projects that aren't necessarily big crowd-pleasers but have a palpable artistic integrity and social significance. [1 June 2002, p.C01]

The Wire is a cop drama from top to bottom. It does take a systemic view of the issue, like "Traffic," Steven Soderbergh's drug-trade saga. But it never sacrifices drama and character for lecture. [31 May 2002, p.E14]

Though it's extremely well done, The Wire lacks the signature HBO kick of discovering something brand new, that giddy feeling of freshness that immediately attached itself to "The Sopranos" and "Six Feet Under." With The Wire, there's a less-exciting echo: Same old, same old. Been there, done that. [31 May 2002]

It slowly develops into an engrossing look at the methodical nature of police work and the limits of individualism.

After watching five hours of preview tapes, I'm interested to see how The Wire turns out. But without characters to care for, much less root for, I'm not exactly burning with curiosity -- the way I am with most of HBO's other series...When it comes down to The Wire, this show falls short.
An amazing series. By far the best I have ever seen, and won't be surprised if I never see another. The characters connect with you in so many

ways, mainly because of how real they are. And it isn't just the cops that you can connect with, the "bad guys," the high up drug dealers, the hoppers, and just about everyone.It is an amazing show with some crazy characters that are all believable. The story is just awesome! Still haven't seen the 5th season, but I guess that is a good decision as I will get to watch all the other seasons again before finishing off with the last. I can't stop recommending this series!

…

Expand

The greatest achievement in television history. In five years, I never heard one single exchange of dialogue in this show that wasn't wholly

believable. I have had my fill of cop, doctor and lawyer shows over the years,but The Wire is so much more than that. It navigates complex story lines between the drug dealers, the school system, the entrie heirarchy of the police force, the politicians, addicts, media and what have you with tremendous ease. Best show ever.

…

Expand

I've watched many, many television shows, and I can confidently affirm that The Wire is by far the greatest achievement in the history of TV.

I won't bother typing up a long and well thought-out review because I'm sure the previous users have done a fair enough job of describing this show, but I will say this: no other television series compares to The Wire, and it will be a long time before another one does.

…

Expand

This is the best show. I'm not sure how much I really need to write about it, I feel that watching the show makes it totally apparent on its

own. A few of the major points are that (1) it's an HBO show, so there's no commercial breaks and the pacing can be more free flowing, also people can swear if their character should swear, and they can show drugs and gun violence and police brutality and all that as necessary to the scene. (2) it's stylistically more like a documentary than like a drama. There's no music other than whatever music is playing in the scene. There's no shaky cam or tricky camera work of any kind really, no special effects. It's all just whatever you'd see if you were standing near the events in question. By keeping the medium plain and unobtrusive the viewer is able to better connect with the elaborately woven story.

Season 1 in particular deals with the Barksdale drug operation and a wire tap investigation against them. Later seasons move on to other parts of Baltimore, but past characters fade in and out as appropriate.

…

Expand

Season 1 and 2 stand the test of time. The rest of the seasons fall short. 12 years out the first 2 seasons rival anything since. If you

never saw this then give it a go and you will probably end up finishing it anyway. Not as good as BB but still a mothertrucker.

…

Expand
While summer is traditionally a time of reruns and discarded shows, TV occasionally gives us a summer gem. We pick out 20 of the best summer television debuts of all time, from "Seinfeld" to "The Wire."