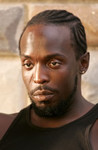 Starring:

J.D. Williams, J.D. Williams, Lance Reddick

Summary:

One of the most heralded and unique dramas on television, David Simon's Baltimore-set crime show turns its focus on that city's public school system (and education in general) for its 13-episode fourth season.

Genre(s):

Drama
Show Type:

Ended

Season 4 premiere date:

Sep 10, 2006

Episode Length:

60

Air Time:

09:00 PM
A critic for this paper once declared "The Wire" "the greatest dramatic series ever produced for television" and as the fourth season gets under way Sunday night, there's no reason to quibble with that assessment.

The breadth and ambition of "The Wire" are unrivaled and that taken cumulatively over the course of a season -- any season -- it's an astonishing display of writing, acting and storytelling that must be considered alongside the best literature and filmmaking in the modern era.

A vibrant, masterful work of art, HBO's novelistic urban saga The Wire is the best show on television.

David Simon and his writers... aren't out to change the world; the slippery slope of civilization is already in place on The Wire and Simon is just out to document how each and every person survives. Or doesn't, as this season quite devastatingly proves.

It just might be the kids, the ones who grow up too soon in the hard world of "The Wire," who steal opening night.
Season 4 of The Wire is the single greatest season of television ever. The depth, complexity, balance, and ambition of the story make it

remarkable. And, despite its stark portrayal of a mostly bleak world, it is massively satisfying and entertaining. The brilliant poignancy of the story about the eighth graders raises season 4 a notch above the The Wire's other seasons, which are all amazing in their own right. I'm sad for all the television watchers who have never seen it. I wish I could score this higher than "10." Somehow a "10" still seems inadequate.

…

Expand

The Wire is a challenging series, there is no doubt about that. As you watch through a season, and through multiple seasons, you can feel

yourself being retrained on how to watch a television show. It can be an uncomfortable experience at times, but the show is absolutely worth it, and you'll have a hard time watching "regular" TV afterwards.

Season 4 is quite possibly the best season of the series. The picture it paints of inner-city youth and their public schools is tragic, but refreshing in its honesty. Like all institutions portrayed in The Wire, the school system is in decline, and there is no miraculous, Hollywood happy ending on the horizon. Which is the whole point of the season, really. Having introduced us in previous seasons to a cast of gangsters, drug addicts, scam artists, disillusioned civil servants, and self-serving politicians, The Wire now shows us where these people come from, how the system produces and reproduces them. And that, ultimately, is what makes The Wire so challenging; it is unflinching in its portrayal of the characters -- and, ultimately, of all of us -- as cogs in a run-down machine which doesn't care about anything but perpetuating itself. This is certainly not what most people are looking for when they sit down to watch TV. But viewers who are willing to devote serious attention and an open mind to this season of The Wire are rewarded with a thought-provoking storyline, engrossing characters, and truly impressive acting -- including some of the most talented child actors you will ever see.

…

Expand

Season 4 of the Wire is the best season of any television series. Period. While the Wire has always been a great TV show, with more

authenticity, in-depth writing, complex characters, superb acting and gripping storytelling in one episode than most shows produce over their entire span. The first three seasons are all amazing, and the storylines from the previous seasons continue to grow in the fourth season, but they cannot in any way prepare you for the sublime and heartbreaking new storyline following four youth, the school system, and the corner. I can't use enough superlatives to describe this season: Perfect! Riveting! Flawless! The apex of art, entertainment and social commentary on TV (and perhaps any medium)!!!!

If you find the first few episodes disorienting, don't worry, it will all make sense â

…

Expand

Only someone insane would find nothing to appreciate in the most perfect TV season in history. Beautiful and utterly engaging in every sense.

Also features one of the most entrancing finales ever.

…

Expand

This review contains spoilers, click expand to view. The Wire is simply the fattest TV show one could ever experience.By fat I mean heaviest and rife with narrative ,characters ,social commentary and much more but never pretentious or knee-jerking,instead slow-brooding ,obsessive and compulsive with spectacular attention to detail and execution.When I first saw The Wire at age 17 I thought to myself "No Sopranos and OZ are the greatest TV dramas Add Breaking Bad and Deadwood to that list.I held this believe because I thought the Wire wasn`t just a drama but an actual satirical real life documentary of some kind and didn`t fit the same genre.It simply feels as if every character are from an actual source not just actors on sets.
Still today for me it not only pushed the envelope of intelligent TV so close to the bone of reality but regarding how under rated it is I must praise it for how it it pioneered and executed so many unique element and excelled and succeeded at it which no other show has ever even attempted to do.Kudos for OZ and Sopranos for laying down the ground work though.
There is method in this madness of The Wire but the biggest problem is the elements that makes the Wire so compelling to watch ,so important, is the same things that make it unconventional,unpopular and too difficult for the weaker minds.One of its main themes in a later season ,a commentary on man`s need for simplification is ironically the thing that made this show`s initial popularity low to average.

But it also took risks in ways no other series have ever even attempted to do.Some things that stand out in this show from others are borderline unfathomable huge cast of child actors that wipe the floor with anything any other show has, period.The 'younglings' in Season 4 man,all of them really. A majority black cast that delivers time and again(leave no room for bias!).
Great acting and sub-plots that always seem to tie in and have a purpose,every sentence has its purpose.There are so many characters and each and every character knowing or not knowing about another happens logically in the narrative. No exceptional characters with intriguing lives smarter than the average Joe and or mystery job in past,super depression and self-loathing etc. what you see is what you get.No or little inner thoughts revealed or reminiscing the past via editing,almost everything happens at that pivotal moment in the characters lives.The character are all trapped in some way trying to make sense of it all even when they are loosing it themselves.No single central characters,perhaps the only single most constant trinity of characters the city 'the game' and death.
An abundance of outdoor scenes and on location shots with many actors from said location and even some actors being real convics, it is a story about a war right.You will see so much of Bodymore. A novelistic approach akin to Charles Dickens style,a deep and complex commentary on society and social systems,which allows for perhaps the darkest ,most realistic and intelligent drama ever created,And possibly the most logical drama.Things just make sense even when they don`t .

Where the other above mentioned great shows use lots of dream sequences,foreshadowing,montages,music cues ,flashback etc to pre-chew and spoon feed in order to simplify the plot for the viewer "Okay when this edited overdubbed music plays feel this way,because of what just happened in the scene the Wire goes the other way and deals a raw unbiased grey version of its settings and characters where the viewer can see either side of the wire,whether it is right or wrong for any party.It never judges.Each character isn`t simply a well written entity nor moved about the chess board by the shows creators like gods but instead and I will make no secret about it a sense of urgency in a complete voyeuristic view of all the character`s life are given to the audience,in a similar sense Rear window did.I mean that non-sexually but in context of espionage and points of views.The Wire is so aware that the world is in turmoil and chaos.The topic here of objectivism vs subjectivism is debatable but what you see is what you get .I think The Wire is aware of this and sometimes those character stare back at you.And it isn`t truly until the very end when the very last scene of the last episode ended that one realizes that the greatest and most important achievements in TV history has been made...

The fourth wall between its voyeuristic/espionage viewer and its character have finally been broken and it itsn`t so much a difference any more that we got pulled into the world of the Baltimore and its morality and mortality as much it has spilled over into ours and said ,this isn`t a show this is reality,this is happening no even when the final credits roll.

Readers if you miss the Wire you will probably never get the same opportunity again to see something so grand and special off this same magnitude.There will never be a second Wiretap.

…

Expand

Temporada cuatro de The Wire es increible, introduce a cuatro jovenes que estan en su etapa escolar y como ver como algunos caen y otros ceden

es a la vez devastadora y emocional, tambien introduce el sistema educativo y como las instituciones manipulan tal sistema con tal de lograr sus objetivos y despojando a sus estudiantes, su humanidad. Es la temporada perfecta para una serie perfecta.

…

Expand

A season that started pretty slowly, finished with 2 or 3 of the best episodes of the series. Brilliant idea for this season coming from the

point of view of young kids growing up through this drug culture. Especially well done were the story arcs of Michael and Donte. One of these characters starts off the season as insufferable while the other begins as sympathetic. By the end of the season we have done a 180 degree turn emotionally with these characters. To see this transformation through the eyes of their circumstances done so brilliantly is a testament to the quality of the writing of this show. While I don't feel that the quality over the course of the entire season is on par with seasons 2 or 3, I would put the best episodes against any in the series.

…

Expand
While summer is traditionally a time of reruns and discarded shows, TV occasionally gives us a summer gem. We pick out 20 of the best summer television debuts of all time, from "Seinfeld" to "The Wire."