Network:

Bravo

Series Premiere Date:

Mar 8, 2006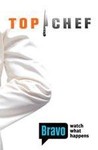 Starring:

Gail Simmons

,

Padma Lakshmi

,

Tom Colicchio

Summary:

Seventeen contestants compete for the title of Top Chef in New York City for the show's fifth season.

Genre(s):

Reality

,

Game Show

,

Food & Cooking
Season 5 premiere date:

Nov 12, 2008

Episode Length:

60
Please enter your birth date to continue:
You are not allowed to view this material at this time.
The challenges--including a head-to-head competition where pairs of chefs are sent into various New York neighborhoods and told to cook the local cuisine--seem appropriately Big Apple-centric without being silly.

Skilled chefs, great dishes, a few doomed nervous Nellies and lots of petty squabbles ahead? What more could a loyal Top Chef fan ask for?

Top Chef promises more than a clash of personalities; it inspires patriotism.

By dint of smart casting, imaginative challenges and A-list guests, Top Chef retains its three stars for culinary entertainment.

Great fun, good personalities and some fine food. All in all, the start to another good season(ing).

Top Chef is a show where you wouldn't mind having almost any of these people fix your dinner. That may sound like a formula for disaster among these types of shows, but in reality, it works out well.
I love this show and I'm not ashamed to say that. However, I am not liking the "Real World-esque" inclusions that they've really

I love this show and I'm not ashamed to say that. However, I am not liking the "Real World-esque" inclusions that they've really pushed into Season 3. I also don't understand why in the initial episodes, they would refrain from showing the dishes of EVERY chef - not just the ones that the producers are trying to set viewers up to love/hate. Each of the contestants brings something different to the realm of food and instead of focusing on asides of the European duo frolicking, flirtatious moments, unnecessary "drama", etc., I'd love to see them cooking and hear more about the backstories of each of the culinary competitors.

…

Expand

After this unremarkable season I think the show should be renamed "Mediocre Chef."

This show is not as exciting as I was expecting. I think it lack suprises...although it has suprises. Maybe the actions of the chefs is the

This show is not as exciting as I was expecting. I think it lack suprises...although it has suprises. Maybe the actions of the chefs is the reason because we can predict on what they are going to do next.

…

Expand

I don't like the trend that Top Chef, Top Design, and Project Runway are having of getting more experienced contestants. Watching people

I don't like the trend that Top Chef, Top Design, and Project Runway are having of getting more experienced contestants. Watching people who already have made a name for themselves is not as interesting or exciting as the first seasons when people were experienced but not already top-of-the-line professionals. The judges are all returning from prior seasons. It will be interesting to see what challenges are created this time around.

…

Expand