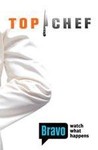 Summary:

Top Chef returns for its sixth season, this time the setting is Las Vegas.

Genre(s):

Reality

,

Game Show

,

Food & Cooking
Show Type:

Between Seasons

Season 6 premiere date:

Aug 19, 2009

Episode Length:

60

Air Time:

10:00 PM
Sin City dazzle adds spice to the cooking competition's season 6 premiere....But it's the fresh crop of cheftestants that'll really whet your appetite.

Top Chef: Las Vegas gets off to a strong start in its opening round, introducing an impressive number of contestants who are already on top of their game.

Twists and rule tweaks will only carry a reality show so far by the time you're into the sixth season. The format itself has to be durable, and the casting has to be sharp--both of which seem to be the case in the early going.

The personal circus, while given much play, remains secondary to the cooking contest. And as usual, the crop of contestants is claimed to be the most talented yet, and they do seem well-credentialed (James Beard nominees, Michelin-star-winner), competitive and more than usually tattooed.

Tonight's episode just feels a little too much like the first day of orientation, where we're squinting at nametags, instead of checking out what's for dinner.
Looks like it will be another great season. The best part of the whole Bravo/.Project Runway drama is that these two great shows are running

together.

…

Expand

The first few episodes have been great, the talent level this season, especially from the men looks better than previous seasons.

Chef competitions shouldn't have to be about politics. This program is laced with political pandering in cast selection.

The format has worn itself out - the contestants are all too familiar and know what "roles" to play, making the only wildcard the challenges.

Throwing luck into the pot just stinks up the whole room, and if that keeps up (and considering the Vegas theme, it's likely) the rest of the season will be as forgettable as the opener.

…

Collapse

The cast was over represented by certain sub cultures. The hosts have a dry personality.

The hosts lacked personality. The show was like stale bread.