Network:

Syfy

Series Premiere Date:

Oct 7, 2014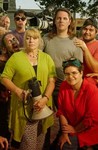 Summary:

The docuseries follows a group of friends who have been trying to film a zombie movie based on a local urban legend in their hometown of Jasper, Alabama for the past six years.

Genre(s):

Reality

,

News/Documentary

,

Documentary
Season 1 premiere date:

Oct 7, 2014

Episode Length:

30
While the "Aren't Southern people crazy?" bits are stale, there are entertaining glimpses of what it takes (other than permits) to produce a no-budget movie.

Town of the Living Dead, though entertaining, does not feel at all real.

What this benign, not-all-that-colorful sojourn to Alabama unleashes feels a lot closer to a pastel drip than a crimson tide.

Town of the Living Dead feels far too planned when it comes to its cast of characters and knowing one-liners.
This show is funny. A group of real people doing what they do against tremendous odds, may not sound like a comedy premise, but in this case

This show is funny. A group of real people doing what they do against tremendous odds, may not sound like a comedy premise, but in this case it works out that way. Producer Tina, and her odd assemblage of a film cast and crew are totally charming in their quest to complete their movie, when others would have long since given up. These people are not pro's at acting...or anything else, and it shows. A few awkward moments on camera that feel scripted are the result of their amateur status, real life awkwardness. , but Town of the Living Dead is produced by pros...and their expertise shows in clever editing and fast pace. Give this one a watch.

…

Expand

This is based in my hometown most of the cast are my friends for me this awesome I have been cheering these guys on for years. They have

This is based in my hometown most of the cast are my friends for me this awesome I have been cheering these guys on for years. They have worked so hard to achieve their goal of completing this movie with some major and minor set backs. So to DwayneHastle Just for your FYI Because you don't live there. The Walker County Sheriff's Deputy was a new guy. The turn over rate for county sheriff's are as high as the Walmart cashier turn over rate next time do some research. Because we are extremely proud of them for working so hard. I can tell you just as anyone else that are personal friends of the cast members none of this what has shown on the show is exactly how they are and I would not have them any other way.

…

Expand

Refreshing, Great that real people with little to no budget are making their own movie. I would totally join in on the fun. The thought

Refreshing, Great that real people with little to no budget are making their own movie. I would totally join in on the fun. The thought process of "robing Peter to pay Paul" and "Making a silk purse from a sows ear" is entertaining as hell. Good luck, looking forward tot he finished product.

…

Expand

Ever wondered how hard it would be to shoot a movie with next to no budget and almost no idea what you are doing? This series takes a look at

Ever wondered how hard it would be to shoot a movie with next to no budget and almost no idea what you are doing? This series takes a look at that. After 6 years of setbacks and failures the cast and crew of the movie "Thr33 Days Dead," all locals of Jasper, Alabama, have received an offer from Syfy that if they can finally finish their movie within a set time limit it will be aired as an original movie on the network. It's their dedication to the project that make this docu-series so far very charming, as well as funny.

Watching the misfortunes of this movie in progress is rather funny, as well as rather sad. I want to see these people succeed with their movie, because it's clear that they are pouring their hearts and souls into it. So while their failings have so far been amusing they have also evoked a feeling of disappointment every time something screws up. The other disappointment the show has, is that there may be just a little scripting here and there.

While most of the lines feel like they are naturally coming from the people at the moment, more than a few scenarios (such as a card being revoked at a local store) do feel scripted and unreal. There's also a feeling like it's just another reality-type show that plays off of the southern way of life. The show knowingly pokes fun at how goofy southern people can be, and perhaps some of the characters are a little too indulgent in this. It still feels mostly real though.

Overall it looks like a different type of zombie show. One that will succeed thanks to the dedication of those who have put 6 years of their lives behind making a zombie movie they all want to happen. I think it's worth watching to any zombie fanatic like myself, as it's a pretty entertaining look at the making of an independent, b-horror movie style zombie flick. I for one am hoping that they succeed and that "Thr33 Days Dead" finally gets finished. I'm also so far looking forward to watching their progress (or lack thereof) week after week. Their movie might not be looking the best, but the docu-series is showing promise.

…

Expand

Kinda funny, almost too "southern stereotype" predictable though - and totally fake. The gags are obviously scripted and rehearsed with way

Kinda funny, almost too "southern stereotype" predictable though - and totally fake. The gags are obviously scripted and rehearsed with way too many WTF moments: been filming there for six years, but the cop did not know who they were; the explosion in the boat was gasoline not dynamite (I blow stuff up for a living). MCLMM

…

Expand