Network:

HBO

Series Premiere Date:

Jan 12, 2014

Season #:

1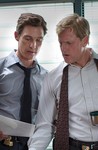 Summary:

A 17-year hunt for a serial killer in Louisiana begins with Detectives Rust Cohle (Matthew McConaughey) and Martin Hart (Woody Harrelson) joining the search in this eight-episode anthology series.

Genre(s):

Drama

,

Action & Adventure

,

Suspense
Show Type:

Hasn't Aired

Season 1 premiere date:

Jan 12, 2014

Episode Length:

60

Air Time:

09:00 PM
HBO's program is not just an actor's showcase for two greats. It is dense, complex, rewarding storytelling, heightened by a sense of location from its writer and director that is mesmerizing and a character-driven storytelling aesthetic that brings to mind great films like David Fincher's "Zodiac" and Bong Joon-ho's "Memories of Murder."

While it's not fun entertainment (lacking the tragicomic notes of, say, "The Sopranos"), it is an amazing dramatic entry. It's only January, and only four episodes were available for review, but True Detective sets the bar for 2014's TV newcomers.

The acting--by Matthew McConaughey and Woody Harrelson--is off the charts. The writing and the concept, by series creator and novelist Nic Pizzolatto, undulates from effectively brash soliloquies to penetratingly nuanced moments carried by sparse prose. Lastly, director Cary Joji Fukunaga has created a beautiful, sprawling sense of place (the series is shot and set in Louisiana).

True Detective proves to be everything the HBO marketing has promised it to be: a gorgeous, stylized and dark exploration into the worst parts of the human psyche.

McConaughey and Harrelson are terrific together and intriguing apart, and whatever went on or is going on between them, and in the sadly complicated community they serve, is more interesting than the murder mystery that's meant to drive the story.

True Detective might be finding itself in the first half of its first season, but few processes of discovery are so enthralling to watch.

It fixates on the familiar, sullen murkiness similar to recent procedurals ("The Killing" and "Broadchurch," for example) and adds several more layers of its own artistic yet unfulfilling murk.
Just another lover of "True Detective". Yes, it does remind me of several other detective/procedural series on TV but it is so much more

subtle, so much better acted. Harrelson and McConneghy are far from being among my favorite actors but on "True Detective", they simply show how it is done. Excellent!

…

Expand

Having watched through episode 4, I am convinced this is a groundbreaking show.

The conventions are well done, including the use of Louisiana as a tense theme with wide angled shots, the use of religion as a foil and possible future salvation, great actors delivering thought-provoking dialogue, and the buddy movie. But the unconventional are done well too. The use of a single director maybe why I feel such continuity through the moments and episodes. The tempo change from the slow conversational first 170 minutes to an intense and thrilling action show with charged racial tensions and complete thuggery seems to have occurred during Cohle's personhood monologue. And the American Horror Story framework, changing themes and characters from one season to the next will prove very interesting. Then there is that one-shot scene. How many minutes was that?

Perhaps Tarantino and John Travolta will do a season? Or better yet, Wes Anderson and Bill Murray. It could go from a deep psychological split time framework down in the bayou to a (add the opposite of irreverent) showcasing of Bill Murray as a Parisian Detective. Maybe the Coens with Clooney and Turturro could do a prohibition era take on Feds and Mafia. It can be anything.

My point is, this is so well done and well thought out. McConaughey's use of language to make the audience look at what it does not wish to see and Harrelson's dramatized violence and physical presence has left me awe-struck. And Potts, Kittles, and Monaghan put up solid performances. That is all that can be said when McConaughey and Harrleson are such show stoppers.

…

Expand

Really enjoyed this HBO production. everything from the layered character development, the exceptional acting, and steady building of the

plot. Pizzolatto has created a show that absorbs the viewer into this procedural - this show is one of few that can be compared to settling into a good book.

…

Expand

An excellent and brilliant series, it's a unique and innovative show, everything is awesome, the atmosphere, the creepy scenes and the themes

that are addressed, all is perfect.

…

Expand

From what I'm seeing now, this may very well be one of the best shows on the telly in 2013. You've got recent Golden Globe winner (and now

Oscar nominee) Matthew McConaughey and Woody Harrelson in the lead roles, and they both do superbly. The supporting cast is brilliant, and it's got a great premise and story so far. And, even though aforementioned story and premise is slightly cliche', they get around that by having a new take on the idea. The show has atmosphere, great writing, great performances, great everything. Let's hope they keep it up, ay?

…

Expand

I did not have high expectations for this series, but it surprised me. Is it totally original, no. Is it very well done, yes. The show is has

a real feel to it. None of the characters are clean. Everyone has flaws and make bad choices. I think both McConneghy and Harrelson deliver great performances, which is saying something considering some of their worst films. Well written with a decent pace.

…

Expand
Published:

March 10, 2014

Find out what critics are saying about last night's season finale of HBO's True Detective, "Form and Void."