Network:

HBO

Series Premiere Date:

Jan 12, 2014

Season #:

1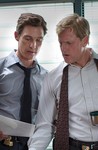 Summary:

A 17-year hunt for a serial killer in Louisiana begins with Detectives Rust Cohle (Matthew McConaughey) and Martin Hart (Woody Harrelson) joining the search in this eight-episode anthology series.

Genre(s):

Drama

,

Action & Adventure

,

Suspense
Show Type:

Hasn't Aired

Season 1 premiere date:

Jan 12, 2014

Episode Length:

60

Air Time:

09:00 PM
True Detective runs slow and steady without ever seeming to drag. Even minor characters get room to breathe, and seem independently alive; the briefest scenes seem to imply life beyond the frame.... The dance [Matthew McConaughey and Woody Harrelson] do together here is work of a very high order, and all the reason you need to watch.

The acting--by Matthew McConaughey and Woody Harrelson--is off the charts. The writing and the concept, by series creator and novelist Nic Pizzolatto, undulates from effectively brash soliloquies to penetratingly nuanced moments carried by sparse prose. Lastly, director Cary Joji Fukunaga has created a beautiful, sprawling sense of place (the series is shot and set in Louisiana).

True Detective proves to be everything the HBO marketing has promised it to be: a gorgeous, stylized and dark exploration into the worst parts of the human psyche.

The crime they're investigating often takes such a back seat to the show's tricky structure and the all-pervasive angst you may once again wonder what exactly HBO has against the notion of narrative urgency. But be patient with this slow-burner of a disturbing, demanding drama. These detectives are truly fascinating.

Happily, Harrelson and McConaughey play the characters well enough, and the script is crafted ingeniously enough, that we want to know where it all goes next--and don't focus on the likelihood it will be no place good.

Whatever the length of the show's much admired tracking shot (six minutes, uncut!), it feels less hardboiled than softheaded. Which might be O.K. if True Detective were dumb fun, but, good God, it's not: it's got so much gravitas it could run for President.
Just another lover of "True Detective". Yes, it does remind me of several other detective/procedural series on TV but it is so much more

subtle, so much better acted. Harrelson and McConneghy are far from being among my favorite actors but on "True Detective", they simply show how it is done. Excellent!

…

Expand

Depressing, yes. Slow, yes. Boring? That depends on whether you have the mental acuity of the average television viewer or of an actual human

being. If you want a cop drama that ties up neatly each weak with the good guy outwitting the bad guy into confessing his crimes, this is not for you. Beyond that, it's hard to say exactly what it is, as it seems to be charting its own course somewhere between the 'man against the system' theme of The WIre and the 'man against himself' theme of The Sopranos or Breaking Bad. No doubt it could still fizzle, but the acting, the cinematography and the dialogue thus far have been so fantastic that the journey will have been worth it even if the destination disappoints.

…

Expand

Now I normally don't do reviews for anything other than video games or movie, however I just feel that I have to tell you how truly phenomenal

this show is! True Detective is by far the best series on tv right now and undoubtedly one of the greatest shows that has ever run! Everything, from the engrossing plot to the deep and interesting characters; everything is absolutely flawless! In fact I want you to stop reading this review right now and go watch the first episode! Trust me when I say that you will be glad you did!

…

Expand

A beautifully shot, suspenseful and above all dark detective show. The setting is used to every advantage in the cinematography and

contributes to the feeling of dread the show evokes. Both Harrelson and McConaughey give a lot to their roles, and especially McCaunaughey's characters at times bears more than a passing resemblance to Apocalypse Now's Captain Willard, a man spiraling deeper and deeper into the darkness he's supposed to hunt. Add to that a semi-mythological background, the bleakness around these characters and in their own lives, and you arrive at this well-crafted show.

…

Expand

From what I'm seeing now, this may very well be one of the best shows on the telly in 2013. You've got recent Golden Globe winner (and now

Oscar nominee) Matthew McConaughey and Woody Harrelson in the lead roles, and they both do superbly. The supporting cast is brilliant, and it's got a great premise and story so far. And, even though aforementioned story and premise is slightly cliche', they get around that by having a new take on the idea. The show has atmosphere, great writing, great performances, great everything. Let's hope they keep it up, ay?

…

Expand

I have edited my previous review to make it shorter.
The series lacked substance and was full of talking and unnecessary cinematography which

went on for far too long. There was no real feeling of suspense or intrigue. The series attempted to be deep and meaningful with metaphorical and unrealistic dialogue, but instead lacked a sense of direction and focused solely on the uninteresting and unlikeable characters, their personal lives and companionship.

…

Expand
Get a complete guide to this year's Emmy nominations, including lists of nominees in every major category and reactions from TV critics to this year's snubs.

Published:

March 10, 2014

Find out what critics are saying about last night's season finale of HBO's True Detective, "Form and Void."