Network:

FX

Series Premiere Date:

Jun 24, 2014

Season #:

1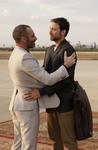 Summary:

Dr. Barry Al-Fayeed (Adam Rayner) and his family travel from California to his homeland in the Middle East for his nephew's wedding, where he must confront his dictator father and the issues he left behind 20 years ago.

Genre(s):

Drama

,

Action & Adventure

,

Suspense

Show Type:

In Season

Season 1 premiere date:

Jun 24, 2014

Episode Length:

60

Air Time:

10:00 PM
Tyrant is the most engrossing new show of the summer.... Gordon's razor-sharp timing, a skill honed on "24," serves Tyrant well.

Both "The Godfather" and Tyrant are, at heart, about family dynamics. As the Al-Fayeed story evolves beyond Tuesday's pilot, that fact becomes clearer.

The cinematography is stunning, the music and atmospherics are immersive. With occasional hiccups the acting is mostly subtle. Suspension of disbelief will be required (how else can Bassam/Barry slip out of his father's palace in the middle of the night to rendez-vous with an old journalist buddy?) But Tyrant is worth the effort.

The pilot is strong and closes with a cliffhanger element that should bring back a sizeable chunk of the tune-in audience.... but having no other episodes to find out in what direction the series wants to go--not just with Barry/Bassam, but where the core of its stories will come from (family or politics), means it's too early to give a definitive endorsement to Tyrant, despite its potential.

The case [ordon and Raff] make on Tyrant isn't particularly convincing, or even all that entertaining. The details are too generic. The conflicts are too simplistic. Abbudin is too unreal.

It's surprising to me that this ever got past the development stage, because nothing about Tyrant truly works. It's a halting, strained hodgepodge that ends up being an awkward mixture of bland and offensive.
This is excellent thrilling and educated.

The characters are interesting individually as well as having great chemistry together. The acting is also very believable.

The interior shots especially of the palace and Katrina's flat are stunning. The décor and the fabrics that have been used are eye catching.The scenery and Colors used induce an intense and exciting feeling that draws you in. The viewer gains a believable insight in to a very passionate and vibrant country. along with the back ground music all this is extremely realistic and transports the viewer in to the characters word.

Even the ruins are sights of beautiful architecture in their plaster pastels and vibrant turquoise and gold's. We are shown a country in conflict with its damaged beauty and corruption.

It takes a lot to convince me and Tyrant has won me over with its great acting. interesting characters griping intense story and heaps of mental arousal bought on by the beautiful accents and the characters distinct mannerism's.

…

Expand

Many viewers may take the show as an interesting political satire of U.S.'s foreign policies in the Middle East. The first few episodes may

have received criticism for appearing shallow: Bassam Al-Fayeed the prodigal son of the country's ruler, returns home from his self-exile in the U.S., waving the freedom flag, and things more or less move in his favor. The perceived shallowness there may have been intended, to mirror Bassam's own biased perception of his home country. As the first season closes, the show starts to reveal the flaws in Bassam's naivete and self-righteousness; and that things are much more complex than he had originally anticipated. Definitely recommend sticking around for at least the whole first season.

…

Expand

This review contains spoilers, click expand to view.

I'm glad I did not listen to the negative reviews. Many of them seem to have a preconceived notion of what Tyrant should be like based on how they themselves would have written for a fictional show about the Middle East. Please, be my guest - write it. I'll be happy to check it out. But don't punish Tyrant. Yes it is violent, but unfortunately so is GofT, Fargo, 24, Homeland and most of the other top program s. Do not single out this one show and complain about its violence. Yes there is rape. Rape is horrific and should never be treated lightly in programming. But the rape scenes in GofT and Tyrant seem to get more outrage than real rape cases. Please put some of that outrage into getting justice for real life victims and their families (Steubenville). Stereotypes also are everywhere in movies and tv. Look at Sons of Anarchy. Anyone think that a real biker group would get away with the things SAMCRO does? What about the stereotyping and violence in True Detective? Look at the way Southerners are portrayed (FNL) or Italians (the Sopranos) or the countless shows that stereotype black America. It is television! Tyrant is a entertaining show. Because it is a show about the Middle East we need to walk on eggshells? It has to be politically correct? Personally I find it nice to have a break from all the law/medical drams and "reality" shows. I cannot wait to see how this series unfolds.

…

Expand

Sure it's somewhat hokey and there are moments that don't ring remotely true. But those things would be only noticed by those expecting

serious drama. This isn't serious drama, this is top-notch melodrama.

…

Expand

You may find it hard to believe but 95% of this show is really happening in the Middle East as I am writing this. I highly recommend watching

this show and then read more about the middle east countries and their politics.

With all that brutality though I wish they have also shown more things about the culture of this imaginary world.

8 is for acting

…

Expand

Huge disappointment. FX has such great shows: American Horror Story, The Americans, and Fargo I love. this show is just a clunky

assortment of silly stereotypes. the brutal dictator, the oppressed people, the freedom fighting journalist, the bullying and spoiled first son, and lets not forget, most important, the 2nd son who has lived in America, and embraced American ideals who returns to set things right by just being himself. Yuck. Boring and trivial and insulting. As an aside, why (???) do all these Middle East citizens speak English when alone and not Arabic? Not even when the dictator is addressing his people. Silly and unrealistic. Boring, predictable, and tired show that deserves an early cancellation.

…

Expand