Network:

A&E

Series Premiere Date:

Jan 22, 2014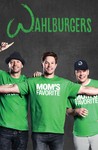 Summary:

The question of the expansion of the burger restaurant begun by Paul Wahlberg, the older brother of actors Donnie and Mark, is the focus of this by reality show.

Genre(s):

Reality

,

Food & Cooking
Season 1 premiere date:

Jan 22, 2014

Episode Length:

60
Please enter your birth date to watch this video:
You are not allowed to view this material at this time.
A&E's Wahlburgers is a thick heaping of Boston baked silliness starring two of Hollywood's biggest stars and their beloved mom.

The playfulness associated with these familial moments is where Wahlburgers hits its sweet spot.... The show is derailed by subplots that have no momentum or little drama.

Wahlburgers can use a dash of humor to spice up an otherwise-lackluster, "seen it all before" series.

This is advertising with a side of bruthah (and muthah)-ly love. [10 Feb 2014, p.50]

There's no drama, no trumped-up conflict, no insights, no revelations and absolutely no discreet view of a once-notorious Dorchester clan that ran wild in the streets but now drives them, coolly surveying their kingdom for another restaurant location.

Unfortunately, there's nothing about the series' style or format that makes it stand out among other family docudramas. And while sometimes the interactions feel natural, often they are noticeably stilted; there's a keen sense of the proceedings being carefully crafted.

It's generally playful, but unlike the burgers, consists of completely empty calories.
This is a great show. Ever since I watched the first episode I was hooked on it. This show is really funny, entertaining and enjoyable. I

This is a great show. Ever since I watched the first episode I was hooked on it. This show is really funny, entertaining and enjoyable. I can't wait to watch the new episode and I hope there is a season 2.

…

Expand

If you want to see a poorly done "reimagining" of Duck Dynasty then look no further. Personally a fan of Mark and what he has done but this

If you want to see a poorly done "reimagining" of Duck Dynasty then look no further. Personally a fan of Mark and what he has done but this show is just awful and obviously scripted reality tv.

…

Expand

I had the misfortune of seeing this garbage when I was sick and could not locate/was too tired to try and find my TV remote. It's just a

I had the misfortune of seeing this garbage when I was sick and could not locate/was too tired to try and find my TV remote. It's just a pretentious, terrible mess where the Wahlburg's each sprout an additional arm out of their rectum so they may better pat each other on the back and more efficiently resupply each other with more !@#$ with which to spew from their mouths. Unfunny, unremarkable, and a testament to all that is wrong with reality television. Next time i don't care if I vomit while looking to change the channel...it would be worth it.

I've had a better time wiping my @$$ after an explosive testament of intestinal fortitude than watching this crap. I'm sure all of you have too.

…

Expand

I watched 2 episodes of Wahlburgers - very disappointed because I love Donnie & Mark as actors. I feel embarrassed for them as far as this

I watched 2 episodes of Wahlburgers - very disappointed because I love Donnie & Mark as actors. I feel embarrassed for them as far as this show's concerned - it's obviously entirely scripted & the other characters fall totally flat.

…

Expand