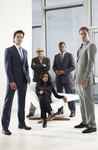 Starring:

Sharif Atkins

,

Tim DeKay

,

Willie Garson

Summary:

A con man is given the choice of taking a job as an FBI consultant or face going back to jail.

Genre(s):

Drama

,

Action & Adventure

,

Suspense
Creator:

Jeff Eastin

Season 1 premiere date:

Oct 23, 2009

Episode Length:

60
Please enter your birth date to watch this video:
You are not allowed to view this material at this time.
Beyond the formulaic outline, White Collar, is actually one of the best new shows of the season.

White Collar is not original. But White Collar is enjoyable.

The high concept of this buddy mystery-comedy is as familiar as it is inviting.

Light with no pretensions of loftiness, White Collar offers pleasant enough entertainment.

It's well-paced, it's fun to watch and none of the characters needs to be anywhere near as annoying as, say, Nick Castle.

Suspend all disbelief and relax. It ain't "Inspector Lewis," but it is stylish, good fun with dialogue as slick as those old Rat Pack suits Caffrey loves so well.

The con-man-works-with-G-man series is already a well-oiled machine, which is both good and bad. Good, because the interplay between Matt Bomer's hipster criminal and Tim DeKay's square fed is crisp; bad because the plots are often wilted.
This show is amazing!! I love the cases and the mystery surrounding Kate!

Brilliant! This show is highly addictive. I've introduced 5 people to White Collar, including my mother and everyone is hooked! My one

Brilliant! This show is highly addictive. I've introduced 5 people to White Collar, including my mother and everyone is hooked! My one complaint, the season is way to short. More episodes, please!

…

Expand

Loved the first episode, can't wait for more!

I just started watching this show four days ago after receiving a recommendation from a good friend. After going through my usual routine of

I just started watching this show four days ago after receiving a recommendation from a good friend. After going through my usual routine of watching as much as I can in a few days, I've reached the middle of season three. I can say that it's one of the most intriguing shows that I've had the pleasure of watching. It's been quite a while since something like this came up on my radar

…

Expand

Having seen the promos for White Collar, I thought it looked interesting, but nothing special. Now that I've watched it... wow, it blew my

Having seen the promos for White Collar, I thought it looked interesting, but nothing special. Now that I've watched it... wow, it blew my expectations away.

Although the buddy opposites formula has been used before (several times, let's face it), the characters on show here are very interesting, with Neil occasionally stooping to less than legal solutions to problems, while it is believable that although Peter likes and respects him, he'd lock Caffrey up given half a chance.

Matt Bomer plays the part with style, eloquence, and intelligence, feeling every inch the master forger and thief. Tim DeKay also feels like the career FBI agent, who will do anything to get his man. It's an interesting combination, and has the possibility to go far.

The story arc itself also contains some nice twists, and provides for some very rewarding watching.

…

Expand

Lame. The concept was plausible but the writing is too lazy. I watched two episodes and finally gave up. If the FBI was as incompetent as

Lame. The concept was plausible but the writing is too lazy. I watched two episodes and finally gave up. If the FBI was as incompetent as these characters, we'd be in deep chit. These people can all act so, how bout giving them some material to work with. Im no writer and I realized it's a difficult job but, come on. Put some effort into it. Don't simply have ta key witness abducted while under protection (that's where I gave up) unless you show a plausible scenario. Everyone knew it was gonna happen anyway because the whole show made these leaps throughout. Lame....but apparently popular. I must be a more demanding audience.

…

Expand