Network:

Syfy

Series Premiere Date:

Aug 19, 2014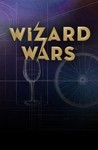 Summary:

Before a panel of judges that include Penn & Teller, Jason Latimer and Christen Gerhart, teams of magicians compete for a $10,000 prize and the chance to face professionals such as Two-time World Championship of Magic winner Gregory Wilson; Wynn Resort resident magician Shimshi; Justin Flom

Before a panel of judges that include Penn & Teller, Jason Latimer and Christen Gerhart, teams of magicians compete for a $10,000 prize and the chance to face professionals such as Two-time World Championship of Magic winner Gregory Wilson; Wynn Resort resident magician Shimshi; Justin Flom of YouTube fame, and mentalist Angela Funovits.

…

Expand

Genre(s):

Game Show
Season 1 premiere date:

Aug 19, 2014

Episode Length:

60

Air Time:

10:00 PM
When the focus is on the magic, Wars can be spellbinding--when it's not, irksome questions arise.

The format doesn't work, but the illusions do. It's 58 minutes of pretty amusing magic, building to a two-minute letdown.

This collaborative atmosphere and casual framework may keep Wizard Wars from being the battle royal of Adventure Time's Wizard Battle, but it's still fun, as its performers manage to mutate the mundane into magic.

Wizard Wars never comes across as a straight magic show, but more about how to assemble the pieces that add up to a magic show.

It's possible Wizard Wars will get old quickly if too many of the tricks contestants come up with look the same, but in this first episode anyway it's a fairly entertaining hour of TV.
I am absolutely loving the new Syfy show Wizard Wars. Its a well made show with great Judges and "Wizards". The whole idea of it is great,

I am absolutely loving the new Syfy show Wizard Wars. Its a well made show with great Judges and "Wizards". The whole idea of it is great, using three random everyday items to attempt to perform magic.

…

Expand

The new Wizard Wars on Syfy is one of the most interesting reality show in years. I'm not a Magic Groupie - one Magician called them "Wand

The new Wizard Wars on Syfy is one of the most interesting reality show in years. I'm not a Magic Groupie - one Magician called them "Wand Waxers", but I found the format and the performances fascinating. It is produced by Penn & Teller who are the greatest Magical Showmen of our times. OK if not the Best … in the top Two. The Host, Ellen Fox, does a great job moving the show along. She is a self-declared Muggle, and is effectively the Ambassador between the Magicians and the audience.

…

Expand

Maybe on paper this looked good. However, the hostess is terrible. Penn and Teller look bored. The "professional" magicians on stage are

Maybe on paper this looked good. However, the hostess is terrible. Penn and Teller look bored. The "professional" magicians on stage are terrible; very uncreative. Every magic club has done this "original" idea of doing magic with everyday objects. A couple of the challengers have been entertaining. In my opinion this is the worse television magic show in history!!!!

…

Expand