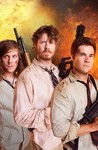 Starring:

Adam DeVine

,

Anders Holm

,

Blake Anderson

Summary:

Three friends land jobs as telemarketers after graduation from college and discover that the real world requires real work.

Genre(s):

Comedy
Please enter your birth date to watch this video:
You are not allowed to view this material at this time.
The material works more often than not because the guys are completely shameless, which makes them difficult to dislike.

Trios of twentysomething slackers are hardly a new construct--see "It's Always Sunny in Philadelphia," among recent examples--but there's always room for more when the group is as brazen, funny and drug-addled as the gang in Workaholics.

I can't say I found much of Workaholics especially funny, but neither do I have it in my heart to hate it. On a craft level, it's very nicely made, the actors are weirdly appealing, and its spirit is not mean, but sweet.

The pilot's simple conceit--avoid the dreaded office drug test--is padded with an almost endless amount of jokes involving bodily waste, genitalia, and more bodily waste. Which is fine by me, if only they didn't commit an unforgivable sin for a show about potheads: trying too hard.

Weirdly, both the pilots of Breaking In and Comedy Central's execrable new time-waster Workaholics include multiple references to urine.

Workaholics is crude, dumb lowbrow comedy, which means it's doing fine right up until the last requirement of the genre, which is that it should be funny. Workaholics is not.
"Workaholics" is undoubtedly crude; there's simply no getting around that. If a steady diet of penis/poop/vomit/etc. jokes and drug

"Workaholics" is undoubtedly crude; there's simply no getting around that. If a steady diet of penis/poop/vomit/etc. jokes and drug references are sure to put you off, then this one isn't for you -- and in lesser hands, a show like "Workaholics" could easily be worth skipping even for those of us who have a deeper appreciation of the off-color. But this one works, and often to hilarious results. "Workaholics" succeeds, largely due to the likability of the three main characters. Those characters are equal parts drunken, stoned, horny and lazy, but the actors play them with such dunderheaded sweetness that it is hard not to be charmed by them. Don't get me wrong: despite their repeated actions to the contrary in each episode, I don't think the protagonists are meant to be seen as irredeemably stupid. Instead, they appear to be reasonably bright, immature and deeply irreverent, hanging on to that last year in college (which is likely a couple years gone) and reveling in their aimlessness as they just kinda float through their early twenties and crappy, entry-level jobs. Raise your hand if the foregoing in any way resembles your own more youthful experience. The writing here is also worthy of praise. It takes a deft hand not to overdo it with such broad comedy. "Workaholics" definitely pushes the line with frequency, but is consistently sharp in its portrayal of its deeply goofy protagonists. This one makes me laugh out loud -- repeatedly and without guilt.

…

Expand

I'm sorry but if you can't see the humor in this show there is something wrong with you. Yes they do have poop and fart jokes, but there's so

I'm sorry but if you can't see the humor in this show there is something wrong with you. Yes they do have poop and fart jokes, but there's so much ironic and subtle humor it surprises me that more people dont appreciate it.

…

Expand

Efsane bir dizidir film full makara acayip kafa dengi 3 ev ve iş arkadaşın hayatını anlatıyor her bölmü birbirinden güzel kesinlikle ölmeden

Efsane bir dizidir film full makara acayip kafa dengi 3 ev ve iş arkadaşın hayatını anlatıyor her bölmü birbirinden güzel kesinlikle ölmeden önce izlemeniz gereken dizilerden.

…

Expand

Twistedly funny with an unusual sense of humor. The shorter dude with the brown hair is especially hilarious and has a career beyond this

Twistedly funny with an unusual sense of humor. The shorter dude with the brown hair is especially hilarious and has a career beyond this show. Hopefully this show gets enough time to let the word-of-mouth take hold and make it a juggernaut.

…

Expand

If you are not a fan of very crude and offensive humor stop reading now. If you do like offensive humor, you will love this show. The amount

If you are not a fan of very crude and offensive humor stop reading now. If you do like offensive humor, you will love this show. The amount of drug references, Poop/Pee Jokes and immature humor makes this a great show for hanging out laughing with your friends. The effort the actors put into the series shows off. Some of the later episode's humor is unlike most other shows and is some of the funniest I've seen in along time. All together this is a great show, best suited for some late night viewing. But if you are easily offended this show may not be for you.

ToFewVews

…

Expand

its a good show that was at its best in the 1st and 2nd seasons, it retains much of what makes it funny however and is on its way to becoming

its a good show that was at its best in the 1st and 2nd seasons, it retains much of what makes it funny however and is on its way to becoming somewhat of a cult classic, in many ways.

over the top characters and plots are a mainstay of the series, which blends workplace life with frat-house antics.

…

Expand

The show is truly a time waster. The stupid, drunken humor works for some people but honestly I find this show mind numbing. The characters

The show is truly a time waster. The stupid, drunken humor works for some people but honestly I find this show mind numbing. The characters look funny and talk funny, but in the end nothing funny is being said or done.

…

Expand