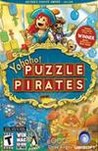 Summary:

Yohoho! Puzzle Pirates is an online game in which you play a Pirate character in an ocean world. Hundreds of your fellow player Pirates swarm these Isles and Sea-lanes. For Pirates who love acronyms, Puzzle Pirates is an massively multi-player online roleplaying game, or mmoarrrrpg. Pirates

Yohoho! Puzzle Pirates is an online game in which you play a Pirate character in an ocean world. Hundreds of your fellow player Pirates swarm these Isles and Sea-lanes. For Pirates who love acronyms, Puzzle Pirates is an massively multi-player online roleplaying game, or mmoarrrrpg. Pirates can wander around on land and sail the thirty-seven seas with their crew. When your Pirate sails, or swordfights, or navigates, the appropriate Puzzle game is launched. Good Puzzling thereby brings victories and accrues great fortunes to you and your fellow Pirates. Thus Yohoho! brings you Puzzling fun in a social Piratical setting, where every Puzzle game contributes to the greater story of your Pirate, her Crew, and the Ocean world. [Three Rings]

…

Expand
Developer:

Three Rings

Genre(s):

Miscellaneous

,

Puzzle

,

Puzzle

,

General

,

Puzzle

,

General

# of players:

Massively Multiplayer

Cheats:

On GameFAQs

Rating:

T
Puzzle Pirates takes several well-established internet games, mixes in some excellent new ideas, and ties them all together with a friendly, simple theme that's interesting, fun, and certainly inoffensive.

The puzzle variety is large enough to keep you from getting bored, and with room for your character to expand you'll be surprised at how much you actually play.

The puzzles are very interesting and there is a form of leveling, albeit abstract. A pretty deep player economy is built in as well. The entire game is well put together, even if the graphics and sounds aren't of Galaxies caliber.

Stands out in a sea of competitors not because of an enormous budget, years of hype or an expensive movie license, but because it's simply unique and fun.

Adds a chatty, entertaining social angle to the addictive stable of PopCap-type games that otherwise lead to loneliness, depression, and suicide instead of glory on the lawless oceans. [Aug 2005, p.76]

The atmosphere more than makes up for any shortcomings in the visual department. Communication with other players is easy and the sense of community is quite refreshing.

It may not be the worlds greatest game but it still brings a lot of funny perspectives into the world of massive multiplayer online games.
This is an MMO puzzle game. It has very nice cartoony graphics and fun gameplay. Since it is a "kid" game, it also lacks the annoying trolls

This is an MMO puzzle game. It has very nice cartoony graphics and fun gameplay. Since it is a "kid" game, it also lacks the annoying trolls of most "free" games. I can't think of anything to complain about in this game. I love it!

…

Expand

AMAZING! really good game, loads of enjoyable and very pleasant games to do could play for months and not get bored, even years for some

AMAZING! really good game, loads of enjoyable and very pleasant games to do could play for months and not get bored, even years for some pirates, the visual and graphics are perfect for the pirate like style, always something to do. very well designed the community involvement in the game is also excellent. good for all ages I'd say =D

…

Expand

Tetris like games + mmpog environment = fun. Not only have I subscribed but so have several of my friends. if you Enjoy puzzle style games

Tetris like games + mmpog environment = fun. Not only have I subscribed but so have several of my friends. if you Enjoy puzzle style games you'll love Puzzle Pirate.s

…

Expand

Very addictive to play especially with friends, teaming up and co-operating with other players to beat people is fun.

I had no expectations when I got a copy of Puzzle Pirates. I thought this would be just another lame puzzle game. But actually this game is

I had no expectations when I got a copy of Puzzle Pirates. I thought this would be just another lame puzzle game. But actually this game is fun! It mixes a variety of great puzzles with an addictive RPG system. The online mutiplayer is pure enjoyment!

…

Expand

Way down deep, it's shallow. Got hooked and burnt out in little over two months. There's a limited amount of puzzles. The scoring

Way down deep, it's shallow. Got hooked and burnt out in little over two months. There's a limited amount of puzzles. The scoring system is so obscure that you're never quite sure if you are improving or not. The economic system leads to the traditional MMORPG flaw of defeating a bunch of NPCs, right after another, just so you can "reach the next level" or, in this case, buying new swords and ships. A huge influx of immature players makes this more like an AOL chatroom with puzzles than a pirate themed game. Worth trying the free trial, but don't make any plans of long term play.

…

Expand

It think this is the worst game because most of the Oceanmasters do not pay attention to what you say and some of them are to lazy to do their

It think this is the worst game because most of the Oceanmasters do not pay attention to what you say and some of them are to lazy to do their work and Ban you right away, Like my friend who wasted 20 bucks on this stupid game, got banned for saying bad words and did he apologize??? Yes he did, did the oceanmasters accept? no they didn't they were too lazy to, my friend wasted so much time on that useless game and later regretted he played it, he was permamently banned ofcourse and the worst Oceanmaster of Puzzle Pirates is... EURYDICE! Yes, you hear me Old Lady, DO NOT BE LAZY TO DO YOUR WORK.

…

Expand