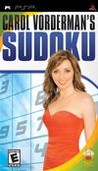 Summary:

Carol will talk you through a number of topics including: An introduction to Sudoku: Learn the origins and rules of this popular puzzle. A step-by-step guide on how to play the game that has become a global obsession. Carol will lend a hand and help you solve an entire puzzle from start to

Carol will talk you through a number of topics including: An introduction to Sudoku: Learn the origins and rules of this popular puzzle. A step-by-step guide on how to play the game that has become a global obsession. Carol will lend a hand and help you solve an entire puzzle from start to finish. Hints and tips: Gain knowledge on how to become a great Sudoku player. Tutorials for every level of player, if you're a master or novice, find out how to improve your game with live action, easy to follow tutorials. Multi-player Hot seat and wireless play: Go head to head or take on the hot seat and win by solving puzzles in the fastest time. 4 difficulty levels, a level to suit all players, from beginners to experts. 1,000,000 plus unique Sudoku puzzles! That's right over a million boards to choose from. Easy to use interface and grid assistance: If you need to erase a number or ask for help it's simple. Puzzle Solver: Solve any puzzle from any source. Multiple game modes: Choose from never seen before game modes and even challenge Carol herself. Classic Sudoku - Career mode- work your way up to a Sudoku master. Challenge Carol mode – can you beat the best? 2-player modes. Head to head wireless play and Hot seat. Multiple Arcade modes: Beat The Clock, Extra Time, Perfection, 3 Strikes. [Xplosiv]

…

Expand
Developer:

Empire Interactive

Genre(s):

Miscellaneous

,

Puzzle

,

Puzzle

,

Puzzle

,

Logic

,

Logic

# of players:

1-2

Cheats:

On GameFAQs

Rating:

E
Overall, I would recommend Carol Vorderman's Sudoku without a moment's hesitation to any PSP owner who likes, is interested in or would like to know about Sudoku. The transportation of this puzzle genre to a handheld system borders on flawless, and experienced players will really appreciate the depth of the options that are presented.

The numbers are big so you don't have to squint, and mistakes can be erased with a button press. Simple and addictive.

Vorderman's not trying to pump out a Zelda title or something with characters and a story – this game is all about furthering the addiction that is Latin squares. If you're into number crunching for fun, this is the PSP title you've been waiting for.

Worth picking up as the gameplay is addictive and quite enjoyable.

It's Sudoku. Carol Vorderman -- someone you probably don't know -- presents it and gives you little tips. That's it, man. Yes, it's fun, but then Sudoku is fun, so hey, if you need a new fix to get your fix on the road... you're set. If not, well... um.

Compared to the most popular sudoku that has appeared on a console so far, Brain Age for DS, Carol Vorderman's Sudoku presents a more serious approach and is especially designed for hardcore sudoku fans -- never doubt their existence.

But in the end, it's just freaking sudoku. And the inclusion of one MILF-ish brit doesn't go a long way towards making the whole package more attractive.