Publisher:

Midway

Release Date:

Dec 13, 2005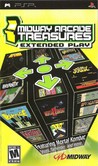 Summary:

Now you can play classic arcade games anywhere, anytime with Midway Arcade Treasures: Extended Play for the Sony PSP Entertainment System. Enjoy the coin-op games of the past for the first time on a portable system with multiplayer wireless support. Single Player: Spy Hunter, Sinistar,

Now you can play classic arcade games anywhere, anytime with Midway Arcade Treasures: Extended Play for the Sony PSP Entertainment System. Enjoy the coin-op games of the past for the first time on a portable system with multiplayer wireless support. Single Player: Spy Hunter, Sinistar, Defender, Paperboy and 720. Multiplayer Wireless: Klax, Joust, Marble Madness, Toobin', Rampage - 3 player, Gauntlet - 4 player, Rampart - 3 player, Wizard of Wor, Xybots, Championship Sprint, Arch Rivals, Cyberball 2072, Xenophobe - 3 player, Mortal Kombat, Mortal Kombat 2 and Mortal Kombat 3. [Midway]

…

Expand
With a massive selection of classic titles and wireless multi-player Extended Play is more than worth the $30 price tag.

This is a package that contains a large number of fun, classic games that play well enough to pass for whatever qualifies as "accurate" in our aging minds.

Giving the price and amount of content included on Midway Arcade Treasures Extended Play you can't go wrong.

They've not exactly matured like a fine cheese or wine, but this selection is worth a look. [Apr 2006, p.85]

Extended Play could have been a little better in terms of its presentation and some of its title selections (why no Hydro Thunder?), but it's a good start for the series' portable run, and I hope that future chapters continue to bring us the best of Midway's gaming past.

Midway ports their treasured arcade title to the PSP, but renders it almost unplayable due to the wrong display option and unbelievably long loading times.

After playing the three excellent console versions of Midway Arcade Treasures, it was a major disappointment to see just how half-assed Extended Play ended up being.
I found the collection to be great for travelling with the console and a far better bargain than all of the sub-par games currently available.

This is what I consider one of two or three must-haves for the PSP. It will never leave the PSP case wherever I go, and its selection of

This is what I consider one of two or three must-haves for the PSP. It will never leave the PSP case wherever I go, and its selection of classics can't be beat.

…

Expand

This game is GREAT for the price! The classics are all here....720, Marble Madness, Mortal Kombat (1, 2 and 3).... With the analog joystick

This game is GREAT for the price! The classics are all here....720, Marble Madness, Mortal Kombat (1, 2 and 3).... With the analog joystick 720 and Marble Madness are exactly like the arcade versions. Only problem is you can't choose your character on Gauntlet and Rampage unless you're playing online (you have to be the Warrior in Gauntlet 1p mode and George in 1p mode Rampage). Keep up the old school games and bring them back. Would have been nice to have had Ultimate MK3 instead of regular MK3. Haven't tried the wireless capabilities yet but should be great fun! Viva nostalgia and viva quality video games that are fun and easy to play!!! Thanks Midway!

…

Expand

The games are right on par with there arcade parents, easy to see and play. Would have been nice to take advantage of the umd and make had

The games are right on par with there arcade parents, easy to see and play. Would have been nice to take advantage of the umd and make had some media clips from the game designers.

…

Expand

A pretty good collection of games, especially since the first 3 Mortal Kombat games are in it. This isn't the best set of games, but Mortal

A pretty good collection of games, especially since the first 3 Mortal Kombat games are in it. This isn't the best set of games, but Mortal Kombat 1-3 alone would sell it for me. Marble Madness (I think it's called) is also fun, along with some others. Overall, a good collection for PSP.

…

Expand

This whole point of a collection like this is to give players some immediate varied fun by presenting familiar titles. Sadly the load times

This whole point of a collection like this is to give players some immediate varied fun by presenting familiar titles. Sadly the load times prevent this from happening. The framerates of Mmortal Kombat games is bad too. Only for die-hard fans.

…

Expand
| | |
| --- | --- |
| 57 | |
| 53 | #53 Most Discussed PSP Game of 2005 |
| 42 | #42 Most Shared PSP Game of 2005 |